For the person who chose and was able to call it, the 2017 general election was always going to be characterised by risk. But of all the gambles taken by a politician whose appeal was based largely on the avoidance of risk, that of not participating in the BBC's televised debate may be the most damaging for Theresa May.
Rather like the calling of the election itself, it was a decision from which she could not renege without (self-summoned) humiliation. The coup de théâtre of the calling of the election itself was superseded by the soap opera of its casting.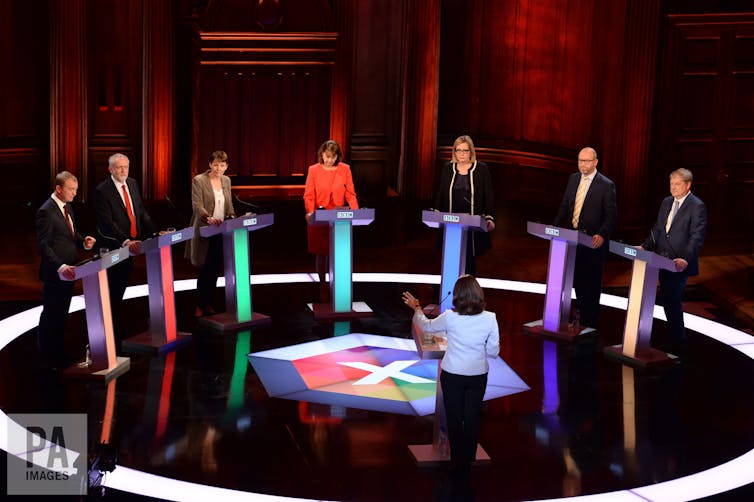 As long as a month ago, some proclaimed May's decision to hold an election a tactical masterstroke. Now it could prove ultimately to be injurious. Anything less than a significant increase in the Conservative majority and this election will prove to have been an expensive (in more than one sense) folly.
The defence of TV debates is that they offer "cut through" to voters more than any other means of political communication. To those (the majority) who aren't interested in politics or elections, debates constitute a means of assessing the product on offer as though using a price comparison website, with the additional rubber-necking allure of the television talent show.
The argument against is the protest that these performances are alien not only to historical but to actual British constitutional practice. Britain often does as the Americans do but a lesson had in a way been established, infamously, in the very first televised election debate in 1960. Radio listeners thought Richard Nixon had won; television viewers felt John Kennedy was the victor.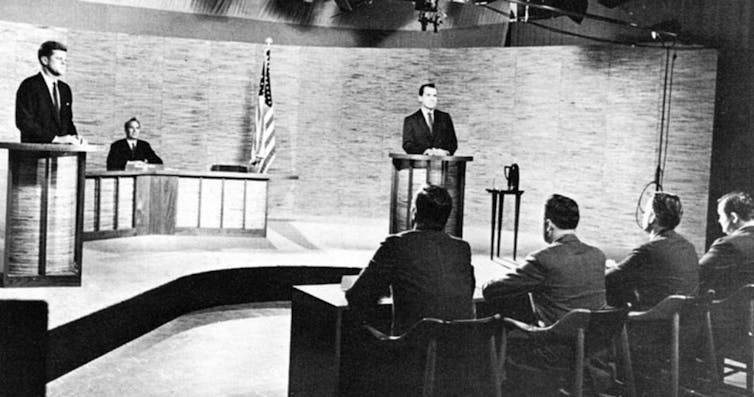 The element of theatricality appeals even when it may mislead. So it was when Britain had its first in 2010 that all felt need to agree with Nick (Clegg). But it makes sense in a polity where one person ultimately is put in charge through a popular vote. It would make sense for Andys (Burnham or Street) for example, to have been elected as metro mayors after such a staging. The more profound absurdity is the grafting of a presidential model on a parliamentary system.
The presidentialisation of the British premiership has been accelerated by the fetish for public accountability. The greater irony, in 2017, is for the person who approved the most presidential general election campaign since 1970 to have eschewed the very platform expressly designed to elevate the incumbent, by failing to turn up.
The characteristics that prevail in this ad hominem format tend to be of quality (loudness) and inclination (speaking over others). Neither is likely to abet the competent fulfilment of public office. Alongside Jeremy Corbyn, the prominence of marginal figures added to the confusion. Two of the speakers spoke for parties that the vast majority of viewers won't be able to vote for, while UKIP's Paul Nuttall, whose last network televised appearance this was always likely to be, demonstrated what Nick Griffin had nine years earlier: that the oxygen of publicity can asphyxiate the inadequate.
Pushing her luck
It made as much sense in April 2017 as it did in April 1979 that a prime minister polling ahead of their challenger in personal ratings should avoid the risk of tripping up in (what would then have been the first) head-to-head appearance. James Callaghan did; once Margaret Thatcher had replaced him, so did she in subsequent elections.
For a prime minister who has often been associated with Thatcher, and was happy to benefit from such comparisons, if not to encourage them, Theresa May's vaunted iron-ness of spirit may instead reveal feet of clay. As Thatcher may have said – as she did of another heroic contemporary – she's "frit".
What was taken to be a sign of strength has become one of weakness. The memes and hashtags of this age may well be pluralising and democratising but that's why they're also uncontrollable and impervious to influence. Today we have #wherestheresa, but posterity may summon the simpler: #hubris.