The high-profile corruption case against New Jersey Sen. Robert Menendez was recently dropped by federal prosecutors after a five-year investigation into gifts and campaign contributions given to the senator by a friend who wanted political help.
The trial had ended in a hung jury. Prosecutors then decided they did not have enough evidence to prove corruption and decided not to try Menendez again.
That decision had its roots in another failed corruption case against a prominent politician, former Virginia Republican Governor Bob McDonnell – a case whose resolution before the U.S. Supreme Court has made it manifestly more difficult for prosecutors to prove political corruption.
The Supreme Court described the events that sparked McDonnell's 2014 bribery prosecution as "distasteful," comprising "tawdry tales of Ferraris, Rolexes, and ball gowns."
Nevertheless, the justices struck down McDonnell's convictions in a lower court for accepting over US$175,000 in gifts from a businessman who wanted help from the state. They unanimously found that the Justice Department had overreached in prosecuting him.
How could actions that look so corrupt not be a crime?
The answer lies with the Supreme Court's increasingly narrow definition of public corruption, including the crimes of bribery and extortion.
Constituent services or bribe?
I teach at Wayne State University Law School and wrote "The Prosecution and Defense of Public Corruption: The Law and Legal Strategies," a comprehensive volume on the federal law of corruption.
The McDonnell case signals an erosion of federal corruption laws. I contend that this ruling effectively allows elected leaders to do favors for donors while raking in bountiful campaign contributions or gifts from them – with little fear that they might cross the line into illegality.
Chief Justice John Roberts wrote the opinion for the Supreme Court in the McDonnell case. He explained that the real concern was not McDonnell's tawdriness. It was "the broader legal implications of the Government's boundless interpretation of the federal bribery statute."
Roberts warned of the danger of viewing too broadly what constitutes an "official act" that can be exchanged for a bribe. That broad view, he wrote, could mean elected officials risked being convicted of crimes when they simply help out people who contribute to their campaigns.
Not every act that helps donors is corrupt, wrote Roberts.
"Conscientious public officials arrange meetings for constituents, contact other officials on their behalf, and include them in events all the time," he wrote. "Representative government assumes that public officials will hear from their constituents and act appropriately on their concerns."
A new, limited standard for corruption
What's the net result of the McDonnell decision?
It is that buying access to elected officials is, in most cases, not a crime.
To prove a bribe after the McDonnell decision, federal prosecutors must show more than just general efforts to aid a favored contributor. A conviction requires proof that the official committed an act that goes to the core of their office, like voting on a bill or approving a new policy. An official act, wrote Roberts, "must involve a formal exercise of governmental power."
Short of that, steps like arranging a meeting or passing along recommendations to an agency head will not be enough to constitute corruption. That's because these are not considered "official acts," according to the Supreme Court ruling.
Prosecutors had evidence that McDonnell got gifts and loans from a businessman who wanted special treatment from the state for a nutritional supplement he was developing. But, after the Supreme Court's decision, the Justice Department decided it no longer had enough evidence to retry McDonnell on the corruption charges.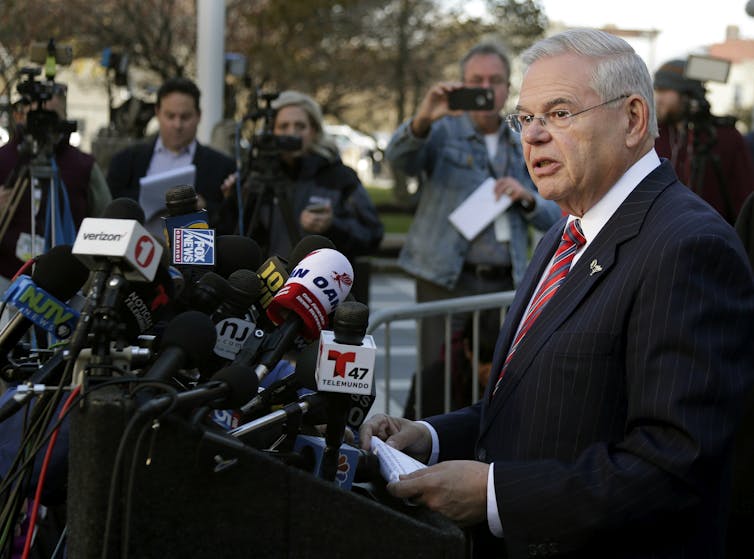 The McDonnell decision directly affected the corruption prosecution brought against Menendez.
Menendez denied the prosecution's contention that he had put pressure on federal agencies to take actions to benefit a friend and donor to his election efforts, saying he and the man, physician Salomon Melgen, were just friends. Over the years, Melgen had given Menendez many valuable gifts. Charges against Menendez were dismissed after a jury could not reach a verdict in his first trial. Prosecutors then decided not to try Menendez again.
Political system run by money
Our election system revolves around campaign contributions, both in Congress and increasingly at the local and state level. And politicians doing favors for donors is not new.
The Supreme Court recognized as much in McCormick v. United States, a 1991 decision. A West Virginia state legislator had faced prosecution after demanding campaign contributions from a lobbyist who wanted help for his client.
Justice Byron White wrote, "Money is constantly being solicited on behalf of candidates, who run on platforms and who claim support on the basis of their views and what they intend to do or have done. Whatever ethical considerations and appearances may indicate, to hold that legislators commit the federal crime of extortion when they act for the benefit of constituents or support legislation furthering the interests of some of their constituents, shortly before or after campaign contributions are solicited and received from those beneficiaries, is an unrealistic assessment of what Congress could have meant by making it a crime…"
But the power of money to get donors political access and influence has expanded with the whittling away of corruption laws. I believe that because of the Supreme Court's erosion of limits on many kinds of campaign contributions, our current means of financing campaigns has devolved into a form of legalized bribery. Donors pour money into races to get officials who will support their favored goals.
When the officials deliver, the money keeps rolling in. One example: After passage of the tax bill in December, conservative billionaire Charles Koch and his wife gave nearly $500,000 to House Speaker Paul Ryan's PAC.
In my opinion, the Supreme Court majority's decisions on corruption have demonstrated little concern about the corrosive effect of the decisions on the public's faith in their government. In Citizens United v. Federal Election Commission in 2010, the court struck down limits imposed on corporations to make "independent expenditures" on behalf of candidates because they "do not give rise to corruption or the appearance of corruption."
According to Justice Anthony Kennedy's majority opinion, "the appearance of influence or access will not cause the electorate to lose faith in this democracy."
After years of the Supreme Court narrowing even minimal protections against public corruption, the U.S. now has a system where what looks like bribery and corruption to the public is, in most cases, not illegal. Our political leaders are no longer kept in line by federal corruption law. They do not need to worry that if they bend over backwards to accommodate a donor's wishes, it could spark a bribery charge.