ITV's revamped and much-trumpeted Good Morning Britain has launched. As a long-term regular viewer of breakfast TV, this was an exciting moment for me. I can vividly recall setting the alarm clock in order to catch the beginning of the BBC's Breakfast Time in January 1983. And I have watched most days ever since.
Good Morning Britain is especially interesting as only the latest incarnation of ITV's incessant attempts to get the early morning format right. "Interesting" might not be the word you first think of on this occasion, but let me make my case.
Telling someone that you watch breakfast TV produces interesting reactions. Sometimes they acknowledge a shared habit or compare their preferences and sometimes they are baffled. Sometimes they respond with undisguised disapproval. "How do you find the time?" is a common question, as is "how can you turn the television on that early?". Breakfast TV also has a particular potency for those who disapprove of television more generally. It is TV for the feckless, the under-busy, those without important jobs to get to, and, implicitly, the unimportant.
So you'd think I'd be offended by this prejudice. But, having the inclinations of an academic in media and cultural studies, I find it fascinating.
The very idea of a breakfast show, of course, presupposes certain things about how people structure their day. This is a point that was brought home to me when I heard two students discussing an item on "breakfast TV". It turned out they were talking about Loose Women, which is broadcast on ITV at 12.30.
Different lifestyles and different commitments make breakfast a far from static concept, but breakfast TV still invests heavily in a relatively fixed idea of what its audience will be doing in the hours between six in the morning and shortly after nine.
The one thing you are not supposed to do is watch unbroken hours of TV. My partner often wearily reminds me of this as a certain item rolls around for the third or even fourth airing. Breakfast TV is bite-sized, to be gulped down with the granola, glimpsed over the shoulders of children you are trying to prepare for school, watched with one eye while your other eye is on the train timetable.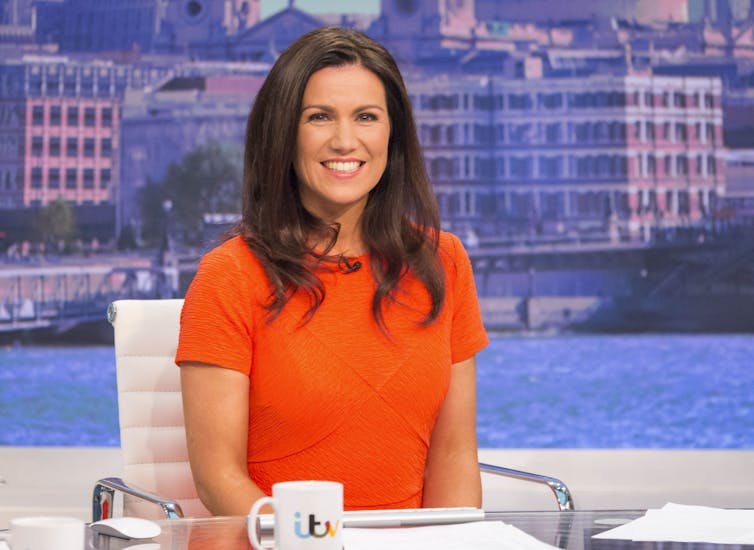 Even so, Good Morning Britain stakes an upfront claim on your full attention. It breaks with the two-presenter convention to operate with four, sat around a big, businesslike desk in a group led by Susanna Reid, whose defection from the show's BBC rival has been the cornerstone of its pre-publicity.
For one-to-one interviews, Reid or colleagues Ben Shephard and Charlotte Hawkins will decamp to a pair of chairs elsewhere in the studio. The inevitable sofa is used for interviews with larger groups or functions as a soft play area for showbiz news or celebrity fluff. Only the sports news, fronted by Sean Fletcher, stays desk-bound, while Laura Tobin, the weather presenter, never gets to sit down at all.
The show's first week (I write this having seen its first four editions) has benefited from a fortuitously strong batch of news stories. This is useful since the steer given to its launch was that it would be conspicuously more news-driven than its terminated predecessor, the rigorously soft-centred Daybreak. But Good Morning Britain's inherently ITV sensibility still propels it towards the human-interest zones of news. It is palpably more comfortable with debates about obesity and drug addiction than the situation in Ukraine or Ulster.
Many staff from Daybreak have been retained, most tellingly that impossible-to-topple empress of the everyday Lorraine Kelly. Lorraine is at once a freestanding show and one dish of the bigger ITV breakfast buffet. She begins at 8.30 to signify a change of pace and focus, much as the BBC's Breakfast reserves its showbiz interviews and ceases its business news after that hour. The message is the same: the important people have gone to work, now the rest of us can unwind.
Kelly is one of British television's great survivors, riding out the storms of ITV breakfast relaunches galore. She has seen off incomers like the universally unmissed Christine Bleakley and is never tempted into risky prime-time ventures, instead always shrewdly playing to her early-daytime strengths. The urban myth that only cockroaches would survive after a nuclear holocaust needs rethinking, since clearly those cockroaches would be able to tune in at 8.47 to see Lorraine updating us on Gwyneth Paltrow's latest dieting fad.
The limitations of the Daybreak aesthetic are made all too clear by the new ITV breakfast offering at weekends, titled (with rather giveaway unimaginativeness) Weekend, where Kelly's former co-host Aled Jones has been allowed, or jettisoned, to fly solo. A lame, limp, bedraggled thing, Weekend has all the pizzazz of a shopping channel with no goods to sell, and a very cynical viewer might suspect it has been devised for the sole purpose of making the channel's Monday to Friday offering look slick and stellar by comparison.
So will Good Morning Britain flourish? Viewing figures show that the BBC's Breakfast is still ahead, but these are early days for the new kid on the early-start block.
Minor adjustments are already being made. Certain on-screen graphics have shifted position, the distractingly surreal arrangement that told us about the weather in randomly listed locales ("Fort William… Brecon… Cowes…") has been replaced by towns listed alphabetically. The presenters' inter-team jollity is beginning to look less forced as they become more familiar to us.
What distinguishes it from its BBC rival is its comparative lack of calm. It's urgent, it jangles, it is sleeve-tugging in its insistence, and that might not be what audiences want at that time of day. Over on the BBC, matters are more serene, especially when that unruffled old smoothie Bill Turnbull (one of the few Old Etonians in public life you don't want to punch) is captaining the ship. So what will decide matters is the extent to which viewers want television to jolt them into another day.