Forty years ago, the U.S. Supreme Court ruled that a state could require nonmembers of a public employee union to pay an "agency fee," otherwise known as costs of collective bargaining, for their representation by the union.
The union could not use any part of the agency fee to advance ideological purposes unrelated to the union's primary function of collective bargaining.
At that time, the court took the view that this requirement did not violate the First Amendment's "right of silence" of nonunion members who didn't want to pay the fee. The "right of silence" is the guarantee that people cannot be forced to be associated with an idea they do not believe.
On Tuesday, June 26, in Janus v. American Federation of State and County Municipal Employees, the court overruled that decision.
The court held that when it came to public employee unions, all collective bargaining involved ideological and public policy considerations. For government workers, the court said, issues like salaries, pensions and benefits are inherently political. And some employees may not agree with the union's position on those matters.
For example, if a teacher's union sought higher wages and benefits for its members, this might result in higher taxes for residents of the school district. And if that position was shared by certain union members, the union would be, effectively, putting words they didn't believe in in their mouth. So the court said that compelling objecting employees to pay an agency fee violated their First Amendment right of silence.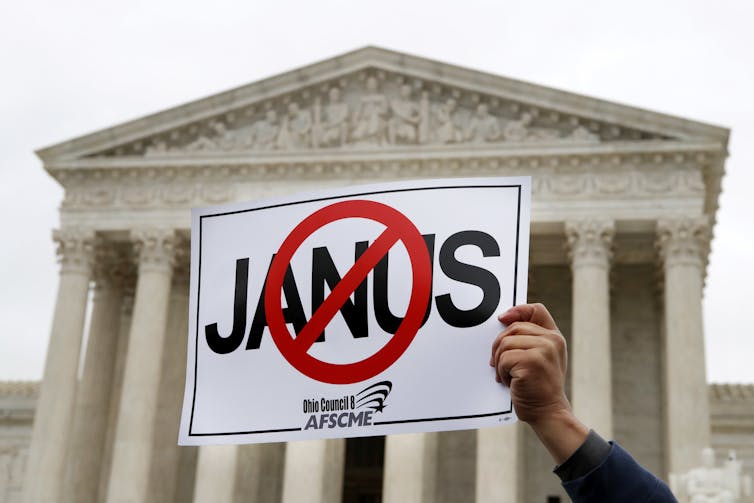 Although the court is reluctant to overrule prior decisions, the court majority, consisting of the four conservative justices plus Justice Kennedy, found that requiring objecting public employees to pay an agency fee was inconsistent with standard First Amendment principles.
Associate Justice Elena Kagan blasted the decision in her dissent, writing that "The First Amendment was meant for better things. It was meant not to undermine but to protect democratic governance — including over the role of public-sector unions."
The majority also decided that agency fees were not justified by the union's claim that they were necessary to avoid "free riders," who would get the benefit of the union's collective bargaining services without paying for them.
Indeed, said the court, the alleged "free riders" would be employees who were compelled to take a ride that they did not want. And above all, public employee unions did not need agency fees in order to effectively perform their role of representing the members of the bargaining unit.
The court noted that today public-sector union membership has surpassed union membership in the private sector. They said that public-sector unions effectively represent both federal employees without any agency fees and public employees in "right to work" states, where agency fees are prohibited.
The result in Janus extends strong protection to the First Amendment right of silence. It continues a trend over the last decade by which the court, sometimes divided and sometimes not, has expanded First Amendment rights, often at the behest of ideological conservatives.
In the United States, we give more constitutional protection to First Amendment rights than is provided by other democratic nations and international human rights norms. Janus is another example of this protection.