Just one more preseason game for Jarryd Hayne this weekend before we'll know if the former Australian rugby league player has managed to win final selection to play for the San Francisco 49s in the year's NFL season.
He's not the first Australian to make it in the United States and the American football league. So what is it about Hayne that's captured the attention of people both here in Australia and in the US?
I've followed Hayne's career for many years and he is a graduate from the school of hard knocks. As a young boy, raised by a single mother in Sydney's south-west, Hayne's instinct was to fight for his family so they would eventually have their own home.
Growing up in a Campbelltown housing commission building would not have been easy for Hayne, who started playing rugby league as a six year old. But the San Francisco 49ers recruit was blessed with the right physical attributes to become a star athlete.
As the son of a Fijian rugby league player and an Australian mother, Hayne's football pedigree is a bonus. His fast-twitch fibres in his powerful muscles helped him to become one of the fastest schoolboys on the track. He won a national schoolboys title for 100m hurdles, without an ounce of training.
Hayne used his athletic build and speed to his advantage and debuted for the Parramatta Eels in the NRL at just 18. He won the 2006 Dally M Rookie of the Year award and a coveted spot in the Kangaroos squad.
On the US footy field
In recent weeks NFL fans and Australians watched in awe, as Hayne's superstar qualities were tested during 49ers' preseason games against Houston, Dallas and Denver.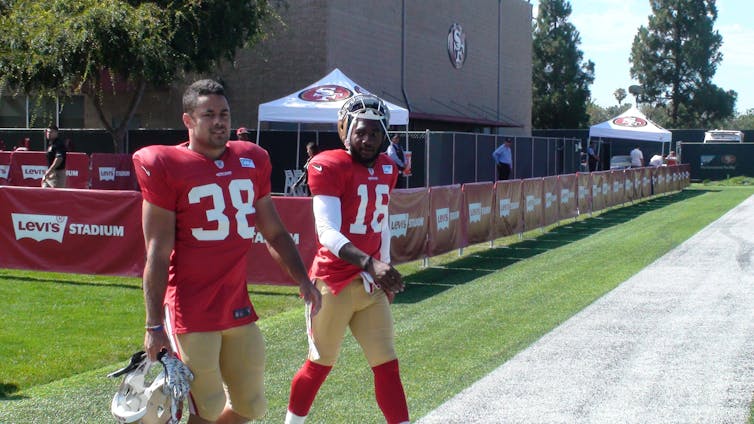 The 49ers running back and return specialist exceeded expectations with his speed and evasive skills, and set the field alight with some blistering runs. Hayne's athleticism, strength and speed took his NFL opponents by surprise. Seasoned NFL commentators were stunned.
History has a habit of repeating itself, and in Hayne's case, this is what has happened, when comparing his form during his youth. When Hayne is fresh, focused and challenged, he is more likely to rev up and produce spectacular football.
In 2006, as a fresh-faced teenager, Hayne starred in his rookie NRL season. Hayne is now reliving the freedom of a new experience – and he's embracing the challenge.
Hayne's willingness to work outside his comfort zone reflects his ability to handle pressure-cooker situations. An adrenaline-fuelled Hayne has shown his tolerance to pressure in his three preseason games with the 49ers.
Both the Australian and American press went berserk over the so-called "Hayne Plane" and he has kept his eye on the ball.
Will Hayne make the final team?
Hayne's initiation to the NFL is something that footballers dream of. But can the 27-year-old megastar sustain his momentum and continue to play a key role for the 49ers?
The NFL, known for its ruthless nickname "Not For Long", is a seemingly elusive goal for spirited Australians, as they've pitted their talents against thousands of American hopefuls.
Former NFL punter and Geelong captain Ben Graham, who was the first Australian to play in the Super Bowl, said many hours of preparation was invested in every play, on top of physical and skills training.
Back in 2006 while punting for the New York Jets, Graham said:
[…] it's up to the individual player to put themselves in the best position to win a job because it's not as easy as a lot of people think it is.

But there's no doubt that there's ability in Australia to make that transition.
While AFL footballers-turned punters have made effective transitions into NFL, Hayne arrives from NRL where there is no history of success.
Hayne has proven he can become a leading return specialist for punts and kick-offs. Some of Hayne's "catch-me-if-you-can" runs have enthralled sports fans worldwide. These golden moments have been played online repeatedly since his pre-season debut.
Hayne's training attitude is second to none (we know of his practice of stuffing cheat notes into his shorts), as he learns the intricacies of a game that is likened to "physical chess".
Hayne is building skills for specialist positions, such as a back-up running back.
San Franciso 49ers head coach Jim Tomsula has been careful to manage the reaction to Hayne's sensational form – but his praise has been glowing. He told reporters:
I feel very good about his abilities to field. I feel very good about his abilities to perform with a ball in his hands on special teams.

The coverage parts of it? I've seen a lot of improvement there. The guy will fly down the field in those areas.
There has been huge reaction on social media related to Hayne's on-field feats and the official season hasn't even began. The 49ers' final 53-man roster will be decided on September 6.
The odds are swinging in Hayne's favour. He is fast becoming a brand that has caught the 49ers and his management offguard – typical of the "Hayne Train".
NFL fans and Aussie tourists have quickly snapped up Hayne's number 38 jerseys in official stores and now they've sold out.
You can't endorse an athlete more highly than excited fans, who can't get enough of him.