American Jeff Koons is possibly the most contentious living artist. His current retrospective at the Whitney Museum in New York writes him into the contemporary canon of great living artists – but even after a long and controversial career, that hasn't been an easy case to make.
Koons is a master of spectacle. His works include the Made in Heaven, grand pornographic statements created with his former wife, Ilona Staller aka Cicciolina, the Hungarian-Italian porn star and politician; the travelling flower-covered Puppy and enormous coloured balloon animals and flowers.
One of those works, Balloon Dog (Orange), 2000, sold at Christie's in November last year for US$58,405,000.
It's precisely because of his spectacle that Koons' work has met critical resistance.
One of his most notable haters was the late Robert Hughes, Australian-born New York Times art critic. Koons featured briefly in Hughes' epic American Visions documentary in 1997, in which the critic claimed the artist "couldn't carve his name on a tree".
He saw Koons as the artistic descendant of Andy Warhol – a comparison that is often made – and it irked him that Koons did not physically craft his objects and paintings himself.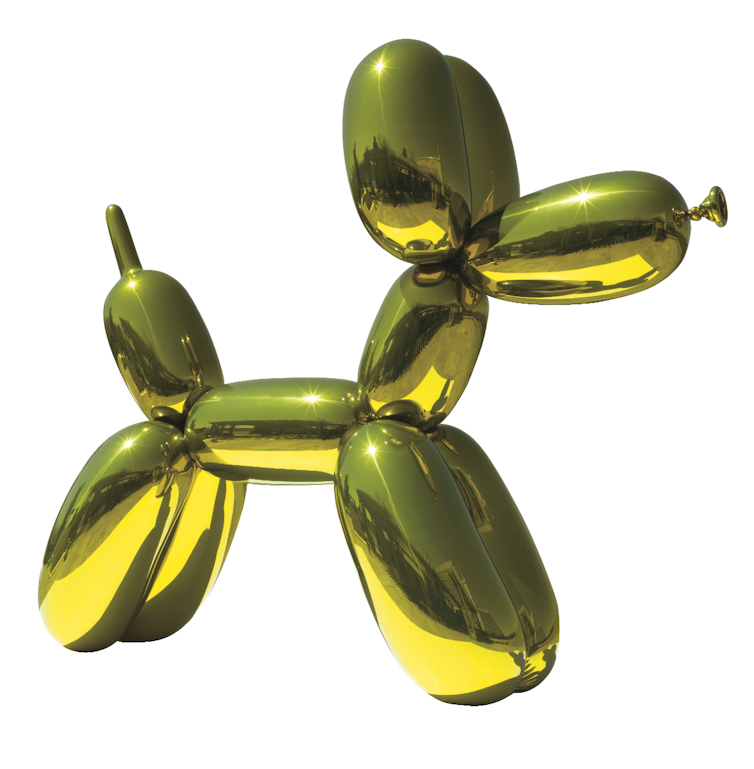 Art production
In the 1960s, when Warhol created masses of work in a studio he called The Factory, it was a radical proposition to create art in the same way as a factory might make soup or scouring pads. But for Koons, it's simply a matter-of-fact way of working. In fact, Koons' studio now employs 128 assistants, craftspeople and administrators. His studio can be likened to a Hollywood production company, and his practice to that of a director.
Comparisons with Warhol wear thin when their "product" is compared.
Warhol banged out degraded copies of pop culture imagery that ironised the rarefied role of art in a world where everything is mass-produced. Koons, on the other hand, creates art as high quality luxury goods. Koons is known for being perfectionistic.
His objects are limited edition, beautifully designed, finely crafted objects of desire. They are the ultimate commodity fetishes – seductive, shiny, brightly coloured – crafted like a Rolls Royce or a Steinway concert grand.
For Hughes, Koons exemplified the postmodern 1980s as a "low, dishonest time for much American art". He deplored the irony, the anything goes ethos, the contradiction, and the appropriation of images that characterised the era, and predicted that history would ultimately judge it harshly.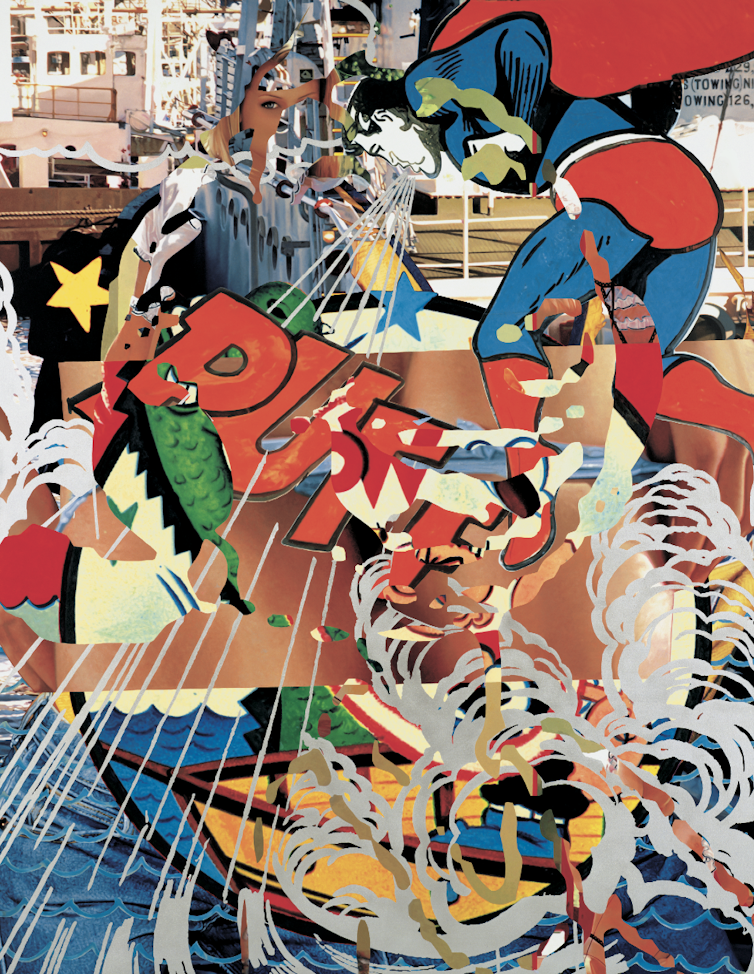 Koons endures
Postmodernism in art has receded into history, and Koons now appears in a different light. The Koons retrospective at the Whitney in New York is some evidence of that.
The case in favour of Koons' place in the canon of art history is reinforced by the press leading up to the Whitney's retrospective.
The New Yorker's Peter Schjeldahl comments that the show "makes a strong case for the rigor and, often, the beauty of Koons' art". The current issue of Vanity Fair has a lengthy feature article by Ingrid Sischy, former editor of Artforum.
The title of the article says it all: Has Jeff Koons Become a Pillar of the Art Establishment?
Artforum has long been held as the most important English language art magazine, and its critical endorsement of the Koons retrospective is clear, with Michelle Kuo, its editor since 2010, writing one of the essays in the hefty 300-page catalogue and providing some of the audio guide.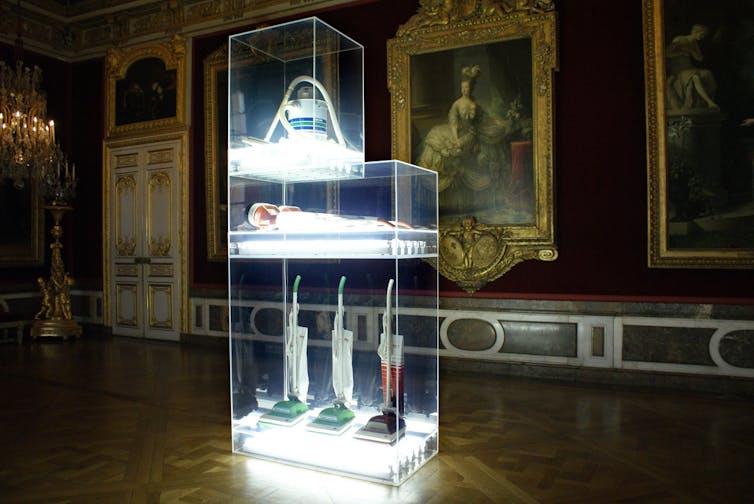 Koons on Koons
The audio guide also includes much commentary from Koons, and it's here in his comments that the real core of Koons' work percolates to the surface.
One postmodern attribute that persists in Koons' work is that of contradiction. Delivered in the velvety sincerity of Koons' voice, he provokes and goads, often referring to spiritual "transcendence".
According to Koons, his New Hoover Convertibles, 1981-87, are:
displaying themselves in a very kind of classical tradition of art. I mean, you could think of Renaissance sculpture. These are eternal virgins that are being displayed.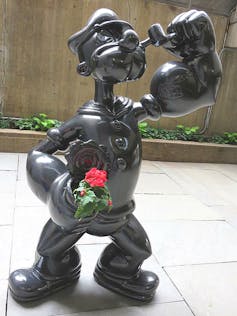 His sculpture of Popeye, 2009-2012, is:
about an image of, 'I am what I am'. Kind of a symbol of self-acceptance that you have to embrace who you are.
Koons describes his Hulk (Organ), 2004-14, a large working mechanical pipe organ built into a bronze cast of the cartoon character, as evoking:
Eastern guardian gods. These gods that'll greet you at a temple.
It is at this level – of objects and images that hold together contradictory ideas – that Koons truly is a craftsman.
The mindless tat of giftshops and bargain basements is refigured as spiritual iconography; balloons that would float in the air and deflate after the party become hard polished steel that will live forever; low culture kitsch becomes high art.
The monetary value of Koons' work is tied up so tightly with its aesthetic value that it questions if either one can exist without the other in today's mass culture.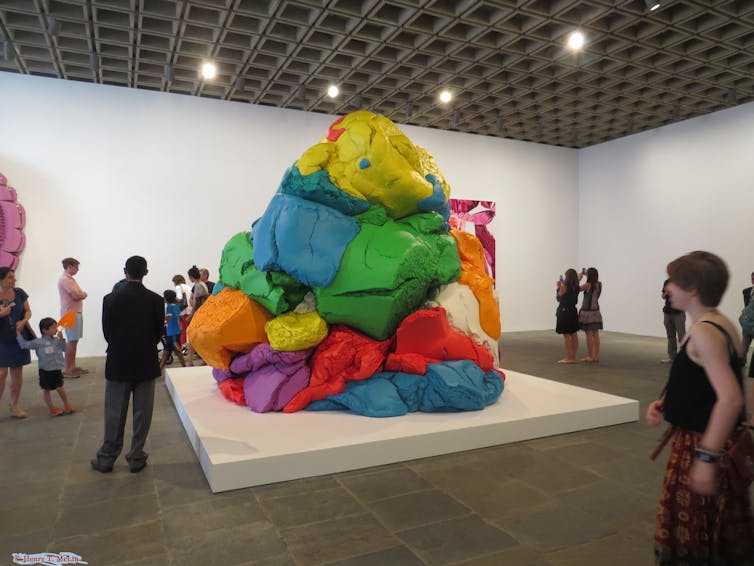 An exemplary Koons work in the Whitney's retrospective is perhaps his Play-Doh, 1994-2014, a multicolour mound of Play Doh rendered as a three-metre-high aluminium sculpture. It is modeled exactly from a real mound of kids' modeling clay created by Koons' son Ludwig, as a child back in 1994.
The splitting and crusted texture, and the matt Play Doh colours, are rendered exactly. It is the most banal of objects, and yet monumental in scale, visually seductive and awkwardly sentimental.
In Koons' short scene in the American Visions documentary, Robert Hughes is visibly flustered and redfaced while the artist explains that his large sculpture of kitten in a sock, is "a piece that's working in the very classical tradition of a crucifixion".
The coolness under the collar of many art critics responding to the Koons current retrospective will be a good measure of the extent that his spectacle has become respectable.
Jeff Koon: A Retrospective is showing at the Whitney Museum of American Art in New York until October 19 2014.