What began as something beyond the realms of possibility ended as an inevitability. Jeremy Corbyn's victory in the Labour leadership election represents – depending on one's perspective – either the rebirth of the party and the final demise of the careerists who led it astray, or, the deepest crisis in its 115-year history.
Corbyn secured 59.5% in the first round of voting, beating the other candidates by a significant margin. Andy Burnham took 19%, Yvette Cooper 17% and Liz Kendall 4.5%.
Importantly, Corbyn won across all categories of eligible voters giving him what the BBC referred to as a "rock-solid mandate".
Leadership elections can normally be explained in terms of unity, electability and competence, with the winning candidate being the one best able to unite a divided party and/or offer the best chance of electoral victory, while looking like a credible prime-minister-in-waiting.
But this Labour leadership contest was not normal. It was decided on an altogether different basis. The combination of an uninspiring line-up of candidates, new selection rules and the shock of the 2015 general election defeat left Labour open to a left-wing insurgency. It appeared to come out of nowhere but was actually five years in the making, with Corbyn its unsuspecting beneficiary.
How he did it
Ed Miliband's victory in the 2010 Labour leadership contest, delivered by union votes, marked the start of a new assertiveness in internal Labour affairs by the party's affiliated trade unions. Since then, Unite, under Len McCluskey, has been forthright in demanding a strong Labour platform against austerity. Along with other unions and ginger groups such as the People's Assembly Against Austerity, Unite has helped create a left-wing narrative against cuts that has taken root within the wider Labour Party.
The new selection rules opened the door to this left-wing revolt – though not before moderate Labour MPs, seeking to "widen the debate" in the leadership contest, helped Corbyn pass the nomination threshold of 15% of Labour MPs. Under the new one-member-one-vote rules, individuals could sign up as full members, as affiliated supporters for free via their unions or as registered supporters for just £3. The contest was dogged by controversy, with accusations of left-wing entryism as well as Tory trouble-makers applying to vote, then claims of a purge of Corbynites.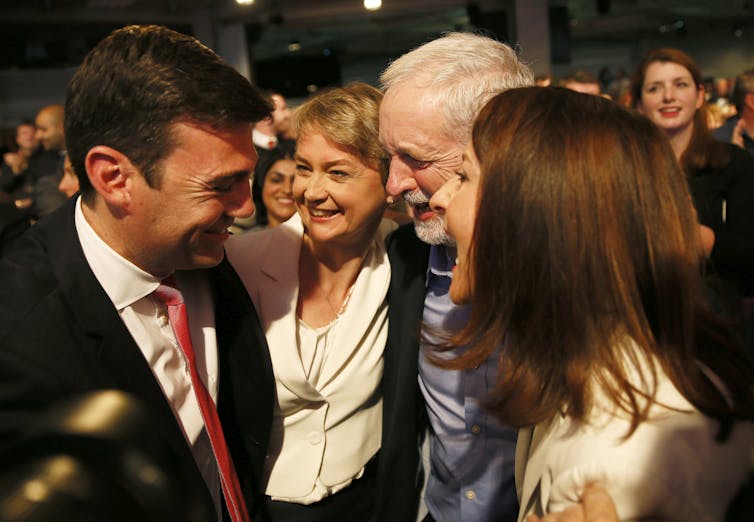 Once Corbyn was on the ballot, his allies mobilised. The potential electorate increased from under 200,000 in May to 550,000 in September. A coalition of idealistic youngsters, anti-austerity union activists and grizzled left-wingers returning to the party they quit in disgust under Blair has proved to be a large part of that dramatic increase.
They delivered victory to Corbyn against the odds. Much of this victory was achieved online, with Corbyn's cyber-left supporters spreading his message, denouncing his opponents and encouraging others to sign up to vote. This contest has been Britain's first social media leadership election – though in the eyes of Labour moderates, it became a flash-mob democracy.
Holding onto power
During the contest, Corbyn regularly called on registered and affiliated supporters to become full party members – not least because he hopes they will provide a firm base of support now that he is leader. Only as full members will they be able to participate in Labour policy-making and in the selection of parliamentary candidates.
That is vital because Corbyn enjoys very little support among Labour MPs. Several big-hitters, including leadership hopefuls Yvette Cooper and Liz Kendall, have already ruled out serving in his shadow cabinet. Within minutes of Corbyn's victory, Jamie Reed, the shadow health minister, had resigned. Many others are biding their time and waiting for him to fail.
Certainly, Corbyn's authority would be undermined if, say, he voted against future UK military action in Syria but a majority of his MPs backed it. The EU referendum could have a similar effect. Hence, Corbyn will need to show that he enjoys a wider mandate within the party, perhaps holding conference votes or even membership plebiscites to demonstrate that the grassroots are with him.
In the longer term, he will need to deal with potential threats from Labour MPs. To this end, some have raised the prospect of reintroducing mandatory reselection for MPs, harking back to a Bennite-inspired rule from the 1980s that helped left-wing constituency activists to keep moderate MPs in line. Such a move would require a change to Labour's constitution to be passed by the party conference, but given that the unions – most of which back Corbyn – hold 50% of the votes, it would be possible.
How long has he got?
For Labour MPs opposed to Corbyn, the immediate future looks bleak. There's no formal mechanism to hold a confidence vote in the leader, though an unofficial vote could be held. They would have to wait a year to challenge Corbyn for the leadership, which would require a candidate to be nominated by 20% of Labour MPs.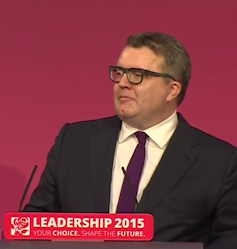 That could be feasible but under the current selection rules there is no guarantee that the result of the voting among party members would be any different. Moreover, there is no certainty that Corbyn will simply fail and lose support quickly. He will have powerful backers from the unions and among the new members, as well as strategic and managerial input from a committed backroom team. Moderates will hope that the newly-elected deputy leader, Tom Watson, will prove a restraining influence.
Panic on the right
The Labour right finds itself in the worst situation it has ever been in during the party's history. It is much worse than the 1980s when Michael Foot was leader. Foot was chosen by the MPs themselves and had served in the Callaghan government. Corbyn is an outsider, an inveterate rebel and a standard-bearer of the far-left.
In the 1980s, a section of the Labour right split away to form the SDP. The fate of that party is a cautionary tale for today's moderates about the potential consequences of a split. But if the left remains in control, Labour's polling plummets and the moderates find themselves in the cross-hairs of local Corbynistas looking to remove them, some may decide that an SDP-Mark II is the least-worst option.
In the meantime, Corbyn will need to argue his case to voters for left-wing policies that they have hitherto shunned. The government will politicise issues on which Corbyn is on the wrong side of public opinion. Corbyn supports unilateral nuclear disarmament – voters do not. The government wants to find £12 billion in welfare cuts, including reducing the benefit cap. Voters support welfare reform, but Corbyn strongly opposes it. Voters accept the necessity for cuts to reduce the budget deficit, but Corbyn and his union backers made opposition to austerity a central plank of their campaign. Corbyn favours immigration and a generous approach to asylum-seekers, but voters, despite recent events, prefer a more restrictive policy. And while a majority supports renationalising the railways, the issue isn't deciding many votes. If nothing else, the next few years will test to destruction the theory that it's possible to win an election from the left.
The Conservatives will believe that with Corbyn's victory, all their Christmases have come at once. David Cameron has already staked a claim to the centre-ground that Labour looks to be vacating. The Tories will present themselves as the only party that can be trusted to defend the country and manage the economy. They will paint Labour as extreme and unfit to govern, and will be enthusiastically assisted by the Conservative-supporting press.
Labour is entering uncharted waters. Whatever the future holds – a left-right civil war, defections and splits, attempted coups, a return to left-wing street politics of marches and demos – one thing is certain: British politics is changing in a dramatic way.