One of the important pillars of Roman law for finding out the truth is audiatur et altera pars, the imperative to "listen to the other side".
In our world today, Islamic State, the jihadist group that has brutally captured territories in Iraq and Syria, is largely viewed as being the other side.
Due to the terror of IS attacks, we often demonise those who support IS. Both Australia and Indonesia are devising tougher anti-terror laws.
Malcolm Turnbull's government proposes to lower the age of individuals who can be charged with anti-terror laws from 16 to 14 and to allow indefinite detention of convicted terrorists. The Indonesian parliament is planning to extend punishment to people who pledge support to IS and the length of detention of terror suspects up to six months.
But the Roman principle inspired me to listen to those who are interested in joining IS. I study gender and masculinity in Indonesian terrorist fighters. I also founded an organisation that helps former combatants re-assimilate into society.
Globally, we are seeing a rise in people from different parts of the world joining IS. I wanted to understand how people, especially boys, were recruited to IS and then willingly travel and kill themselves and others in the name of religion.
Meeting Akbar
By chance, I met one of these boys who were interested in joining IS when I travelled to Turkey for a conference. At a kebab stall in Kayseri in June 2014, I bumped into 16-year-old Akbar Maulana from Aceh.
Akbar had been awarded a high school scholarship from the Turkish government to study religion at Imam Hatib Imam High School, Kayseri. Two of his friends, also from Indonesia, had joined IS. They were recruited online via social media.
I continued to follow Akbar and documented his life as he considered following in his friends' footsteps to become an IS fighter. His story became one of the main narratives in my recently released documentary, Jihad Selfie.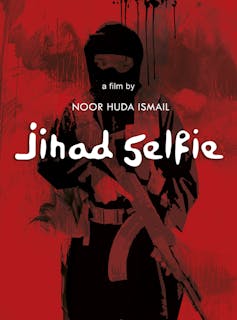 The phenomenon of recruitment to violent groups via social media is a recent trend. Indonesia has various violent jihadist groups such as Darul Islam, Jama'ah Islamiyah, Jama'ah Anshorut Tauhid, Jama'ah Anshorut Syariah and followers of convicted terrorist Aman Abdurrachman. But those who are recruited online, including Akbar's friends, are mostly teenagers with no connection at all to these existing violent networks.
This trend may well be still developing. Many teenagers these days spend a lot of their time online on social media rather than offline. Social media then becomes the means for teenagers to find their identity.
Akbar tells me that religion is the most important thing in life. He shares with me his fascination with pictures on social media of his friend, who has joined IS, carrying an AK-47 rifle.
He suffers from ennui and wants more out of his life. In order to "exist" among their friends, some teenagers willingly do things beyond their reasonable limits.
In Akbar's story, his close and loving relationship with his parents prevented him from joining IS.
The film's role
Akbar and I are doing a roadshow of film screenings in Indonesia. We had screened the film to media organisations in Indonesia and a lot of different groups and organisations are requesting screenings and discussions of Jihad Selfie.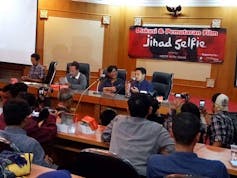 Akbar, who two years ago was weighing up being a foreign fighter, has become a spokesperson for digital literacy to his peers.
I believe Akbar's experience and transformation, as documented in Jihad Selfie, might inspire young Indonesians to be more critical in digesting the information and visuals they get from the internet. This in itself may be a powerful way to prevent young Indonesians from being lured by IS propaganda via social media.
Radicalism is an extremely complex issue. It is influenced by various issues, ranging from the war in Syria, repressive political systems and lack of education in critical thinking, to poverty and issues of identity.
From listening to "the other side" and thus understanding Akbar's story, I am convinced that using a security approach is not enough to counter terrorism.
Akbar's experience shows the important role of parents in creating healthy and warm relationships that may prevent teenagers from turning to extreme ways in dealing with their search for identity.
---
Noor Huda Ismail will be online for an Author Q&A between 10 and 11am AEST on Thursday, 4 August, 2016. Post any questions you have about his article in the comments below.