This week's terror attack at Turkey's largest airport and recent attacks in Egypt and Belgium have highlighted the aviation sector's vulnerability to terrorist attacks. It is still a preferred target of terrorist groups, which see airports as a "soft target".
Australia's Senate called last December for a committee to report on aviation security. But, with the federal election called for July 2016, the committee lapsed. It never tabled its final report.
Questions remain, however. How vulnerable is Australia's aviation industry? And what can be done to enhance its security?
A snapshot of Australia's airports
Australia has nine "designated" major airports. While much of the focus for security is on these airports, there are 664 aerodromes in Australia. And there are almost 2,000 operational airports and landing strips in Australia.
In 2015, 60 million passengers travelled on Australian domestic commercial aviation. There were 33.9 million overseas arrivals and departures in Australia for the year 2014-15.
Of these, some 7 million were tourists. They contributed A$36.6 billion to Australia's economy. One estimate has put the economic contribution of the aviation sector at $32 billion, with another $44 billion in associated economic benefits such as tourism.
These figures give some idea of the aviation industry's size and importance to Australia. Qantas provided this summary of its annual operations to the committee:
Using 308 aircraft and approximately 33,000 permanent and part-time employees located across the globe, Qantas operates over 450,000 flights, carries in excess of 48 million passengers and 600,000 tonnes of freight annually.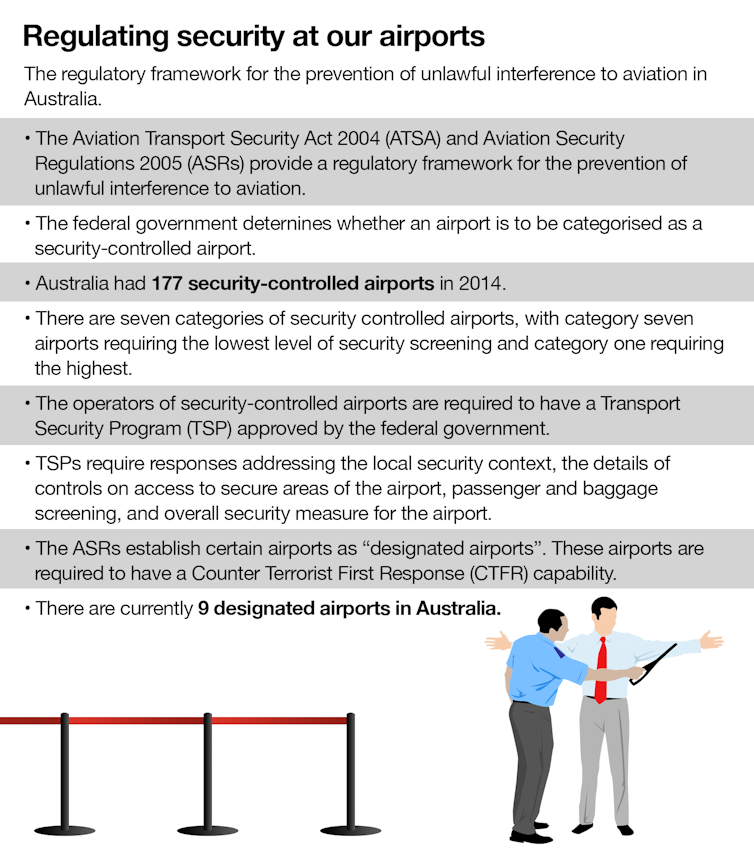 The current threat environment
Australia's current National Terrorism Threat Level is probable. This means individuals or groups have developed both the intent and capability to conduct a terrorist attack in Australia.
In a submission to the Senate committee, ASIO indicated that civilian aviation will remain a high-value terrorist target for the foreseeable future. Terrorists have adapted to changes in security measures.
It is not just passengers that pose a threat. The Australian Crime Commission (ACC) has identified the aviation industry as a crime pathway and noted that criminals will infiltrate the sector to exploit vulnerabilities. This is the "trusted insider" threat, where an individual or group with the aviation industry can carry out or assist in facilitating a criminal or terrorist act. This threat has only increased with the rise of radicalisation within Australia.
The ACC advice is focused on profit-driven criminal activity. However, the same pathways can be used for terrorist activity. This is especially so given the acceptance of a clear linkage between crime gangs and terrorist groups.
In 2015, the federal government announced a regional aviation security awareness training package for regional airports.
Securing Australia's airports
Securing Australia's aviation industry has two distinct yet mutually related aspects. The first is securing land-based infrastructure – that is, airports. The second involves security of the air transport itself.
The Australian Federal Police (AFP) prevents and responds to crime at nine of Australia's major airports (Hobart being the exception) by providing officers to perform a range of functions including community policing, counter-terrorism, investigations and intelligence.
The Australian Border Force (ABF) has officers stationed at eight major airports. It assists other agencies to achieve effective border management by focusing on targets in counter-terrorism and organised crime. In 2014, the ABF created dedicated counter-terrorism teams that were placed at the eight airports it services.
In its submission to the committee, the AFP identified seven incidents in 2014 that involved suspicious packages or breaches of secure areas.
In 2014, the Commonwealth auditor-general tabled a report on policing at Australian international airports. It noted:
On average, in each year over the last three financial years, the AFP has dealt with 21,146 incidents and made 2,621 apprehensions and 312 arrests across the ten airports. The number of arrests has increased by 42.6% over the three-year period from July 2010 to June 2013. The offences ranged from offensive and disorderly behaviour to matters relating to aviation and aircraft security.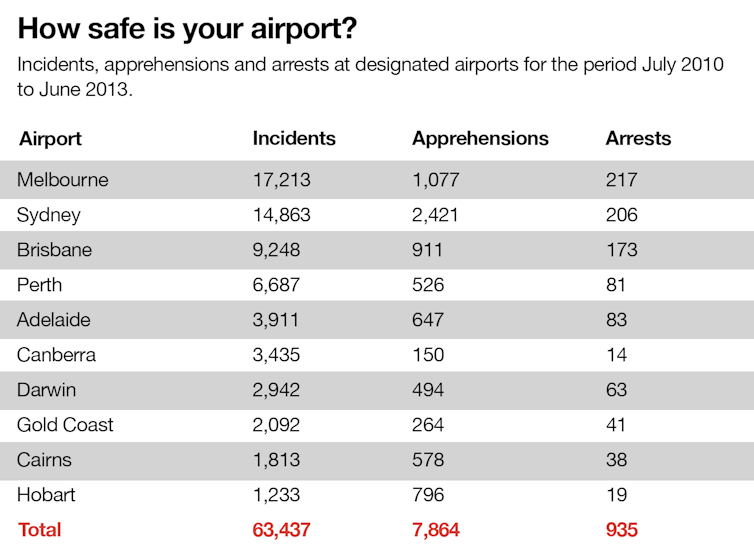 As part of the response to a range of dynamic criminal and security threats, joint airport investigation teams and joint airport intelligence groups operate at various designated airports. They are made up of staff from various government departments for a more co-ordinated response.
The cost of security
The AFP has previously indicated that, in 2012-13, the provision of aviation security cost it $155 million.
In 2013-14, Qantas spent approximately $260 million on security. It invested in training, equipment, research and technology as key aspects of its security response.
In a survey of its members, the Australian Airports Association identified that 20 airports – five capital city airports, four major airports, ten regional airports and two small regional airports – over five years had spent approximately $166 million on security.
Future challenges
Australia has been cognisant of the challenges aviation security poses.
In 2005, an independent review of airport security and policing made recommendations for improved security. These included the creation of joint intelligence networks between agencies, and a culture of proactive and ongoing threat and risk assessment for the aviation industry.
In 2009, another review recommended a new model of policing for Australia's major airports. The AFP took over control of airports from state police services.
It is testament to the resilience of our security system that Australia has not suffered a successful terrorist attack on its aviation industry, but constant review is needed to ensure that our responses keep pace with the changing threat environment.
That the Senate committee did not get to complete its work is an opportunity lost. The new parliament needs to complete this inquiry to ensure the aviation industry's security.