The conflict in Syria has seen atrocities committed by all sides for six long years. Barbarities are an everyday occurrence.
There are rules governing the conduct of warring parties. The 1949 Geneva Conventions form the core of international humanitarian law. Violating these rules is a war crime. Some atrocities go even beyond this level of criminality. Genocide, for instance, is an international crime in itself, while the systematic killing of political opposition would constitute a crime against humanity.
The existence of these offences counts for little, of course, unless the law is enforced. This raises the question: is there any way of prosecuting any side of the Syrian conflict? These are some options that could help inform the way forward.
1. International Criminal Court investigation
The International Criminal Court (ICC), based in the Hague, is designed to prosecute "the most serious crimes of concern to the international community as a whole". So perhaps it could act in Syria.
The court operates on a consensual basis, so that (perhaps counterintuitively) states must sign up to it to allow the exercise of ICC jurisdiction. Syria is not a party to the court.
There is a workaround though. The ICC can investigate international crimes in any country if the UN Security Council requests it to do so. This happened to Sudan in 2005 and Libya in 2011. Despite best efforts by lobbying states, the same has not happened in the case of Syria. Both Russia and China blocked a proposed referral in 2014 and there is little sign of them changing their minds.
2. A bespoke tribunal
The creation of the International Criminal Tribunal for the former Yugoslavia by the UN Security Council in 1993 marked a watershed moment in the administration of international criminal justice. A statute was drafted and experienced judges and lawyers recruited to help build a system of accountability. The subsequent creation of a similar institution to deal with the 1994 Rwanda genocide continued the trend.
Such one-off approaches have since fallen out of use, however, in favour of ICC prosecution. And, crucially, a UN Security Council resolution is required to create such an international institution (historically, at least). This makes the "bespoke tribunal" option about as likely as an ICC investigation.
3. A 'hybrid' court
"Hybrid" courts run on a mix of national and international law and are staffed by both local and international lawyers, allowing for a degree of local ownership. Examples include the Special Court for Sierra Leone and the Extraordinary Chambers in the Courts of Cambodia. Proposals for a similar Syrian model already exist.
Such courts are, however, generally created with the consent of the state concerned. If the Bashar al-Assad regime is to remain in power in Syria this may create significant difficulties for this approach. Its success would depend on the government's willingness to cooperate and submit itself to investigation alongside opposition groups.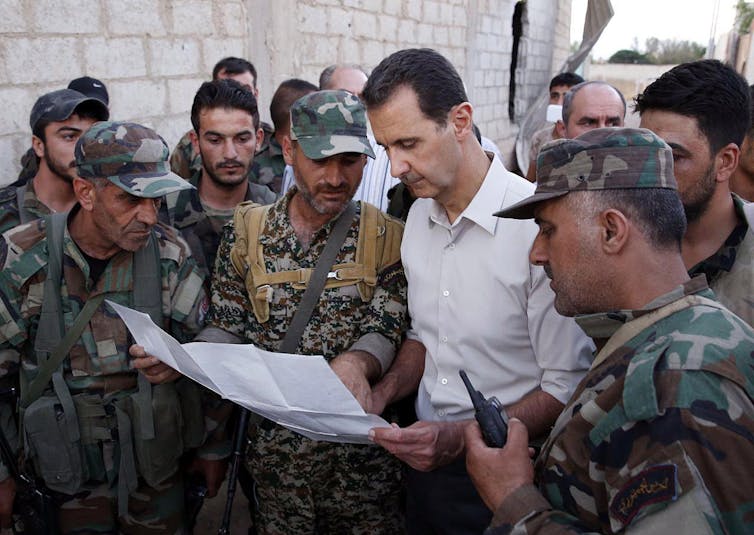 A more viable alternative may be to establish a "hybrid" court in a neighbouring country such as Jordan or Turkey, though this option would similarly require cooperation from the Syrian authorities (whoever that may be) to succeed.
4. Universal jurisdiction
Trials of atrocities committed in Syria are, in fact, already underway. In Sweden, Finland, Germany and Switzerland refugees suspected of international crimes are being prosecuted under the doctrine of "universal jurisdiction". This principle allows any state to prosecute any perpetrator of a serious international crime. Precedent for such action includes the recently concluded trial of the former Chadian president Hissène Habré under Senegalese jurisdiction.
Trials brought under this principle do present their own difficulties (such as evidence acquisition) and are limited in their reach. Nevertheless this form of legal scrutiny, even at a limited level, serves as a warning to warring parties that criminal actions do have consequences.
5. Trials in Syrian courts
Prosecution of atrocities in the Syrian courts would present considerable logistical and financial difficulties for a ruined state. Even if national trials were feasible (if funded externally, for instance) they would risk being politically vulnerable to manipulation by the ruling elite, whoever that may be.
Alternatively there is the choice of avoiding justice altogether, perhaps via an act of amnesty. The present scale of inhumanity in Syria makes this a deeply troubling option.
No easy solution
As the Syria conflict shows little sign of abating, the priority at present should be on the cessation of hostilities. But, as part of the reconciliation process that follows, transitional justice should play a key role. The favourite option may be the creation a "hybrid" court (politics permitting), paired with ongoing "universal jurisdiction" trials in states able to carry these out.
For the time being agencies such as the UN-created "investigatory mechanism" and the non-profit Commission for International Justice and Accountability must continue to collect and catalogue the evidence required for the time when it is so critically needed.