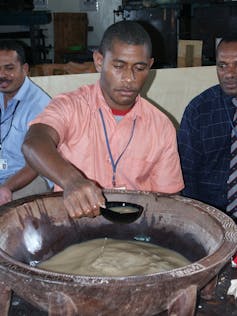 A new study has found that kava, a plant-based relaxant used in the Pacific, is moderately effective at reducing anxiety symptoms in people with diagnosed Generalised Anxiety Disorder.
However, while the authors of the study say their finding builds upon previous studies showing kava was effective in reducing short-term anxiety, experts have called for a cautious interpretation of the new study's findings.
Ingesting kava, made from the root of the pepper plant Piper methysticum, can cause reactions ranging from relaxation and euphoria to loss of muscle control if used in larger amounts.
The new study, published in the Journal of Clinical Psychopharmacology, involved a group of 75 people diagnosed with Generalised Anxiety Disorder.
The researchers excluded from the study people with co-occurring depression, a record of substance abuse, regular kava users, people with psychotic or bipolar disorder illnesses, or those currently on other medicines commonly prescribed to treat mental illness.
Over the course of the six week study, half the group were given kava and half took a placebo. Due to further exclusions and drop-outs, results from 58 people were analysed.
A questionnaire called the Hamilton Anxiety Rating Scale was used to assess their level of anxiety as the trial progressed.
At the conclusion of the trial, the researchers found that 37% of the kava group reported reduced anxiety symptoms compared with 23% of the placebo group.
A quarter of the kava group reported complete remission in their anxiety symptoms at the end of the trial, compared to 6% of the placebo group, said lead researcher, Dr Jerome Sarris from the University of Melbourne's Department of Psychiatry.
"We are not saying we are looking at kava as a replacement for conventional care but we see it as an additional option," he said.
"While the results of this study are encouraging, we really need a final National Health and Medical Research Council-funded larger replication study to confirm this as a first-line treatment."
The study was funded by the National Health and Medical Research Council and Integria Healthcare, a complementary medicine firm that manufactures MediHerb and Thompson's Kava products, but Dr Sarris said the company was not involved in the design of the study or analysis and publication of the results.
The researchers noted that their study did not examine the long term health effects of kava use and the drug may not be appropriate for those using other psychotropic medication.
"Because our advertising detailed the study of a 'herbal treatment' for anxiety, this may have encouraged participation of biased individuals," the study authors said in their paper.
Caution required
Dr Alex Wodak, Emeritus Consultant for the St Vincent's Hospital Alcohol and Drug Service and a Visiting Fellow at the University of NSW's Kirby Institute said that a single study, especially where the number of subjects was not very large, should be treated with caution.
"Studies funded partly or fully by a pharmaceutical company are more likely to conclude that the agent is effective or safe than studies funded from another source," said Dr Wodak, who was not involved in the study.
Dr Wodak said the new study should not influence clinical practice at this stage.
"This study should lead to more and larger studies, preferably comparing this agent to other medications (considered the best available) and non-pharmaceutical methods of treating this condition."
Kava used in the Pacific within cultural constraints caused few problems, he said, but could lead to liver inflammation, behavioural problems and skin disease when used as an intoxicant beyond any cultural constraints.
"Missionaries introduced kava to the Northern Territory in the hope that it would partly substitute for alcohol and cannabis. Instead, it seemed to complement them," he said.
Dr Ken Harvey, an adjunct Associate Professor at La Trobe University's School of Public Health, described the new research as "a well-conducted scientific study showing a modest effect of kava on some patients."
"Given the limitations of the study, variable results obtained by others and ongoing concern about possible side-effects, I would be reluctant to use these findings to recommend this product," said Dr Harvey, who was not involved in the study.
"It is appropriate to study kava scientifically. However, this study did not compare kava with current treatment and thus is of little use in influencing clinical practice."
Alternative treatments
Dr Nick Haslam, Professor of Psychology at University of Melbourne, welcomed the new research findings.
"It's a well-conducted study which shows that kava can be an effective treatment for generalised anxiety disorder, a condition that can be very disabling. It adds weight to a number of previous studies that had come to the same conclusion," said Dr Haslam, who was not involved in the study.
"Kava could be prescribed as an alternative to other medical treatments or as a supplement to psychotherapy. Some concerns about kava's possible effects on liver function and its potential recreational abuse would have to be kept in mind."
Professor Haslam said some anxiety medications such as benzodiazepines can be addictive and no medication is effective for all people who suffer from generalised anxiety.
"It's important to have several alternative treatments available given that different people will respond best to different treatments, and researchers will always be striving to discover new effective treatments and improve existing ones."