The White Paper called Working Nation became the Labor government's major economic statement in Paul Keating's second term. However, the policy was principally an after-the-fact attempt to clean up a mess in the labour market and be seen to be doing something even if a little belatedly.
Cabinet papers released today by the National Archives of Australia show the white paper began as a rational exercise but was soon overtaken by pressing contingencies and the desire to make the policy everything to everyone. While concerned ministers were anxious to reposition the government in the midst of an ongoing recession, the process of preparing the new White Paper became an exercise in opportunism and bureaucratic capture.
---
Read more: Cabinet papers 1994-95: How the republic was doomed without a directly elected president
---
How Working Nation was formed
On 15th December 1993 the Keating government released a significant draft policy entitled Restoring Full Employment – a nostalgic resonance to the original war-time Full Employment paper of 1945. Australia's unemployment rate at the time was a staggering 10% and while younger school leavers found it hard to find work or were actively discouraged, many older workers (especially males) were being thrown out of jobs, many never to work again.
Paradoxically, unemployment had not featured significantly in the 1993 election (which was fought on the GST), but Labor was now worried that if nothing was done about the deterioration in the labour market (and specifically job creation) then the government would not hold onto office in 1996.
In early February 1994, the Keating cabinet began work on a follow up government policy statement provisionally entitled: a White Paper on Employment and Industry.
The resulting Working Nation paper was one of five "Nation" statements favoured by the two Keatings (Paul the PM and Mike his head of department, not related). The cabinet papers show it began life with the worthy goal of "achieving sustainable high economic growth," but soon became a "jobs and training compact" to reduce long-term unemployment.
What Working Nation was designed to do
Working Nation was meant to provide an employment strategy, stimulate regional development, introduce a new industry policy, and assist Australia "going global" in expanded trade opportunities. Ministers hoped the policy would lead the economic transformation of Australia.
It began life under ministers Kim Beazley (then head of the Department for Employment, Education and Training) and Peter Baldwin (Department of Social Security). The focus was on the job seekers who would be helped by individual case management, but with the insistence on "reciprocal obligation" - that those on income support had a responsibility to stay in education, be in training or doing other productive work.
But this obligation could easily be evaded through the misuse of medical certificates. Only women over 40 whose partners were unemployed were spared these expectations.
In its implementation by the federal bureaucracy, and the beleaguered Commonwealth Employment Service in particular, the policy descended into a treadmill of labour market programs. There was a saturation of jobs advertisements in the media – that even according to senior administrators led to considerable "churning" of people through 12-18 month job compacts back onto the unemployment queues.
Cost blow outs
Cabinet deliberations at the time show two prominent political aspects of the policy. First, when money was up for grabs the policy intent expanded exponentially and ministers from tangential portfolios rushed to put their hands up for a share of the proceeds.
Second, fiscal circumstances were tight at the time, but costings for the multi-faceted White Paper went from estimates of A$200 to A$300 million for income support, to A$1 billion to A$1.4 billion a few days later. Then it became a maximum of A$1.7 billion.
When the program was announced in May 1994 it came in at an annual cost of A$2 billion, with claims of a total cost of A$6.5 billion before it was wound up in 1996.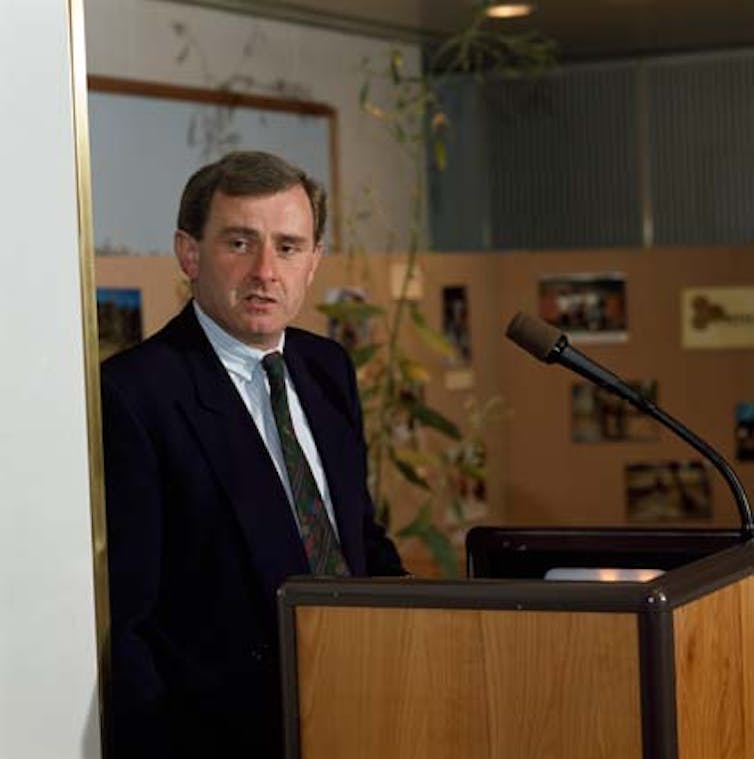 The formulation process showed how a determined bunch of policy entrepreneurs, senior bureaucrats led by the head of Department of Prime Minister and Cabinet and academic economists, were able to drive a policy response based on detailed research and theoretical propositions. Social Security bureaucrats were also able to exploit the opportunity to implement their own preferred policy adjustments, almost unrelated to the main thrust of the policy statements. At the same time these bureaucratic players largely marginalised ministers in the process. Indeed, the 1994 Employment Minister Simon Crean had to be briefed by officials on the content of the policy when Working Nation was released.
Moreover, these insider policy entrepreneurs carefully sidelined the government's main economic adviser, the Treasury department, during the whole process. This perhaps reflects the deep suspicion of some of these actors to the ideological bent of the then Treasury officials.
---
Read more: Cabinet papers 1994-95: How a security agreement allayed Australian anxiety over Indonesia
---
While a jobs training package sounded a simple response to a pressing problem, the Working Nation policy created more headaches for a government with umbilical links to the trade union movement. There was contention over a "training wage," whether it should be greater than the Newstart allowance and how it related to the minimum wage. There was also debate on whether workers could jobshare (which was not endorsed by cabinet) and how increased income support impacted on housing and rental relief measures.
Working Nation was a classic case of just how complex and interrelated such well-intentioned policy statements can become when they cut across other areas of established policy.
Even before it was wound up, there were concerns, noted by cabinet, that the program was not achieving its objectives and that those on the Job Compacts program remained without work when their program entitlements expired.
Even after economic growth in Australia improved, the unemployment rate remained stubbornly stuck at 8.5% before the 1996 election, - an election at which Labor suffered a heavy defeat. Working Nation led to the Commonwealth Employment Service being disestablished and replaced by the now familiar network of private or community job-seeker agencies delivering services under competitive contracts.
While Working Nation was a major economic and social policy statement of the government, it was an inadequate response (too late and too slow) to the imperatives of the 1991-92 recession. And in the process of producing the White Paper, strategically placed insiders grabbed the opportunity to flex their own policy muscles inserting their preferred options into the statement.
Once released, Working Nation had a short-lead in time for implementation (eight weeks) placing huge burdens on a centralised bureaucracy, not generally equipped to respond so receptively to such demands. Working Nation highlighted not only the policy-making inadequacies of the federal government but also the tardy delivery capacity of large unwieldy bureaucratic organisations.