The slogan Keep Calm and Carry On has been ubiquitous within newspaper headlines in 2017 as the UK careered from one crisis to another. It seems to sum up a very British character – yet it is used the world over to represent the fight against adversity. Some people may be getting sick of it but it is now firmly stamped in the national consciousness and is here to stay.
Having tracked use of the slogan since 2009 on Google Alerts, there has been a noticeable rise in its use in 2017, from a couple each day, to over fifteen for a few days after each crisis. This follows attacks at Westminster Bridge, Manchester Arena, Parsons Green and after the Grenfell Tower disaster. Headlines included: Keep Calm and Carry On; Why shaken Manchester will keep calm and carry on after the terror attack; Day After London Attack, Britons Keep Calm and Carry on Drinking; and Grenfell, Brexit, EU: Keep Calm and Carry On?.
Something about Britain feeling under a sustained sense of attack appears to have made this phrase particularly relevant for contemporary headlines. It is not that surprising, as the slogan was designed for the British nation, intended to be "a rallying war cry that will bring out the best in every one of us and put us in an offensive mood at once" – so said A P Waterfield in 1939. He was the civil servant working for the Ministry of Information, the department which created the famous "Keep Calm" poster.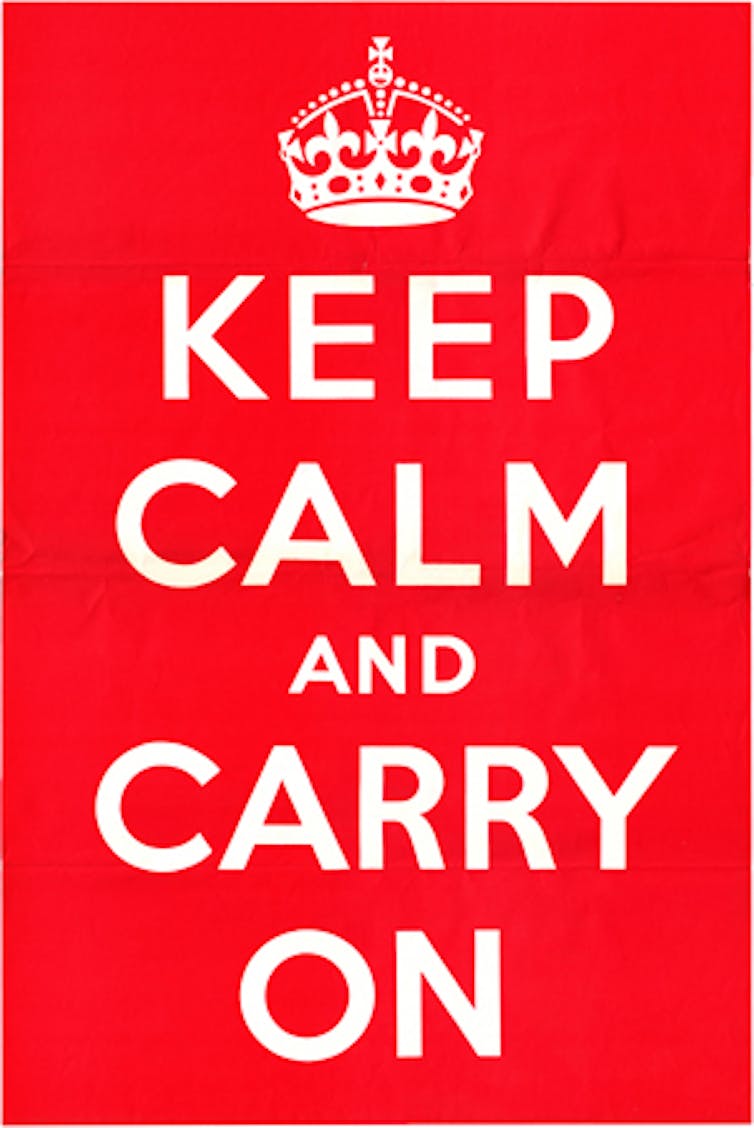 Keeping calm in the 21st century
That could have been the end of the "Keep Calm and Carry On" and for many years it was. But, in 2001, Stuart Manley of Barter Books, having discovered an original poster in the bottom of a box of auction books, decided to frame it and display it in the shop. Having established that it was out of copyright, he created copies that went on sale. In 2005, after being featured in The Guardian, sales of the poster rose to 9,000 in one month alone. Then, in 2009, as the economic crisis took hold, the poster started to appear everywhere.
That year the BBC asked if it was the greatest motivational poster ever – as "the very model of British restraint and stiff upper lip". Comments under the piece indicated that many had found the poster slogan useful in times of family illness, redundancy and moving house. For some it had even restored their sense of national identity. Barter Books, who expressed to me that they were unimpressed with the many variations, held that the original poster would have "resonance at any time".
Having sold significant quantities of the original poster to doctors' surgeries, hospitals, schools, army bases, embassies, government departments, and even to Downing Street, they felt it struck a chord anywhere that works at a hectic pace. The very "Britishness" of the design was why they loved it in the first place – and probably why so many others do too. Fraser McAlpine, a writer specialising in content for American Anglophiles, said "Keep Calm" is for Brits what "I HEART NY" is to New Yorkers.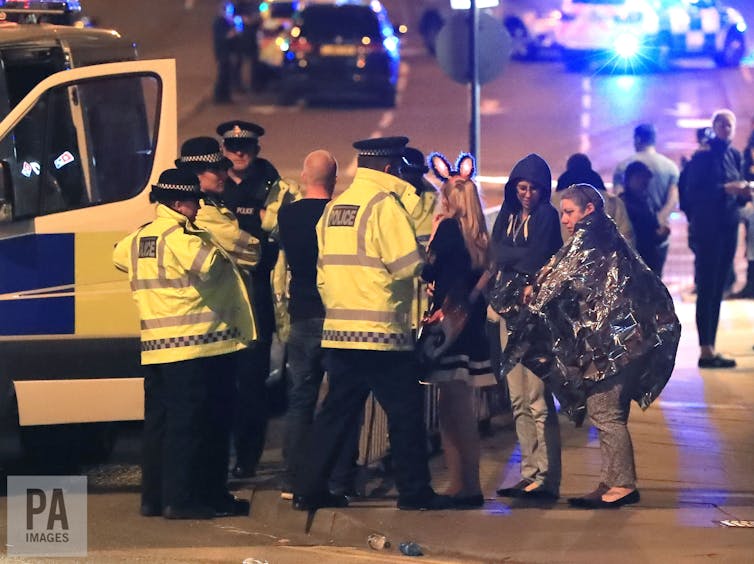 A very British phrase
The phrase is seen to emulate a particular type of Britishness. It demonstrates a certain amount of nostalgia for a time when we all "pulled together", "had a cup of tea" and "got on with it". Its global appeal, however, demonstrates that it both epitomises Britishness and transcends it. Lynda Mugglestone, professor of the History of English at the University of Oxford, talks about how the notion of "business as usual" has a long history in the English language, but once coupled with that of "carry on" – as Lloyd George had done in World War I – it evoked a wartime mindset. Conveying a determination not to give in, it created a sense of resilience and resistance, to continue as normal, whatever happens.
When the slogan became the subject of a trademark dispute, the Manley family, which owns Barter Books, decided as a matter of principle to contest the European ruling that Mark Coop, who owns Keepcalmandcarryon.com could trademark the slogan. The Manleys did not think anyone had the right to own the phrase, saying that it was like trying to trademark "it was the best of times". The case rested on whether there was something "inherent" in the term itself and the European ruling (provided in paperwork from Barter Books) concluded that "while it may be true that the message of the mark in some way chimes with the spirit of the times … it cannot be said … [to be] a commonplace message". It was said to be reflection of a broad "attitude to life" rather than a specific phrase.
In 2012 the writer Charlie Brooker complained that it was time to stop with the variations of "Keep Calm", but five years later, it can still be found in every tourist shop and looks set to remain a part of the cultural landscape for the foreseeable future, especially in times of personal and national crises.