Since the courtship of the Nashville music industry by the Nixon administration, conservative politics and pop country music have been political bedfellows.
So last week, when country radio promoter Keith Hill controversially suggested that stations should stop playing songs by female artists, it's easy to label his actions another example of misogynistic, conservative politics.
However, Hill's comments are actually indicative of something much bigger and far more troubling: the consolidation of an entire genre of music, and the type of environment this can create. In the case of country, it's allowed for the repurposing of the genre's history, and the exclusion of certain individuals.
A rich legacy of female stars
Try to imagine for a moment radio's other major markets – pop, rock, R&B – with fewer women. What would contemporary music look like today without Katy Perry, Lady Gaga, Rhianna, Beyonce and Ke$ha?
It goes without saying that women have a long, storied and celebrated history in country music.
Each decade since the 1950s has featured women who have landed in the pantheon of musical artists known worldwide by their first name: Kitty, Patsy, Dolly, Reba, Shania and Taylor.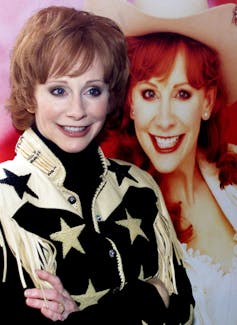 It's also noteworthy that each of these women since Patsy Cline has achieved significant crossover, mainstream appeal, whether it's Whitney Houston's R&B genre-defining cover of Dolly Parton's original song I Will Always Love You, or Taylor Swift's recent rubbing of elbows with Sir Paul McCartney. Not surprisingly, these powerful artists have all had a contentious relationship with the country music industry, confounding the expectations of what a female country star can and should do, from their lyrical choices, to their wardrobes, to their roles in TV and film.
It's this very dynamic that plays out weekly on the television show Nashville, whose main characters are powerful women pushing back against the constraints of an industry led by a highly consolidated network of media moguls.
One might go so far as to say that the popularity of female country stars threatens Nashville's obsession with defining – to paraphrase scholar David Sanjek – what is country music, and what country music is.
Revisionist history
But there are larger – and more threatening – systemic forces at play.
Country music's centralization in Nashville mirrors the centralization of radio over the past 50 years, and the scary amount of control that comes with such consolidation.
When country music promoters, agents, publishers and producers chose to consolidate the genre in Nashville in the late 1950s, they began applying new definitions, new aesthetics and a new history to the music. Even the name "country" is a re-brand: its precedents of "hillbilly," "folk," "hill and range" and "western" were eradicated. Thenceforth, country music would be strictly characterized as a southern, white, working-class cultural export.
Today, the political, racial, geographical and faith-based diversity of country music's many non-mainstream subgenres – bluegrass, alt-country, Americana, old-time and trucker music – is proof that country music encompasses far more perspectives and voices than those that are deigned to be "playable" on country radio.
Voices silenced by the powerful few
Again, in many ways the politics of country music is incidental here, though it effectively illustrates the dangers inherent in media consolidation, whereby industry insiders – rather than the public – define who and what gets played for us on radio.
The Dixie Chicks' public critique of then President George W Bush serves as a prominent example. Popular, powerful women in country music voiced a political opinion that may have resounded with many of their loyal fans, but ran counter to the conservative politics of country music's brand. Their resulting disappearance from country radio was nothing short of political censorship.
Were country music to have a liberal brand – and its executives exercised a similar censorship of conservative voices – it would be no less threatening to democratic free speech.
Then there's racial marginalization: it's in the music industry's DNA, and country is no exception.
People of color – particularly African Americans, American Indians and Latinos – have been major participants in the creation and performance of country music. But they've never been marketed as such. As a result, society accepts their absence from the genre as a cultural fact.
On the other hand, the marginalization of women in Nashville country music has been a trick of revisionist history. The grand narratives of the music genre point to Kitty Wells and her hit It Wasn't God Who Made Honky Tonk Angels as the "birth" of women in country.
But an examination of any regional history of country music tells a different story. New England had Betty Cody and Georgia Mae. The Coon Creek Girls emerged from the region surrounding Cincinnatti. Then there was Patsy Montana from Arkansas, Pennsylvania's Chickie Williams and California's Rose Maddox.
The marginalization of these female stars – along with lesser-known, but equally important women – is a troubling consistency in the story of the country music industry.
There's space in other genres for political, racial and gender diversity. One can listen to rock radio and hear a Jimi Hendrix song, followed by a Ted Nugent song, followed by a Fleetwood Mac song.
Apparently, not so in country.