Kenyan president Uhuru Kenyatta and his deputy William Ruto are currently facing crimes against humanity charges at the Hague-based International Criminal Court (ICC).
The charges result from the post-election violence in early 2008 where over 1300 Kenyans died and 600,000 were injured or displaced. Yet the pair have done everything to politicise these charges in Kenya and at the African Union.
Ruto, an ethnic Kalenjin, has been accused of planning and organising crimes against members of the Kikuyu community - Kenya's largest ethnic group. A judicial investigation into the violence, the 2009 Waki Commission report stated that:
…the incident which captured the attention of both Kenyans and the world was the deliberate burning alive of mostly Kikuyu women and children huddled together in a church.
It is claimed that Ruto was involved in the incident, which took place in January 2008.
Kenyatta, a Kikuyu and the richest person in East Africa, is accused of planning and organising crimes against members of the Kalenjin and Luo ethnic communities.
Ruto has persuaded the ICC to move his trial from May 28 to a new date to be determined. Kenyatta's trial is slated to start on July 9. Both leaders have stated that they respect international law and will cooperate with the ICC.
These cases have not only divided the Kenyan community, but they have also pitted the African Union against the rest of the world and threatened to complicate Kenya's previously close diplomatic relations with Western countries.
Even before Kenyatta and Ruto were elected to Kenya's top offices on March 4 this year, the uncertainty about their cases had been compounded by the Kenyan government's mixed signals. These included: half-hearted cooperation with the ICC, legal challenges to the ICC's legitimacy to handle the cases, futile appeals to the UN Security Council to intervene and diplomatic efforts to undermine the ICC in Africa.
Kenyatta and Ruto's political coalition - dubbed the "Jubilee Alliance" - was crafted as an anti-ICC vehicle. The duo, who acknowledged that their election to power would complicate Kenya's international matters, initially sought to draft then-deputy prime minister Musalia Mudavadi to be a flag bearer for their party. However, a week later, Kenyatta made an about-turn and announced that "dark forces" had compelled him to resume the leadership of his party, with Ruto as his running mate.
Kenyans are divided over these cases along the lines of those who support the Hague process and those who believe a national tribunal should be established to handle them. Those who support the ICC believe Kenya does not have the resources to manage these cases. Ironically, Kenyatta and Ruto were the strongest supporters of the ICC in 2009 when they joined other MPs to derail legislative efforts to establish a national tribunal.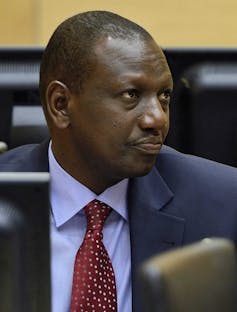 Since being named as suspects in December 2010, Kenyatta and Ruto have changed tune and called for a national tribunal. They have claimed that the ICC is a foreign institution which undermines Kenya's sovereignty. The duo exploited this theme successfully in this year's election campaigns by portraying their main rival, former prime minister Raila Odinga, as a supporter of the ICC.
Yet parliamentary records show that Odinga argued strongly for a national tribunal in 2009 and was defeated by the duo and their supporters, with Ruto claiming:
Don't be vague. Let's go to the Hague.
But even Kenyans who support the Hague process are not united. Some of them believe the case should be deferred indefinitely until Kenyatta's presidency is over, while others counter that such a deferral would amount to a denial of justice.
Previously, the Kenyan government has sought to use the African Union to frustrate the ICC. On May 23, the African Union foreign ministers passed a resolution calling on the ICC to drop charges against Kenyatta and Ruto and 53 African presidents (with the exception of Botswana's) endorsed this resolution on May 27.
Despite such calls by the African Union, there are no African legal institutions equipped to handle these cases. The African Court on Human and People's Rights does not have the capacity to handle these cases.
Kenya has also not formally applied for the transfer of these cases, and even if it did, there are no procedures that would make this possible.
Nonetheless, these cases hanging over Kenyatta and Ruto could complicate Kenya's diplomatic relations with Western governments.
Isolating Kenya might not only complicate Western strategies against terrorism in the region (particularly in Somalia), but it could also undermine the road to economic prosperity for several states in the region, including South Sudan, Uganda, Tanzania, Rwanda and Burundi.