The new BBC comic spy thriller Killing Eve, written by Fleabag author Phoebe Waller-Bridge and based on Luke Jenning's novel Codename Villanelle, is a whirlwind spy tale of murder, obsession, betrayal and resilience.
Its young female antagonist Villanelle (Jodie Comer) is a Russian assassin working for a mysterious group of international power players called "The Twelve", whose aim is to destabilise the world order through murder, mayhem and chaos.
The protagonist is blundering but intuitive MI6 operative Eve Polastri (played by Sandra Oh, who has expressed surprise that she landed a part normally reserved for non-ethnic actresses). In the course of her covert investigation the two become obsessed with each other, engaging in a brutal but often hilarious dance of seduction and aversion while dismantling stereotypes about what women should look like, sound like, dress like (and for), and who they should find sexually attractive.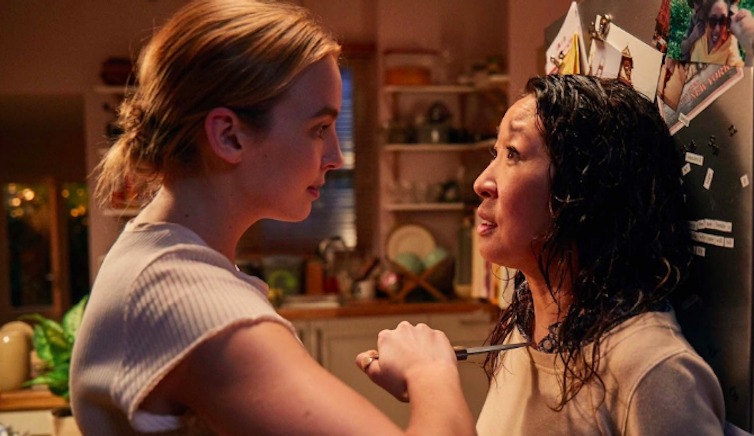 Flawed, thrilling women
Killing Eve's characters may be painted in broad strokes but the themes explored are both relatable and profound – the nature of human connection, and the foundations of attachment and trust.
Villanelle and Eve are not good at relationships and both destroy the intimate connections they have with others. Both are focused and good at their jobs (murdering and catching murderers), and neither looks for male validation (Eve is disgusted when she has to dress up for a restaurant meeting with a contact, but is both terrified and excited to wear a hot dress during a twisted "romantic dinner" with Villanelle).
Neither is willing to be a victim. Both have little regard for authority and strive to dominate. Both are smarter than the men around them and each is capable of being exceptionally cruel and unfeeling – at one point Villanelle drives a hairpin through the eye of a mafia boss while his grandson is locked in the nearby bathroom. In another scene she shoots her former handler in the presence of his daughter. Eve, too, can betray a person's trust by stabbing them (literally and metaphorically) at their most vulnerable.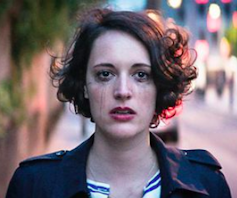 Their fascination with each other has an obvious Freudian complexion: the orphan Villanelle is searching for a mother, while Eve – who is childless – exhibits maternal feelings. Eve is messy and unpredictable, and her sharp intelligence means she is easily bored. Her husband Niko's attempts to protect her only result in her neglecting and abandoning him – she seeks challenge and danger, and is burdened by the security of her life, resenting her desk-bound job.
Villanelle has her own problems. A wounded child unable to trust, she connects via what psychology calls "mirroring" – by turning the world into her mirror and the people around her into copies of herself, or by imitating elements of other people's identities. She does this by demanding praise, stealing her victims' and lovers' clothes and replacing them with clothes of her own choice – usually very expensive.
She has a curious habit of sending lavish presents as part of her seduction ritual, as a way of connecting with the people she likes. Mirroring often looks creepy because its aim is erasing the boundaries of personality and identity – the lines that separate us from other people, that make us unique. This superficial and fetishised way of relating cannot stand the test of reality.
Eve and Villanelle cannot be with each other despite the powerful attraction: neither can drop their guard because they see emotional dependency as a weakness, and treat attachment as an impediment to their professional success. Ultimately, they don't trust each other – so their obsession is destined to end up in sexual frustration and a bloody collision of egos.
Exploding female stereoptypes
So far, so good in terms of jettisoning stereotypes of the cosy mother and a fragile young woman looking for male protection. There is one stereotype that remains, though - that of a hot Russian assassin. Villanelle's real name – Oksana – is an obvious nod to Bond's arch-enemy in Goldeneye, the comically named dominatrix Xenia Onatopp. Like Onatopp, Villanelle's character is a femme fatale whose sexuality is so powerful that many of her lovers end up dead.
Villanelle possesses a combination of traits which have featured in Western representations of Soviet women for decades: unpredictable, dangerous, attractive. She's had a difficult childhood, served a sentence in a brutal Russian prison and is trained for special missions, yet remains unbroken. She is bright, hardworking and speaks several languages. In other words, she is the ultimate survivor. But despite her incredible mental focus, resilience, and physical strength, she is vulnerable because she yearns for a human connection in a world of murder and betrayal.
Villanelle is simultaneously feared and objectified, and her allure as a character lies in the contrast between the terrifying other (powerful, tough, Russian) and the vulnerable abandoned child. She is both familiar and unfamiliar, human and inhuman. What truly fascinates here is the line between similarity and difference. Her adversaries cannot decide whether they want to destroy her, cuddle her, or fall under her sexual spell.
The hot Russian assassin stereotype is not new, and has been used and abused for decades in numerous Bond films as well as in more recent blockbusters such as The Red Sparrow. Unlike these female characters, all of whom are used to underscore the brilliance of heroic (Western) men, Villanelle is used to explore a whole new world of attachment, complexity and the intricacies and dangers of sexual desire.
The main stereotype that Waller-Bridge dismantles, however, is that of the "perfect woman". Her trademark sarcasm is all over the script, and is particularly felt in the portrayal of family life and professional behaviour, the two conventions of everyday existence – being too busy for sex, noisily eating a croissant at an important meeting, feeling uncomfortable rather than glamorous in a hot dress, pulling silly faces, being goofy. Waller-Bridge's female characters are messy, complicated, imperfect, relatable. And women want to see more of them on screen.