For more than 500 years, she has wandered, weeping and searching without rest. A ghostly woman in white who is said to have murdered her children, she is doomed to roam the earth, searching for their lost bodies. Though the ghost woman may never recover her own dead children, she will snatch other living ones to take their place, or so the story goes of La Llorona.
Each year around Halloween and Día de los Muertos (Day of the Dead), our thoughts turn to the undead and spirits walking among us. One day focuses on costumes and candy. The other is a Mexican tradition rooted in Indigenous practices that involve formally remembering the dead through offerings of food, drink, and celebration.
Into the mainstream
La Llorona, the weeping woman, is a figure familiar to many Latinos. Dressed in a tattered long gown with a wild mass of hair and razor-sharp fingernails, she is terrifying. Her story is told and retold to entertain, frighten, and even discipline.
Naughty children are told, "Behave or La Llorona will get you!"
A longstanding member of the Latino community, La Llorona has slowly - over the last 15 years - been making her way into the cultural mainstream.
NBC, for example, recently announced that a new anthology series by Eva Longoria, "inspired by the rich world of Hispanic folklore and myth," is in development. The series with its American Horror Story-like structure will focus on a different tale or figure each season, the first of which, you've guessed it, will be about La Llorona.
La Llorona's image now appears on such products as coffee, T-shirts, throw pillows, jewelry, and infant onesies, which ensures the continuation and further widens the reach of the story.
Two years ago, actor Diego Luna's La Llorona: Villa De Almas Perdidas was an attraction at the Universal Studios Hollywood's Halloween Horror Nights. Designed as a walkthrough maze, people wended their way through a village that featured key elements of the folklore, including small bodies floating in water, various figures weeping, and, of course, La Llorona herself. Last year Universal Studios Orlando included its own La Llorona-themed Halloween maze.
La Llorona's inclusion at such popular tourist attractions is perhaps representative of the growing influence and recognition of Mexican American culture within the mainstream.
Further evidence of this crossover can be found in the 2012 "La Llorona" episode of the NBC hit series Grimm. 6.1 million viewers tuned in to watch, making it the fourth highest-rated episode to date.
Another, more humorous, take on the story came in 2001 from Latino students at the Art Center College of Design in Pasadena, California who developed a La Llorona version of the then popular 'Got Milk?' ads. The commercial shows La Llorona crying because she has no milk to accompany her pan dulce, Mexican sweet bread.
Ancient origins
Various permutations of a wandering, wailing-woman-in-white story have existed for centuries in the New World, linking her to Aztec goddesses and dating back to a time before the arrival of Spaniards. Others contend her story is Old World in origin with roots in German folktales or Ancient Greek myth.
The infanticide, a key part of the story, is La Llorona's revenge for being abandoned by her lover, according to some versions. So while she searches for her children, she also seeks out other men as potential prey.
La Llorona is said to appear as an alluring woman who entices and welcomes men's advances, only later revealing her true murderous intentions. Those who narrowly escape La Llorona's clutches often offer their stories as cautionary tales.
While stories about a predatory woman may exist in cultures around the world, Latinos, Mexicans and Mexican Americans in particular, have documented encounters, shared folktales, and created representations of La Llorona, including songs, plays, dances, poetry, novels, films, comics, and art.
One example is San Antonio based artist Hector Garza. He combines popular Mexican themes and icons, including La Llorona, calaveras (representations of the human skull) and Frida Kahlo, with loteria (the Mexican game of chance) cards, comic book figures, and Star Wars, rendering them in a graphic playful style. Garza's social realism paintings draw inspiration from Mexican social realist painters like Diego Rivera and José David Siqueros. Both styles of art represent a way of reconnecting with his Mexican roots.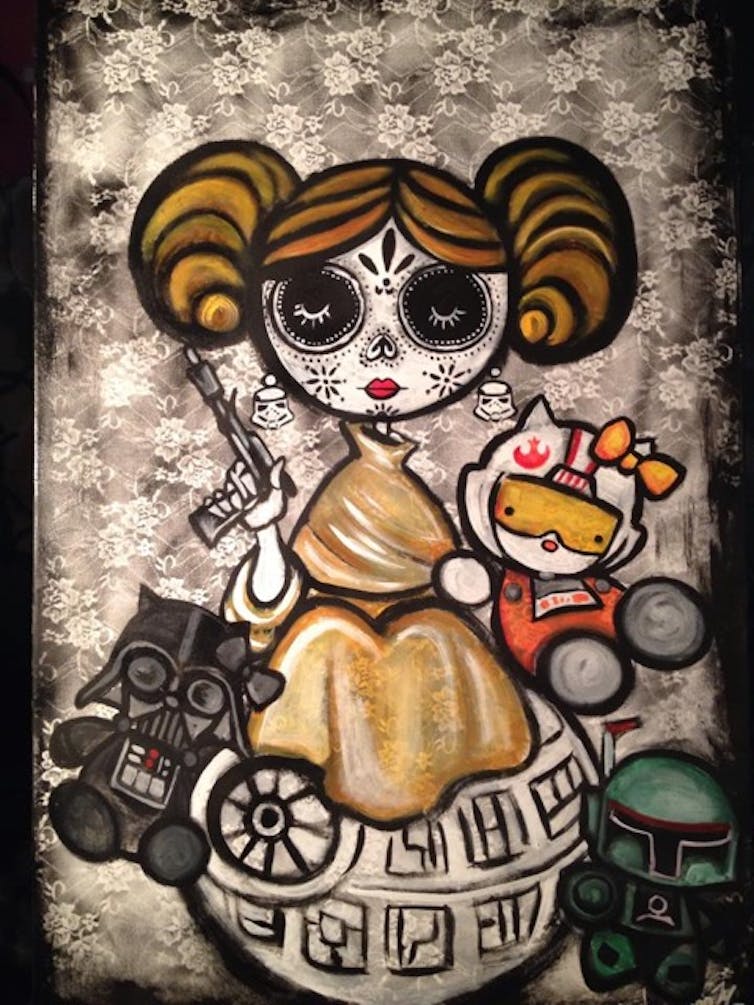 Hispanic culture's relationship to death and dying may seem morbid to some, but these stories and celebrations are an affirmation of life. The grinning calaveras or laughing images of Death remind us to live each day fully, thoughtfully. Death is not to be feared.
Rather than fleeing from or avoiding La Llorona, we now can check local listings to invite her into our homes. Let's hope she's a hit.