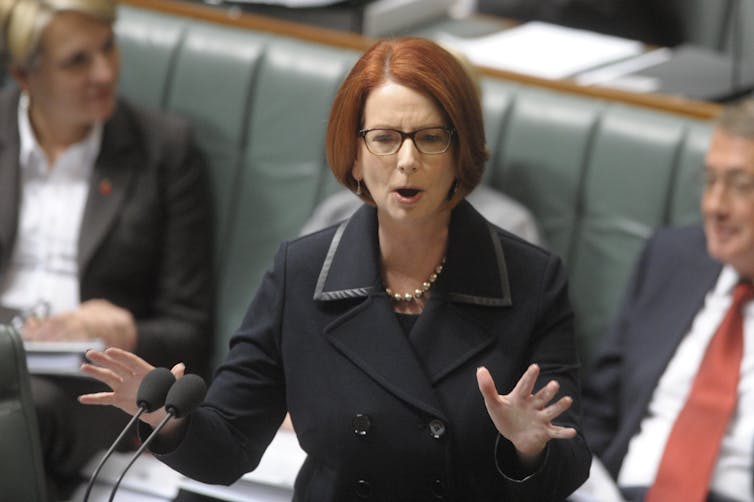 If any move is made against Julia Gillard in the next 36 hours, it won't be like the one that installed her.
That came almost out of the blue. We seem to have been waiting an eternity for this lunge that may or may not materialise.
Parliament House tonight remains abuzz with speculation, people oscillating between anticipating something and expecting nothing. Some in the Rudd camp insist there will be action. Other sources there say maybe. The Gillard camp is edgy but dug in.
Rudd himself is planning to leave for China on Thursday. Unless his circumstances change.
The contenders play mind games to the point of indecency. Gillard offered her tormentor a lift in her VIP to Hazel Hawke's memorial service. But Rudd declined, travelling commercial.
That meant he missed the parliament's last scheduled caucus meeting. Not that there had been any thought of action there – just as there wasn't at a scheduled meeting before he was deposed.
At caucus Gillard named education among Labor's key campaign issues. Yet the government still has only two states locked into Gonski, with even the ALP state of Tasmania still to sign. Work goes on behind the scenes as the June 30 deadline looms.
The PM continues to keep the heat on Rudd. If his camp wants to bring anything on it seems it will need to petition for a meeting, which would mean 34 signatures. If Gillard did not call a ballot, there would have to be a spill motion moved.
But Caucus members from both sides of the divide have been on the record in the past few days saying the leadership must be settled decisively this week.
If there is not a final showdown, Rudd and Gillard will look bad.
Rudd will cop blame for destabilising without producing a result.
Gillard will have "won", but by tactics rather than in a ballot and there will be a lingering feeling it was at the cost of foregoing a potential lift in Labor support.
As the sands of the sitting run down the government has been frantically working to get the support of independent Tony Windsor to pass legislation cracking down on 457 visas – which it wants to reinforce its pitch that it is protecting Aussie jobs.
But media and public attention today has been focused on what Gillard's critics see as another misjudgement by her or, in particular, her Scottish communications adviser John McTernan (the man on a 457 visa) who has become a special target for the Ruddites.
Gillard's decision to pose for the Women's Weekly, knitting, was problematic at many levels. OK, she knits. But this was about producing a kangaroo for William and Kate's baby, due soon.
Leave aside the republican knitting for the monarchy. Gillard posing with needles and Reuben the dog, knitting for a royal rather than a relation appeared neither prime ministerial nor like a PM having a bit of downtime. If she'd wanted the latter image, best to have the pics taken at home, without a menagerie of people to style her and clothes for possible use. She's a leader, not a model.
The accompanying article by Caroline Overington was unlike the soft take that often marks such pieces. It was decidedly sharp. Highlighting the PM's problems, it said that her knitting "does seem a little like fiddling as Rome burns".
The idea of the knitting hadn't been the Weekly's but had come from the PM's office, it said. The report quoted McTernan as saying it was a "no-brainer" but Gillard, "needles at the ready;" had said: "This feels slightly absurd".
The needles shoot has provided material for plenty of jokes and puns but also degenerated into a row between the magazine and PM's office.
In its blog today the frustration of her press office was obvious.
Some 400 shots were taken, it said, including of Gillard "with and without knitting needles and wool, with and without Reuben, and in a formal outfit and an informal outfit. Reuben was also photographed with the knitted roo.
"The PMO agreed to a wide-ranging interview. Caroline Overington interview the PM for one hour on her achievements, leadership, misogyny, knitting, the Royal Family, Kyle Sandilands. Not a word of this interview appeared in the article published in Australian Women's Weekly".
Clearly the attempt to humanise the PM had backfired, just as so much else has for her.
Revealing was the magazine's choice not to go bigger on the story.
Gillard polarises people; her future had been uncertain when it was preparing the issue, the Weekly explained. Like the polls, it was a telling barometer of the trouble that Gillard's in.