The rout of the Liberals in Aston is a disaster for Peter Dutton.
The party has defied history - in the worst possible way. This is the first time in more than a century that a government has taken a seat off an opposition at a byelection.
Both government and opposition expected a Liberal win, although they predicted a tight result. In the event Labor had a comfortable victory.
The centrepiece of Labor's campaign was targeting the opposition leader, and Aston voters responded with a resounding 'no' when asked for a judgement on Dutton.
In 2001, a byelection in Aston put then prime minister John Howard back into the electoral game. In 2023, this byelection has undermined what authority the opposition leader has had.
There are no obvious alternatives to Dutton (although deputy Liberal leader Sussan Ley and shadow treasurer Angus Taylor have aspirations).
But over coming months it's likely there will be muttering and undermining of Dutton.
Dutton prides himself on having held together a party that is divided over whether to go to the right or the left. This defeat can be expected to intensify that internal argument.
It will also reduce Dutton's ability to reform the party's debilitated state organisations, including and especially in Victoria.
On Saturday night Dutton made the point that "it's a tough market for us in Victoria". Aston will feed into what has been a strong narrative - that Dutton, from Queensland and the right, is unelectable in this progressive southern state.
The timing of Alan Tudge's departure from parliament was, certainly in retrospect, the worst possible. As if Tudge had not previously done enough damage to the Liberal party. Aston voters had already punished it over his behaviour with a big swing at the general election.
---
Read more: Labor wins Aston byelection; NSW election and Trump polling updates
---
In the byelection, many voters were frustrated they were at the ballot box for the third time in less than a year.
While the cost of living is at the front of people's minds, Aston showed they are not blaming the Albanese government. They accept that the interest rate hikes and price rises are being driven by factors almost all outside the government's control.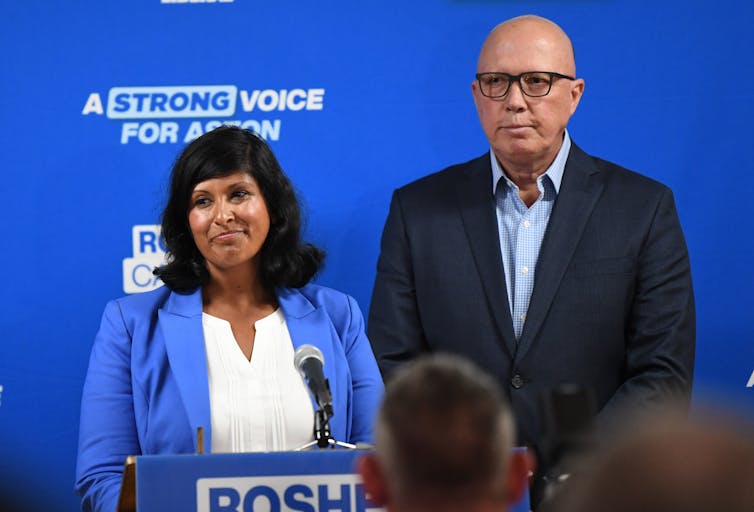 The Liberals had a strong candidate in Roshena Campbell, but she was parachuted into this outer-eastern suburban seat from Brunswick, seen as a long way away when localism is increasingly the electoral flavour. One is reminded of the fate of Labor's Kristina Keneally when she was parachuted into a seat that wanted a local in last year's election.
Labor's Mary Doyle does not live in Aston but has resided in the region for some 35 years.
The Aston outcome reinforces the point that the Labor government's honeymoon continues to flourish. The news of the past fortnight's parliamentary sitting showed a government that was busy and chalking up wins, most notably this week's deal to get its safeguard machinery legislation in place, which is key to implementing its climate policy.
One achievement of the Labor government that would have resonated with some Aston voters is the improvement in Australia's relations with China. This electorate has a high proportion of residents of Chinese heritage.
---
Read more: View from The Hill: Dutton saddles up for Aston race amid Victorian Liberal infighting
---
Dutton has promised to listen to the messages from the byelection, and to rebuild the party. It's one thing to recognise there are lessons, but another to decipher precisely what they are, and yet another to put solutions in place.
It does, however, seem likely that voters are unimpressed with the Opposition's constant negativity - which just deepens Dutton's problem as he comes closer to having to formally declare his position on the Voice to Parliament.