The results are in, and the so-called north-south divide continues to separate children's educational outcomes by geography – as the recently published secondary schools' performance data from the Department for Education shows.
While there are of course variations within each region, the data – which covers over 4,000 English secondary schools – shows that parents are much more likely to find schools with high level academic performance in the south of the country, specifically in London.
On average schools in London outperform those in the north of the country by almost five percentage points.
Crunching the numbers
The 2016 data will bear much more detailed scrutiny than previous years, primarily because it contains new measures of student outcomes. So as well as GCSE results, under the new measure, comparisons between pupils' results at the end of primary school are also now taken into consideration. This is known as pupils' "starting points", and means that school performance is no longer based solely on final GCSE grades.
In light of these new measures, I've analysed the most recent data for secondary schools. To do this, I grouped the data into local authority regions to show how schools in a local area perform. Though this is not to suggest that the local authorities themselves have a significant impact on student outcomes. In each local authority, most – if not all – secondary schools have become academies, over which local authorities have little influence.
To allow for children's "starting points" as they join secondary school, I included the average key stage two "point score" for a cohort joining secondary school. I then compared this against the percentage of that cohort that achieve five A to C grades including English and maths when they leave school at the age of 16, as can be seen in the graph below.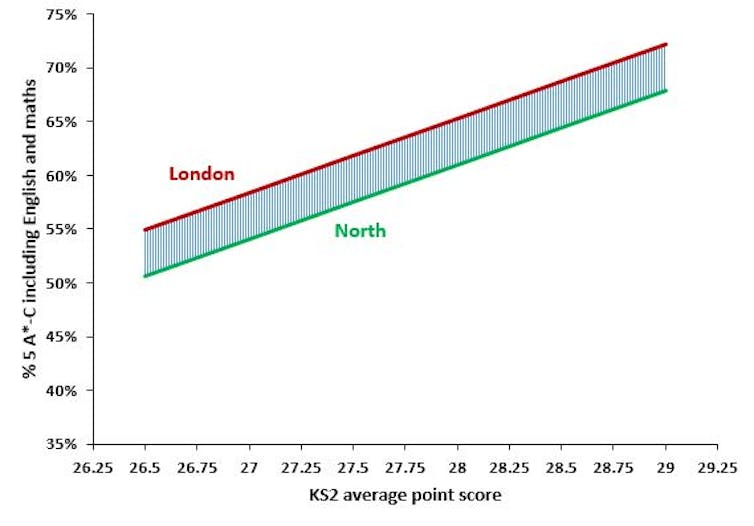 These results show that London schools are consistently able to achieve five percentage points more on the A to C measure than northern schools, whatever the children's starting points. This differs from 2015, when the gap narrowed for higher ability cohorts.
My analysis, however, does show that some of the northern local authorities with weak cohorts have made small gains, but at the same time London areas with higher ability children have still accelerated their progress.
London first
I demonstrated elsewhere that while location plays the largest part in accounting for differences between school performance, by far the most important factor is the level of deprivation. This can be measured by families who have been eligible for free school meals at any time over the last six years – known as the "pupil premium".
Pupil premium funding started in 2010, and has injected huge amounts of money into schools. It has been specifically targeted at those individuals who history shows they are least likely to succeed in school. But questions have rightly been asked about how much difference this has actually made to outcomes.
My analysis shows that the general trend across local authorities tends to be that the higher the proportion of disadvantaged children there are at a school, the lower the percentage achieving five A to C grades – including English and maths.
While this may be no surprise, the data for London authorities shows a marked difference – not just from those in the north but from all other regions. This seems to suggest that it is possible to achieve high outcomes irrespective of the number of disadvantaged children in the cohort.
The graph below shows that in London's five most deprived authorities, children perform at least as well as they would in many of the most affluent areas of the north.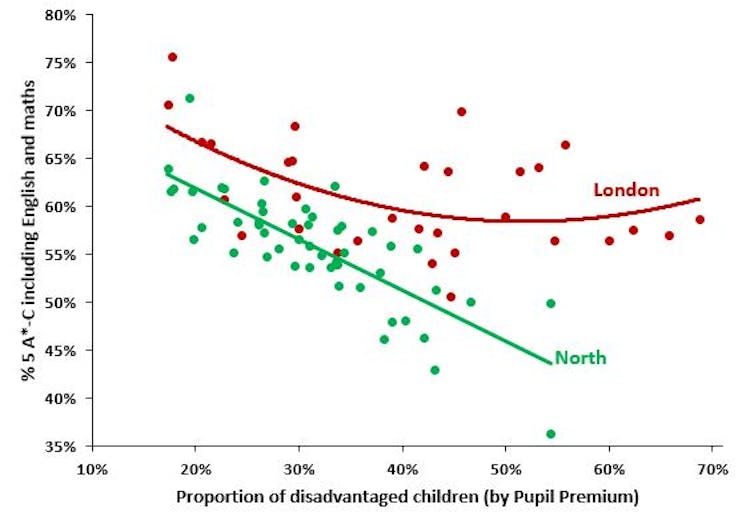 Postcode lottery
What all this analysis shows is that there is clearly work to be done, not just in establishing the reasons for these regional differences, but also to understand better the nature of the measures of performance and disadvantage.
For a number of years educators have pointed to the "London challenge" as an example of sustainable, meaningful school improvement, but to date few areas outside of the capital have been able to match its success.
The reasons for this success will of course be many and varied, and will undoubtedly be influenced by the enhanced levels of funding that London schools receive. This has been estimated to be as much as £1,000 per pupil – almost double that of other areas.
But not all of London's success can be attributed to finances alone, because schools here have worked together, to come up with "bespoke solutions" to address the wide range of problems faced by schools in the area.
What all this suggests is that closing the north-south divide between secondary schools will be difficult, if not impossible in the days of competing multi-academy trusts. And with the loss of geographical coherence, as local authorities wane in influence, it is hard to see a clear way forward.
But given that A-level and university applications suffer from a similar regional bias, what is clear is that we need to support and develop the areas outside of London if we want education to stop becoming something of a postcode lottery.