Bluetongue disease, a virus which attacks sheep and cattle, has broken out in France, leading to fears that some time this year infected midges are likely to be blown across the channel and bring the disease to the UK, according to a recent government report.
By mid-February 184 farms had been infected throughout France. A 150km restriction zone has been thrown up around them in an attempt to control the disease. It's easy to see why – northern Europe's most recent outbreak between 2006 and 2010 caused an economic loss of hundreds of millions of pounds while more than 2m sheep across Europe have died since 1998 as a direct or indirect consequence of bluetongue.
Just as malaria is carried from human to human by infected mosquitoes, bluetongue is transmitted from animal to animal by female biting midges. The virus mainly affects sheep, goats, cattle and deer – it doesn't do anything to humans.
The name bluetongue was given for the characteristic swollen and blue-purple coloured tongue in infected animals, especially sheep. However, this is a rare feature and most don't actually get a blue tongue at all. More common symptoms include fever, low milk production, haemorrhages, mouth and nasal ulcers and problems with reproduction. In previous European outbreaks nearly half of the infected sheep died from the disease, while mortality rates in some sheep breeds can be up to 70%.
Meanwhile cattle often carry the virus without actually suffering from any of the symptoms. Cows can be the perfect invisible source of a bluetongue outbreak within a farm.
Many-faced disease
Bluetongue virus is widespread in the Americas, southern Asia, northern Australia, Africa and Europe. As with all other viruses, bluetongue is constantly mutating. Of the 27 different genetic forms (called serotypes) only one has caused large outbreaks in northern Europe: bluetongue serotype 8.
Serotype 8 emerged across northern Europe from France to Germany in 2006, 550km from previous outbreaks in Italy and Spain, and reached the UK the following year. A large vaccination programme eventually got things under control and by 2012 northern Europe was once again declared free of bluetongue.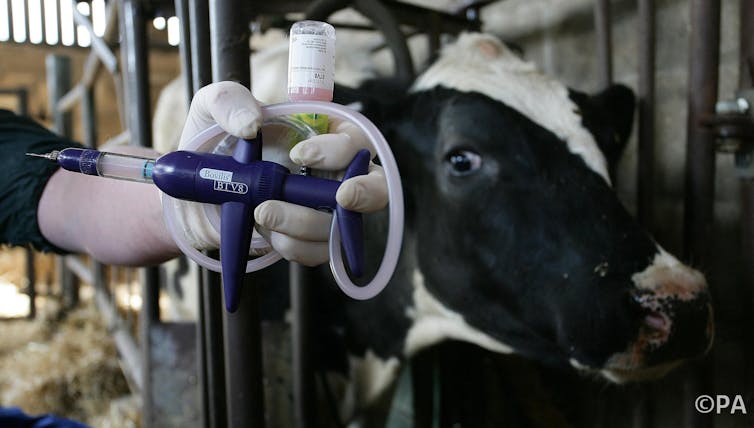 It remained that way until August 2015. The latest outbreak was first reported around Louroux-de-Bouble, a village in one of the major cattle areas in the centre of France. In total 27 cattle and 6 sheep were found to be infected. French authorities deployed a 150km control zone around the infected farm and started localised vaccinations.
It's thought unlikely that this will stop the spread of bluetongue. While the majority of today's infected farms are concentrated to the south of the first infection, the latest – reported on February 10 – was found 200km to the north.
What happens next
If bluetongue keeps spreading northwards, aided by the mild midge-friendly winter, and arrives in the farms along France's north coast later this year then there is a very good chance it will jump across the English channel and British livestock will become infected. A UK government report says there's a 60-80% likelihood this will happen by the end of summer.
Midges can be carried downwind for long distances – comfortably far enough to cross the channel, which narrows to just 30km (20 miles) at the strait of Dover. Infected midge-blowing is probably what caused the UK's 2007 bluetongue outbreak and the 2012 outbreak of Schmallenbertg, another livestock disease transmitted in the same way.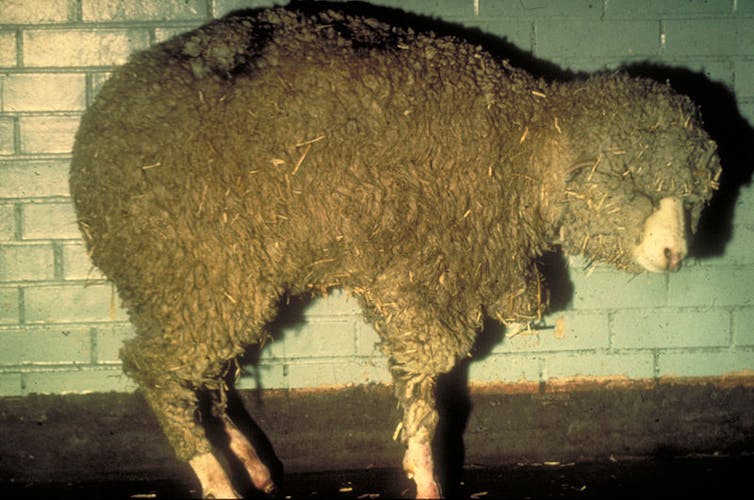 Bluetongue can also be introduced through the movement of live animals or through infected semen and embryos, but these are legally restricted and therefore the risk is very low. Wild boar, deer and other wildlife act as "reservoirs" for the disease, periodically passing it on to midges, and thus back into livestock. The most dangerous and unpredictable way for the disease to spread uncontrollably remains the combination of midges and infected wildlife.
The control zones we currently have aren't enough. They're supposed to contain bluetongue outbreaks through restricting animal movements, vaccination and surveillance – yet the effectiveness of these zones has never been evaluated, so each country responds in different ways.
Stopping the spread
The exact source of this latest infection is unknown – often the case with bluetongue outbreaks – which makes it more difficult to predict the development of the disease. In the UK, vaccine production was stopped after northern Europe was declared bluetongue-free in 2012, so supplies are very limited.
Yet vaccination is the only way to stop the spread of the disease. Models show that to prevent an outbreak, at least two-thirds of the farms at risk must be vaccinated in a relatively short time. At the moment negotiations are in place to produce enough vaccine for Britain's sheep and cows.
This is going to be expensive. Farmers need more support and EU or national governments should subsidise part of the cost where necessary. Environmental and animal agencies should also look out for infected midges and infected wild animals along the south coast – catching a British bluetongue outbreak as soon as possible will determine how quickly and successfully it can be controlled.