The final instalment in a series of non-debating debates ahead of the 2015 election took place under the auspice of David Dimbleby. It was billed as a BBC Question Time format and pitted the three main party leaders against an audience made up of the general public, 25% of whom supported each party and 25% of whom were undecided or supporters of other parties.
The format allowed for some fairly hostile questioning of David Cameron, Ed Miliband and Nick Clegg. The questioning largely focused on welfare and tax, immigration, the EU and the NHS but the liveliest exchanges were on the post-election horse trading that will take place in the likely event of an inconclusive election result on May 7.
Cameron peps up
First came Prime Minister David Cameron, who bounded up the stairs to greet his audience, no doubt mindful of the accusations that his campaign has lacked energy and that he is looking tired.
He was quick with his responses (sometimes too quick, such as when he made an error in his response to a question on child tax credits). He very often avoided the question, though, and appeared more frenetic and less calm than the situation demanded. Confronted with challenging questions, he sought to deflect attention to Labour as often as possible and present voters with a binary choice on May 7.
In a stage-managed moment worthy of a Boris Johnson conference speech, Cameron pulled out the letter left by Treasury minister Liam Byrne when Labour last left government, claiming there was no money left. The theatrics were the basis of the narrative to be rammed home at every opportunity: you can't trust Labour on the economy.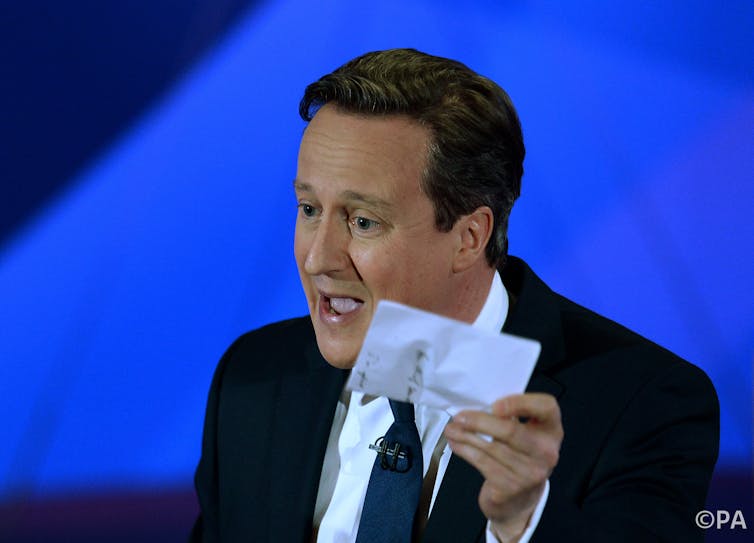 Cameron maintained his fast pace throughout but felt on the defensive on the NHS and the EU. The former is his "life's work" he attested, and voters will have to trust his track record on the latter. Neither were particularly convincing arguments.
Cameron stuck doggedly to his line that he is fighting for an overall majority when quizzed about post election negotiations. When pressed, he accepted his red line would be the EU referendum. The audience was unimpressed and warned him to treat voters with enough intelligence to deserve answers on which parties he would or would not work with in a hung parliament.
Miliband firm on SNP
Ed Miliband's style was calmer. He took a more conversational tone than Cameron and attempted to directly answer questions and address each questioner by name.
But he once again blamed the global financial crisis – rather than the last Labour government – for the state of the British economy. This highlights Labour's challenge – voters equate management of the government's finances with their own personal financial management. The last Labour government remains a millstone, even if the economics is not correct. Miliband found it hard to escape this line of questioning.
Like Cameron, Miliband insisted he was working for a majority. He stated that there would be no deal (of any kind) with the SNP. As an audience member noted, this may totally rule out any Labour government – and Miliband said that was a price he was willing to pay.
Clegg plays honest
Nick Clegg had the most gain from the Question Time format. He was both light hearted and combative in defending his decision to go into coalition in 2010, insisting that he put "the country before the party".
He was honest enough not to over claim the Liberal Democrats' chances in the election. He repeated his assertion that the party with the biggest mandate has the right to "make the first move" – which is not constitutionally correct.
We learnt from this final exchange that while Cameron and Miliband may publicly claim to be fighting for a majority, they are obviously working on red lines for negotiation. The audience however seemed one step ahead of the party leaders, understanding that deals will have to be done.
Cameron continues with an aloof and often patronising approach but has a spring back in his step. Miliband's conversational stance can seem too fake and he still lacks the authenticity necessary to help the party surge. Clegg may have regained a bit of credibility but it is likely to be too little, too late.