Grassroots disability services campaign group, Every Australian Counts is holding rallies in capital cities all over the country today, calling for the creation of the National Disability Insurance Scheme (NDIS). How the National Disability Insurance Agency, which will design the NDIS, incorporates user input and research in its work may well dictate the success of the scheme.
"Building the most significant social reform in Australia since the introduction of Medicare" is how Minister for Disability Reform Jenny Macklin described establishing the NDIS in a speech delivered earlier this month.
Macklin, who clearly recognises that creating the NDIS is a considerable task, described it as a machine that needed to be built from the ground up. After eight months of work with the states and territories, Macklin said the government's goal was to have the NDIS' foundations laid by mid-2013. This is a year ahead of the Productivity Commission's proposed timetable.
The Productivity Commission's report on Disability Care and Support (August 2011) was clearly committed to evidence-based policy and programs. It provided a well-thought out description of the role of research in the National Disability Insurance Agency, which will design and launch the NDIS.
Research and social policy
So what role will research play in this significant social reform, and will its potential contribution be realised?
According to the report, research should:
facilitate financial sustainability;

ensure cost-effective services and interventions and;

monitor the performance of service providers.
But an unpublished review of the literature on research translation undertaken at the Institute for Safety, Compensation and Recovery Research (ISCRR) (where I am the CEO and scientific director) concluded that as well as tactical research, policymakers are also interested in strategic and symbolic research.
We describe strategic research as generating knowledge that can be used very early in decision making, by providing conceptual frameworks for considering emerging issues or options for policies and programs. This is research that gives policymakers ideas.
Tactical research tells you what works, while the concept of symbolic research is a classic case of putting a name to something we all know exists. The utilization of research can be considered symbolic when a policymaker is seeking a credible independent source to justify his or her policy position.
It's not evidence-based policy development but a back-handed compliment to research, a recognition of the value society places on academic effort. A 2003 paper on how policymakers use research described it as exploiting "the patina of rigor that science confers to discourse."
NDIS and research
The remarkable research underpinning the Productivity Commission's report makes such a compelling case that the day after Macklin's speech, Opposition Leader Tony Abbott announced he supported a bipartisan approach to developing the NDIS.
Policymakers generally tend to value research as a means of outcome evaluation (has a policy or program worked or not). But over the three years of our existence, ISCRR has seen a much broader range of opportunities to provide research for developing government processes.
These opportunities include foresight research to identify emerging issues that can inform business planning; industrial ethnographic research on the relationship between the details of management system design and client experience; and formative evaluations using participative action research methodologies (is a program likely to work; what is making a program effective or ineffective) as well as summative evaluations (did the program work).
We've also experienced a huge demand for synthesis of existing knowledge, as opposed to the creation of new knowledge.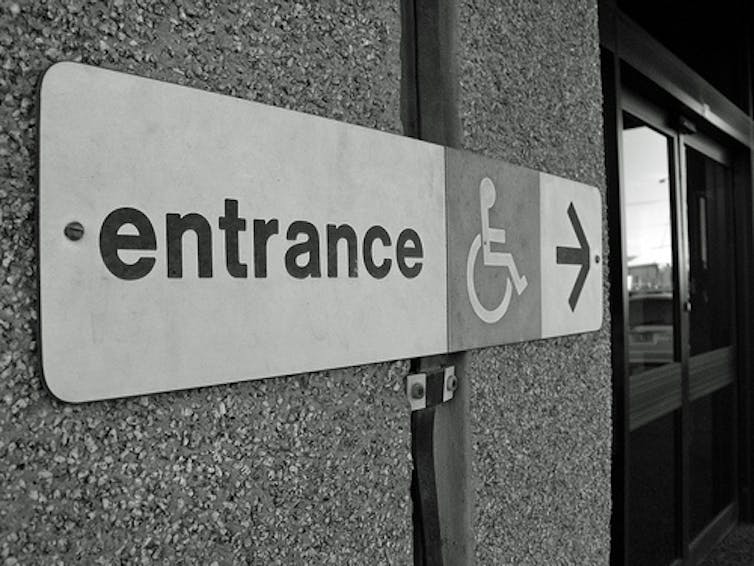 If the proposed National Disability Insurance Agency is to use best practice for evidence-informed policy, it will need greater capacity for research than exists in most government organisations.
Uncomfortable history, promising future?
From the 1960s to the 1990s, research translation theorists focused on models with researcher "push" to complete projects and get information to policymakers and practitioners.
Then, in the mid-1990s, a new approach recognised that academic and policymaker cultures were like oil and water. This is often called the "two communities approach" and encourages more interactions between the two sectors.
Now a new theory focuses on policymaker "pull". Increasing receptiveness toward evidence and capacity to utilise research within policymaker circles is recognised as critical for effective research translation.
The central positioning of research in the arrangements for the NDIS and the NIIS by the Productivity Commission is good start. But here's hoping the opportunity for research to contribute is not limited to tactical decision-making, such as what national assessment tool the scheme should use.
Research involving people with disabilities and their families and their ideas for the design of the scheme and its services would be a good start. Let's hope the government heeds the voices at the rallies today.