This is the second of two "Let Cities Speak" articles. While Western city soundscapes are increasingly homogeneous, these articles seek to explore the sounds that still define us and the ways in which we might discover new sonic identities for our cities.
---
Noise is everywhere. We live with it, inside and outside our homes. It defines contemporary urban life, the world over. Its companion, silence, also holds its own: from the stretches of suburbia to the degraded spaces of nature, a seeming absence of life is apparent.
The first "Let Cities Speak" article finished by asking: how do communities discover sonic identities within these contemporary soundscapes? This article points to research projects that seek answers to this question.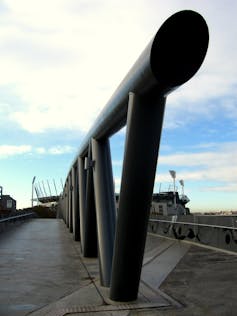 I have argued elsewhere that sound installations can act to "rupture" noisy soundscapes, producing zones of experiential diversity. There are many international examples that attempt to achieve this. The artist locates intensive listening encounters within the city, bringing our attention to new sensory experiences.
An excellent local example, in Melbourne, is Sonia Leber and David Chesworth's Proximites at William Barak Bridge. This is a permanently fixed sound installation that provides experiential diversity for those willing to seek it. Voices of the Commonwealth countries dance around the listener as they look upon the city. The recording below provides a sample of these sounds.
Robin Fox created a temporary installation in Northbank, Melbourne, titled Giant Theremin. This interactive sculpture produces electronic sounds that entice a range of playful responses from visitors, including dance, laughter and even BMX stunts.
But, increasingly, such artistic interventions, while important and valuable, serve only to provide the "possibility" of new listening experiences. Whether such spaces should become places of significant sonic identity is an entirely different question, and one that is presumably beyond the artist's control.
Increasing appetite for "placemaking" sounds
My research is turning toward community-led design in which a more meaningful essence of "placemaking" might be found.
After all, how can we expect to develop sonic identities if members of the community are not involved in their very discovery?
I am involved in two research projects that are exploring this proposition. One reshapes motorway noise into meaningful listening experiences. The other searches for a soundmark in the silence of suburbia.
Transforming motorway noise
Research funded by the Transurban Innovation Grant is working with communities living with motorway noise to discover "noise transformation" approaches that help to produce more liveable conditions.
Where the constant drone of passing traffic is inescapable, noise transformation combined with urban design aims to reclaim those unused green spaces that border these busy roads.
The research is in its early stages, but what we have found to date is that the community members who have experienced our prototype point very strongly to those transformed soundscapes that – in their words – reduce anxiety, and provide interesting listening experiences that warrant ongoing visits.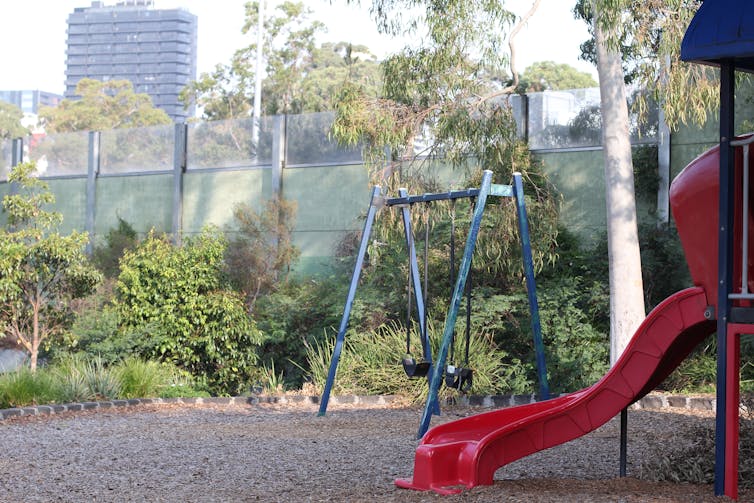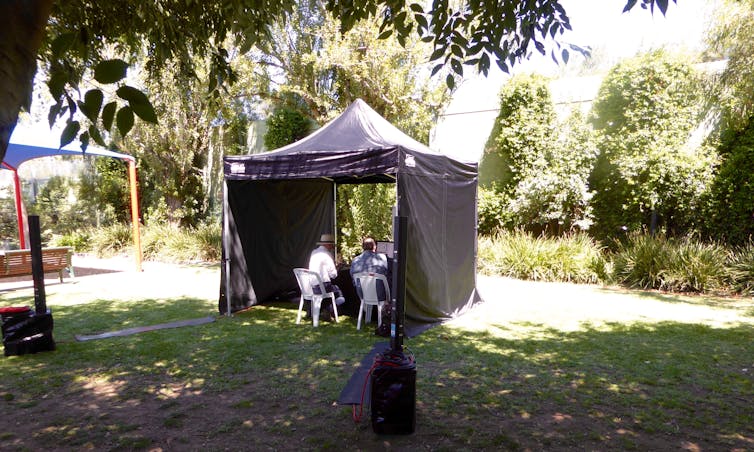 The researchers were surprised by the community's enthusiasm for the transformation sites. There was certainly no expectation of a positive response to what might have been seen as a band-aid solution to an ongoing urban problem. Instead, what we witnessed was a genuine curiosity and fascination with an act of futuristic placemaking that could one day be part of everyday life.
Creating a suburban soundmark
In Melbourne's southeast, research funded by the City of Casey is working to integrate an interactive artwork into a community centre plaza at Clyde North. The artwork plays back local field recordings that were identified by the local community via a Facebook page. The question was posted:
What sounds define your suburb?
Not withstanding a few droll, though humorous, responses ("the voices in my head", "the sounds of hoons doing burn-outs at 2am"), we were encouraged by the range of positive responses. These suggested strong civic pride – especially those that pointed towards the sounds and smells of multiculturalism and social life in general.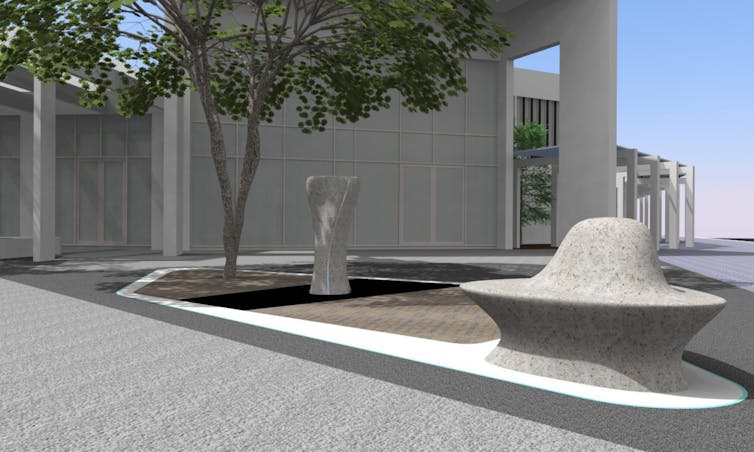 The work's behaviour is dependent on how locals choose to interact with the central "sensing" stone. The sensing stone is sculpted bluestone with four aluminium strip inlays. The aluminium strips detect human presence through the electrical charge latent in our bodies, which is sent as data to a memory system that responds with audio, lighting and vibration.
The more interaction, the more lively will be the soundmark, which it generates at dawn and dusk.
Those who read the first "Let Cities Speak" article might note a relationship with the temporal consistency of the village bell. The artwork's soundmark emerges twice a day, imbuing it with a quotidian character.
But in this case, the sounds played have been identified by the Clyde North community, and shaped by them. Given that the soundmark's behaviour is based on community interaction during the day, the work acts as a type of social barometer reflecting back to the community their relationship with the artwork.
The following recording is of our working prototype, yet to be installed. The low hum is a vibrating steel plate, which responds to human interaction. The other sounds are field recordings of the Casey suburb, as identified by the community: a youth park and a local wetland.
It's time to start listening
While these research projects are funded by two very different sources – private industry and local council – what they both expose is an appetite within local communities to be informed and included in art, design and infrastructure projects that affect community life.
Rather than solutions being imposed "from the top" – by industry, governments or even public art programs – today's challenge is to learn from the community. Because it is here that identity is to be found.
---
You can read the first "Let Cities Speak" article here.