Dieters can now have their wine and drink it, guilt-free and minus the hangover. That's the promise of so-called "light" or low-alcohol, low-calorie wines. But these wines are not considerably lighter (between a quarter and a third fewer calories compared to regular wines) and may actually push people toward drinking more.
There's a good deal of consumer demand for light wine products. Australia's Lindeman's Wines, for instance, has successfully marketed early-harvest wines for consumers seeking a lower-alcohol, lower-kilojoule style drink for five years now.
They've had more success than an earlier version of another brand's light wine, which was produced using de-alcoholising technology. It reportedly didn't taste very good compared to regular wine.
The rise of "diet" wine
In 2010, Australia's McWilliam's Wine Group became the first company to have exclusive endorsement by Weight Watchers, which reportedly has 1.8 million Australian members. One standard glass of wine (120 millilitres) equals one Weight Watchers point.
According to McWilliam's, its Balance wines are between 8% to 8.5% alcohol, one-third lower than regular alcohol wine. They are also one-third lower in kilojoules (ranging from 228 kj for its sparkling wine, 264 kj for its semillon sauvignon blanc, and 324 kj for its shiraz).
And Australian producers are now expanding the sale of low-alcohol wines to the weight-conscious citizens of North America and Britain. Last year, McWilliam's became Weight Watcher's first light wines partner in the United Kingdom, to capitalise on a market estimated to represent wine sales of 12 million bottles per year.
This week, Australia's largest wine company, Accolade Wines and fellow exporter Treasury Wine Estates announced new low-cost, "light" wine products for the United States. Both companies are marketing directly to members of Weight Watchers.
According to one of the companies producing the wines, one in five Americans, mainly women, are on a diet. More than 70% of Australian women are also seeking to control their weight, and wine is their alcohol of choice.
Clearly "light" wines are potentially big business if they can be successfully marketed to the diet-conscious consumer.
Origins and virtues
Light wines can be made naturally by harvesting grapes early. The quantity of sugar in the fruit translates to the level of alcohol in the wine; early harvest grapes, and wines from cooler climates, have naturally lower alcohol without loss of flavour. These wines have around 25% less alcohol and still retain reasonable sensory qualities.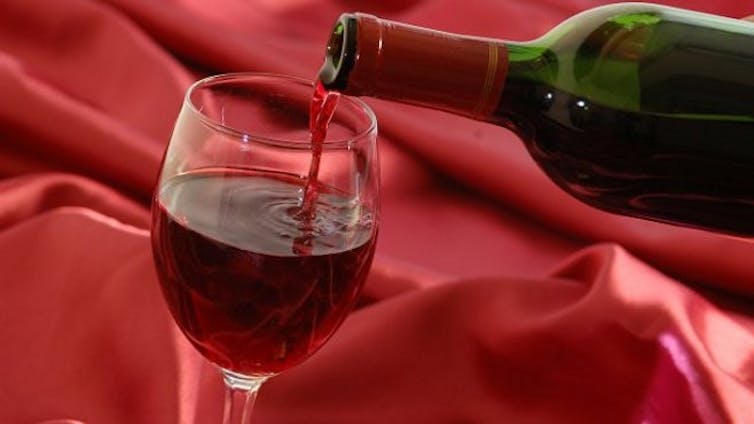 To reduce kilojoule (energy) content by one-third requires industrial processing after the wine is made. While the technology to do this has been available since the 1980s (and the wine industry has been interested in it since the 1990s), the taste of early wines produced this way met with derision from wine makers and wine drinkers alike.
Since then, reverse osmosis techniques have been perfected to pressure filter wine through a fine porous membrane. This method uses less heat than earlier technologies, preserving flavour and allowing the industry to more fully exploit the market potential of low-alcohol wines.
At first glance, providing "diet" wine appears socially as well as fiscally responsible on the part of wine producers. As long as consumption remains managed under a weight-control program, drinking light wine may not have any side effects.
Australia's National Health and Medical Research Council (NHMRC) alcohol consumption guidelines define one standard glass of white wine as 100 millilitres, containing 11.4% alcohol, and the same volume of red wine containing 13.5% alcohol. The maximum safe daily intake for women and men is two standard glasses.
But unlike light beer, which has long been available, the NHMRC has no consumption guidelines for light wine. This absence of official guidelines alongside the aggressive marketing of light wines could spell danger for consumers.
The most significant source of energy (kilojoules) in wine comes from alcohol (around 80% to 90%), with a minor amount coming from carbohydrate in the form of sugars. Changing the energy content from 372 kj for a standard sparkling wine to 228 kj is a negligible energy saving (equivalent to half an apple), yet having wine badged as "light" or low kilojoule may give people trying to control their weight the impression that they can either eat more food, or drink more wine with the kilojoules they are "saving".
People may compensate for the saved kilojoules from light wine by eating extra food. Similar problems have been observed with the marketing of foods badged as low-fat, many of which are still high in kilojoules. Such foods are thought to contribute to the obesity epidemic.
A second, related health concern is that light wines may encourage more drinking, fuelling an overall increase in alcohol consumption in a country that already drinks too much. Finally, it may encourage over-consumption of a product that has negligible nutritional value and can have harmful effects.
Given these concerns, there's an urgent need for consumption guidelines on "light" wines. And as you raise a glass this weekend, beware that diet wines may not be without their own side effects.