When 11-year-old Rhys Jones was shot and killed by a stray bullet after walking home from football practice in Liverpool, the crime shocked the nation. The bullet was meant for a rival gang member of 16-year-old murderer Sean Mercer, part of the infamous "Crocky crew". The resulting trial shone a spotlight on the city's gangs and revealed whole communities that were in fear of speaking up against the armed criminals.
Ten years on, ITV's drama Little Boy Blue reminds us of the Rhys Jones murder. But the deadly issue of armed gangs still haunts Liverpool – it has just moved to other parts of the city.
As viewers across the UK watched the drama, The Echo, Liverpool's leading newspaper, stated that the whole of the city was heartbroken. The programme, which opened by recreating the shooting of innocent Rhys in a pub car park in Croxteth, took viewers on a journey of how the killer and six other gang members nearly escaped prosecution.
The wall of silence
Despite an abundance of witnesses to the incident and hearing Sean Mercer's name repeated on the streets, police were faced with a "wall of silence" from Liverpool residents who feared becoming a target if they dared to speak up.
This apparent "no grassing" culture was perhaps the most prominent theme running through Little Boy Blue. Suspects were portrayed mercilessly repeating "no comment" while those with information resisted opening their mouths for fear of being labelled a snitch and alienated from their community.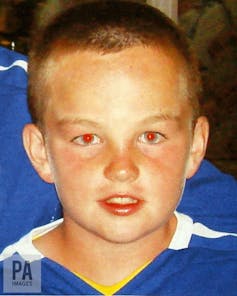 But what has changed in the ten years since the murder?
The notorious Croxteth – or "Crocky" – Crew were behind a spate of shootings, between 2004 and 2007 (including that of Rhys Jones). They were in a running battle with the Strand gang or "Nogga Dogz" from neighbouring Norris Green. Both districts were reported to be at the root of violent and antisocial behaviour within the streets of L11, the area's postcode, for almost 10 years. This violence strongly correlated with the area's high scoring deprivation index at the time.
Following the conviction of a number of key gang members in 2013, these areas were no longer considered by police to be a trouble hotspot for gun crime. Yet the problem has not gone away. Instead, it has moved further north to other economically and socially deprived locations in Merseyside. Gang wars are increasingly taking place over the streets of Bootle, Kirkby and Fazakerley.
Up until April 2016, Merseyside Police's gun and gang fighting squad, Matrix, seemed to have been containing gun crime with firearms offences on a steady decline and fatalities at their lowest since 1969. But there were an estimated 90 recorded shootings (that are made available to the public) in the last 12 months – four of which resulted in deaths.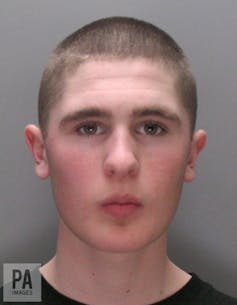 Mark Hilman, 26, was gunned down in the street in Everton in April 2016. Almost one year on, in February 2017, Aaron Lewis, also 26, was shot dead outside a chip shop in Wavertree. The following May, two young men were shot in broad daylight outside a nursery in Netherton, Sefton, in what police labelled a targeted attack – a statement that often features in the headlines of shootings in Merseyside.
A new generation
This new generation of gangs are visible and fearlessly willing to use weapons. They have strong capabilities for violence and it is their job to make this known. Riding on scrambler bikes often linked to criminality and sporting hair cuts (or lack thereof) known as "ket wigs" – because they "buy drugs, rather than haircuts" – gang members ensure that their rivals know who they should be scared of.
Petrol-bombing, kidnaps and "bagging" – a process of stabbing the buttock, leaving victims with so much nerve damage that they need a colostomy bag – are just some of the ways gang members obtain street retribution and the notoriety that they so badly desire.
The criminal exploitation of children by gangs is becoming ever more prevalent. Young children run the risk of becoming prime targets for facilitating gang members in their criminal dealings and street punishments. With innate vulnerabilities, a lack of foresight and an incessant need to belong, these children are easily groomed and all too soon find themselves carrying weapons.
My continuing research into child criminal exploitation in gangs has found that a small number of high risk schools across Merseyside have children as young as seven in possession of drugs and firearms. While the Criminal Justice System is only just beginning to acknowledge the issue, the perpetrators are one step ahead, discouraging their victims from having positive familial relationships and contact with professionals. Youth Offending Teams and partnering organisations are tirelessly dealing with the worsening issue on a daily basis.
The current situation in Merseyside sadly means tragedies like that of Rhys Jones will continue to occur. It is now merely a matter of time before we hear of more young people falling victim to gang rivalry, stabbings and shootings.