Australia looks set to resume exporting live sheep to Iran, after Agriculture Minister Barnaby Joyce this week flagged the end of a 40-year ban following Iran's Islamic revolution.
Flanked by the chief executives of the Australian Livestock Exporters Council and the Sheepmeat Council of Australia, Joyce stressed that the deal would be a win, win, win: good for Australian sheep producers; good for the people of Iran; and – he stressed – good for animal welfare.
But is the Agriculture Minister right? Given controversies over Australian cattle being violently mistreated in Indonesian and Egyptian abattoirs, can Australians be confident about the welfare of animals shipped overseas?
Judging from the Department of Agriculture's own figures, there are good reasons to be concerned about how well Australia's animal welfare rules will be enforced under this new deal.
Live export rules
Australia's live export welfare regulations are often referred to as "ESCAS", which stands for the Exporter Supply Chain Assurance System. ESCAS has four pillars:
adherence to World Organisation for Animal Health animal welfare standards
exporter control of the supply chain, including at the point of slaughter
a traceable supply chain
and an independent audit of the supply chain.
The Agriculture Minister said that once feedlot and abattoir facilities in Iran won approval under Australia's ESCAS welfare rules, exports could resume. And, he said, that would mean improved animal welfare outcomes overall.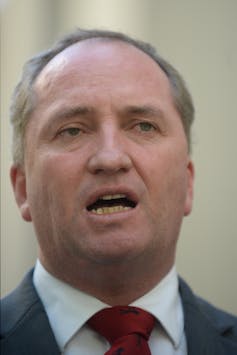 Curiously, while Joyce was able to produce two industry representatives to appear at his media conference, no comparable representative was there to comment on his animal welfare claims. Notably absent was either the RSPCA or Animals Australia, two well-known, well-respected and highly politically-engaged animal welfare organisations.
Without Animals Australia, the mistreatment of Australian livestock in both Indonesia and Egypt would not have been uncovered at all.
Only a year ago, the live cattle trade to Egypt was voluntarily halted after what Australian Livestock Exporters Council chief executive Alison Penfold described as "horrific" acts of "outrageous cruelty" against Australian cattle.
That came about after an Egyptian veterinarian contacted Animals Australia last year, concerned about the methods being used to slaughter Australian cattle, graphic footage of which triggered an Australian government investigation that found "one abattoir did not conform to international standards for animal welfare".
The ban was lifted in March this year, with Egyptian abattoirs now working to comply with the ESCAS rules.
How well does ESCAS protect animal welfare?
Putting aside some of those recent controversies, one animal welfare concern worth noting is that some animals travel better by boat than others – and sheep are not natural seafaring animals.
Every six months, the minister must table in Parliament a report from the department that includes livestock mortalities on every sea voyage. The table below summarises those reports to Parliament, showing that 14,067 or 0.74% of the sheep exported in Australia's live trade died at sea – an improvement on the massive losses a decade ago, but still a high toll.

Indeed, in 1985, an Australian Senate Select Committee on Animal Welfare conducted an inquiry into the live animal export industry. Its report was not complimentary. It included the observation that:
if a decision were to be made on the future of the trade purely on animal welfare grounds, there is enough evidence to stop the trade.
However, this week Joyce said Australia is now "leading the world in animal husbandry", thanks to our ESCAS rules.
So just how well is ESCAS performing? As any first year legal student can tell you, laws without an accompanying enforcement mechanism are of little value.
Yet enforcement – or making sure there is an "independent audit" of the supply chain in the importing country, just as the ESCAS rules promise – appears to be a big challenge for Australia's Department of Agriculture.
Who's really policing our animal welfare rules?
The Department's website records 34 complaints between February 2012 and May 20 this year about live animal welfare in relation to live animal exports.
Of those 34, 19 were made by Animals Australia; seven by exporters; three by the public; two by the RSPCA; two by an external party; and one by the media.
Based on this, Animals Australia appears to be doing a disproportionate amount of unpaid enforcement work on behalf of the Australian government, the Australian people and industry. And you have to ask: what exactly is the Department of Agriculture itself doing to enforce the ESCAS system?
Those figures, and the fact that "horrific" mistreatment has been uncovered by animal activists rather than by officials, raise the question of who's really policing these standards. If the federal government is serious about ensuring our animal welfare standards are the best in the world, perhaps it could consider funding Animals Australia to continue upholding the "independent audit" fourth pillar of the ESCAS system.
While the exclusion of any kind of animal welfare organisation from the minister's press conference was disappointing, both the RSPCA and Animals Australia have since made their views clear.
"The government is talking about opening a new market when there is no one even policing the old markets," Animals Australia said in a statement.
And RSPCA Australia chief executive Heather Neil warned that ESCAS is not a guarantee that animals will be treated well.
"I think there's enough examples with ESCAS going terribly wrong and the government doing really very little in order to bring exporters into line and to take away their licences, when they've shown time and time again to be getting it wrong."