Malala Yousafzai is no ordinary young woman.
She has addressed the United Nations, won international prizes and was subject of a short documentary on her life by the New York Times. This is in addition to surviving a bullet in the head and neck last October when the Taliban decided it was time to silence her.
But silence her they didn't. And this week I was part of a privileged crowd who came to hear this young woman who loves books and learning open the new £188m Library of Birmingham.
A people's university
It's the largest public library in Europe and, as a largely publicly financed project, has a great deal resting on it. In an era of austerity, privatisation and commercialisation it needs to be, and remain, a resource for everyone in the city.
As an iconic project that is as much to do with city branding as it is supposedly to do with urban economic regeneration, it needs to ensure an accessibility to an array of cultural learning is always freely on offer.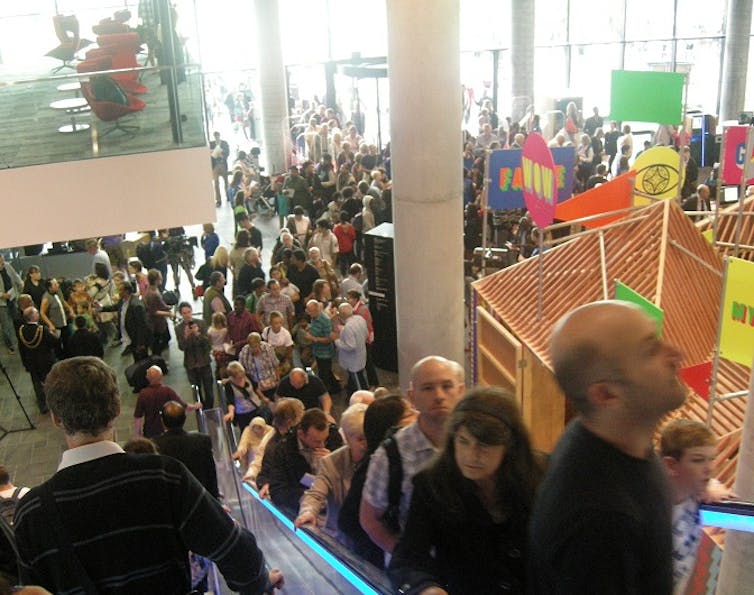 As principal architect Francine Houben said at its opening, it is a "people's palace". With a music library, a BFI mediatheque, books (some of which date back to the 15th century), a Shakespeare collection of world significance and a massive photographic archive, gallery and performance space, the Library of Birmingham, or "LoB" to its friends and "faces", connects directly to the Birmingham Repertory Theatre linking the written with the spoken world.
But the library, this one or any other, is not just a book depository or learning space for citizens, community groups and business. It is actually a performance in its own right too and this was clearly the case at the LoB opening. With hundreds of people behind temporary barriers and photographers, television cameras and journalists lined up outside the main entrance, for a moment you might have wondered whether this was a grand opening of a new blockbuster movie and the stars were about to parade about in their tuxedos and designer dresses.
Cuts in funding - together with the technological pressures of the digital age - have led some commentators to wonder whether libraries have a future. Others, particularly innovative and creative people in the library sector itself, are reimagining the library not so much as a people's palace but as a "people's university", to borrow a phrase first coined in the mid-19th century when the Public Libraries Act was passed.
LoB will continually have to reinvent itself if it is to be more than a warehouse for printed material and a temporary space for business start-ups. This performance of continual reinvention is likely to be quite political too and increasingly so.
Malala's war on ignorance
The political nature of the library was made evidently plain in Yousafzai's address as she officially opened the building. After the assassination attempt, she was brought to the UK and treated in the Queen Elizabeth Hospital in Birmingham where she recovered from her wounds.
She spoke of the need for learning and literacy, the need to combat global ignorance, to stop child trafficking and child labour, praised the role of women in the library's design and development, the value of education for all and the importance of confronting terrorism everywhere.
"Pens and books are the weapons that defeat terrorism," she said.
We must not forget that 57 million children are out of school … Let us help them through our voice, action and charity. Let us help them to read books and go to school. And let us not forget that even one book, one pen, one child and one teacher can change the world.
This was a remarkable speech from a remarkable young woman - and no wonder she has become a celebrity of a sort but a celebrity who has endorsed a people's university and, for a moment at least, has invigorated the politics of learning and libraries.
Her words cut through to the core: "I truly believe that the only way we can create global peace is through educating not only our minds, but our hearts and our souls."