The Arab Spring and Occupy Wall Street are not the only media-driven civic movements that have advocated for social or political reform.
In Malaysia a civic movement called the Coalition for Clean and Fair Elections – better known by its Malay name "Bersih", which means clean – has enabled people to express their political dissatisfaction and long accumulated frustration via social media.
Malaysian politics is widely regarded as contentious. Since Malaysia's independence in 1957, the current ruling coalition has been in power.
One of the key factors to such uninterrupted ruling by one party is the widely regarded "unbalanced" electoral processes. For years, the democracy has suffered from entrenched advantages enjoyed by the ruling party and the gerrymandered constituencies.
In 2007 Malaysians took to the street to call for a reform of Malaysia's electoral processes. Subsequently, three massive rallies took place in 2010, 2012 and 2015.
Thanks to the diffusion effect of social media, the size of rallies has grown from 30,000 in 2007 to 200,000 in 2015. More than 70 Facebook groups have been created, plus blogs, and YouTube, Whatsapp were used frequently.
Two nongovernmental, nonpartisan grassroots groups – Bersih 2.0 and Global Bersih – emerged with more than 248,000 and 19,000 followers on Facebook, respectively. This year, Bersih 2.0 won the 2016 Gwangju Prize for Human Rights for its activism.
Social media in sustaining the movement
There has been an ongoing debate about the effectiveness of digital activism in making real changes.
Some may agree with the author Malcolm Gladwell that the weak ties on social media can hardly translate the collective action into passionate engagement and effective movement.
In the Bersih movement, we found that the network of weak ties on social media plays a critical role in sustaining the connections among activists and participants.
It costs almost nothing for the people to maintain their network on Facebook. When the next campaign happens, the people can be activated almost instantly.
In Global Bersih, many of the grassroots leaders who coordinate the global movement have never met each other before. They used Facebook and Whatsapp to exchange notes, brainstorm and make decisions.
The Bersih campaign in Malaysia is also strongly supported by an international network of Malaysian diaspora. In a 2015 rally, overseas Malaysians organised concurrent demonstrations in more than 90 cities worldwide.
A Malaysian living in Paris commented on the social network:
We are Malaysians and we want to show our support to the people in the country […] Being overseas, we have more freedom to express our views and we should do that.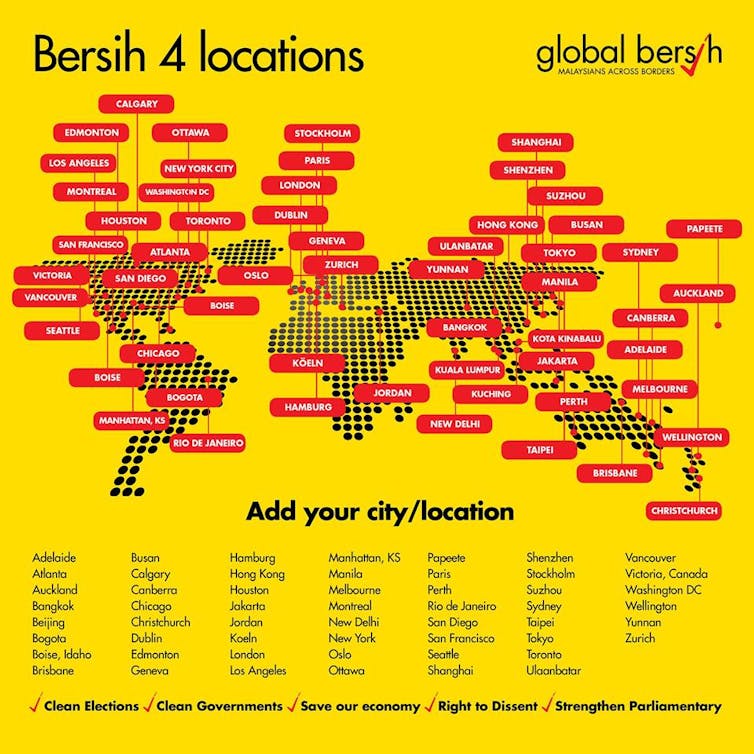 Some lessons learned
First, we see how social media can be used to gather resources. In the Jom Balik Undi ("go home and vote") social media campaign, Malaysians were called on to spread the word on Facebook by submitting photos of themselves holding a message of change.
The photos were shared by thousands of people on Facebook. It is also easy for people to participate and yet the spread is wide and far due to the interconnected social network.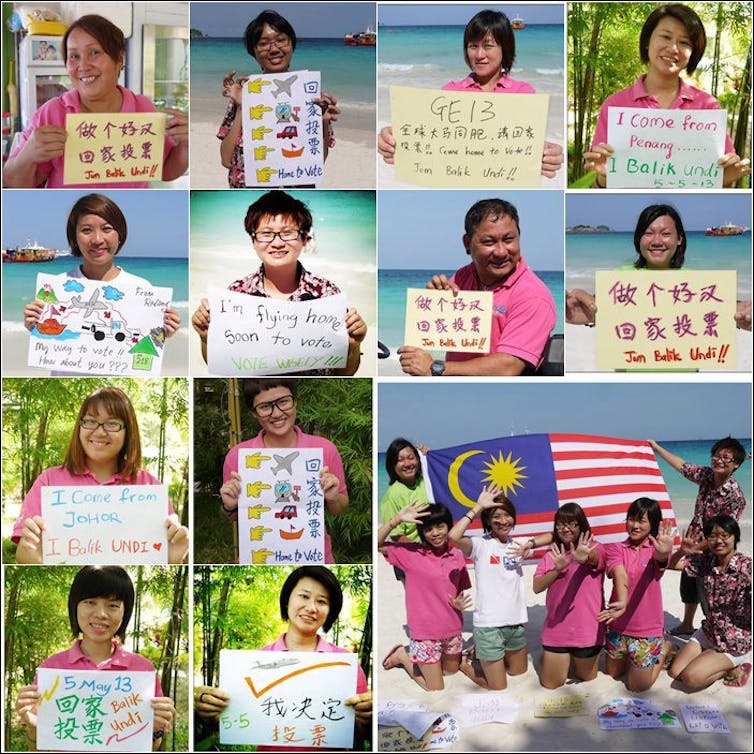 Second, although social media has been pivotal in propagating dissenting opinions, the influence is mainly emotion-driven. An activist and blogger noticed how the virality of his blogs increases with the intensity of emotions in the writing.
"If you want something to go viral, you rant and rant…," the blogger said.
People may not understand know what they are protesting for. Therefore, while social media is effective in mobilising and engaging the people, it can be less effective as an educational tool.
Third, we need to be aware also that social media exposes the participants and activists to risks of monitoring, investigations and arrests.
An article by Human Rights Watch has pointed out that the 2015 amendments to the Sedition Act in Malaysia have widened the impact to not only activists but also ordinary citizens using social media.
The digital traces that we left on social media mean that Facebook participation is no longer just a negligible risk and therefore negligible effect, as Gladwell claimed.
Although the changes in the electoral reform are slow and gradual (with only two out of the eight demands of Bersih 2.0 partially met by the Election Commission), the movement is a huge success by the number of participants that has increased over the years.
When asked about whether it is worried that social media will lead to slacktivism or weaken the activism, an individual I interviewed answered with a question: "Would you rather have nothing?"