The dress Marilyn wore to sing happy birthday to JFK sold at auction recently for a record-breaking $4.8m. Bought by Ripley's Believe it or Not! chain of attractions, the dress will sit alongside other such wonders as a picture of Einstein made entirely of toast and a two-headed calf. Stupefied amazement is the stock-in-trade of the Ripley concept – and no doubt many a punter will stand, open mouthed, in dumbstruck awe at the presence of this ghostly garment. Or at least, at the price it fetched. After all, it's just a dress – isn't it?
Marilyn's dress may be wispy, immaterial and insubstantial, but it translates nicely into the cold hard cash material girls through the ages have dreamed of. For nostalgia hunters, it evokes memories of a bygone era of style and glamour.
It inspires feminist anger at the exploitation behind her untimely death from overdose. It will certainly draw people with no interest in a mummified cat into a weird little museum. And that dress continues – let's be frank – to sell news. As we keep being reminded by the rush of commentary on this historic sale, it is an "icon"; a thing which becomes a symbol of something way beyond itself. Oh – and it's very sparkly.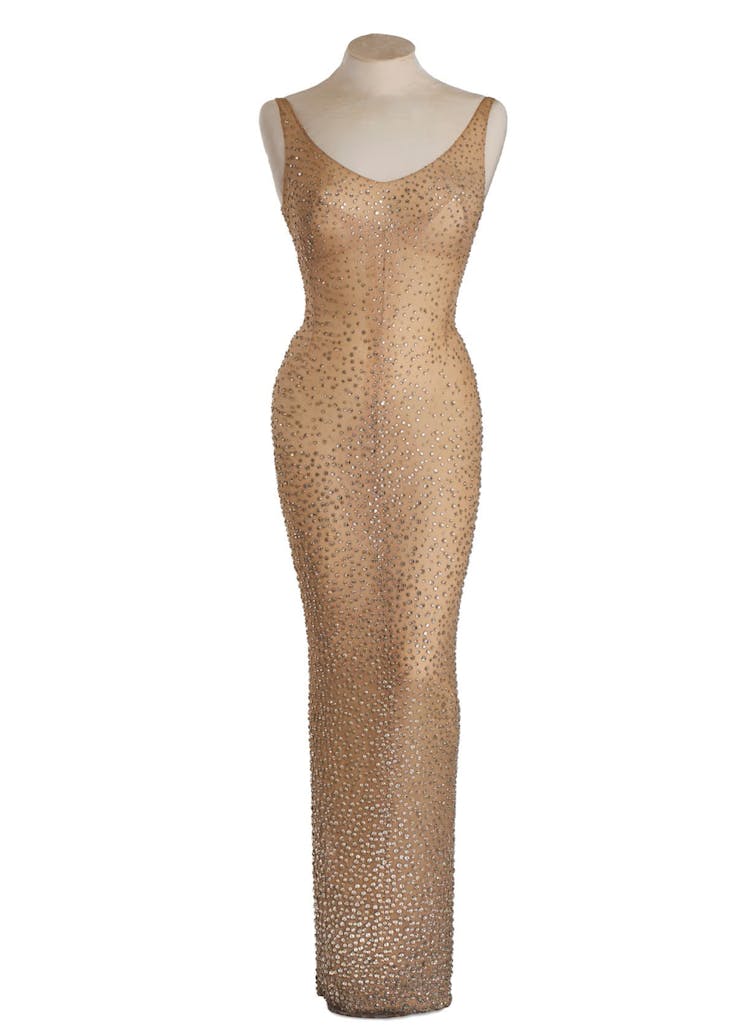 This simple fact of being sparkly is much more meaningful than it might first appear. In the early decades of the 20th century, sociologist Siegfied Krakauer had already clocked that the glittery distractions of the modern world were the engine rooms of social aspiration. By the 1960s, Reyner Banham, design critic par excellence, was writing passionately about the lure of lustre, arguing that the appeal of shiny stuff was both primal and ancient (think gemstones, fire, celestial powers) and fundamentally modern and democratic.
Glitter politics
While Her Majesty Queen Elizabeth sports a dazzling crown on our stamps, it's not becoming for a true aristocrat to flaunt their immense wealth – and, vis-à-vis the 18th century uprising of the French working classes, has proved to be pretty dangereuse. So it was tweed all the way for Her Majesty in those good-will boosting off-duty shots, and it's tastefully selected H&M separates for the Duchess of Cambridge. Posh, yes, but "in your face". Definitely not.
No – glamour belongs now to a mobile society, in which, with enough light and bling, from courtesan to microcelebrity, anyone can achieve significance by holding the attention of the ever-hungry magpie eye of the public.
And the necessary glitter has never been so accessible. Mass production – and the invention of plastics – have multiplied the modes of sparkle on offer and democratised its price. A 99p vajazzle" may not be considered tasteful in all circles, but it's pretty hard to ignore, and it suggests an aspiration to a life of pleasure, leisure, style and significance from which most ordinary people have been excluded until shockingly recently. (For the drab reality of working-class life, check out the BBC's grime-fest Victorian Slum on catch up).
And Marilyn was the bench mark, the fulfilment of this aspiration, an apparition of glowing whiteness and gold and platinum, with a sexy, glossy face that made excellent visual copy at any scale.
With its irresistibly twinkly rash of tiny jewels, Marilyn's dress is quintessentially glamorous – and quintessentially Marilyn. Many memorable dresses evoke the Cinderella myth, transforming the wearer – Liz Hurley in Versace, for example – but if Marilyn's is iconic, it's because it somehow typifies everything we want to believe about her.
The refraction of all that light just about distracts the eye from the simulated nudity of flesh coloured, sheer fabric. This was memorably appropriated in cat suit form by Britney Spears in the video for Toxic. But it's striking that Britney performed in her insubstantial garment on a cleared set, while Marilyn wore hers on a stage full of powerful men, before a very real, and respectably-clad audience.
On Marilyn, in that setting, the dress did all the things it was supposed to do, but it also spoke of her vulnerability. Looking back at the footage, we hear a childish voice, see a soft and pretty face – and through the cloth to the fleshy woman's body beneath. Glamour theorist Gundle says glamour is a "protective cloak"; I say it's armour made from reflected light. But with the hindsight of Marilyn's fate, and on the lifeless mannequin that the dress's sellers made to her exact measurements, we see this particular sheer facade as all too penetrable.
Perhaps this goes some way to explaining why we no longer find pictures of Marilyn adorning the homes of upwardly mobile or aspirational women. From ordinary homes to the pages of Hello! magazine, we find another lady of that era in another very famous dress: the unimpeachable Audrey Hepburn in her trademark Oliver Goldsmith wayfarers and black Givenchy dress, which sold in 2006 for just under half a million pounds.
The truly modern staple "little black dress" has iconic appeal of a different kind. Black sucks everything in, appears to give nothing away, and conceals the body. But as a current exhibition at London's Barbican centre demonstrates, black looms forward nevertheless. It's minimal and sophisticated, a monument to modern European notions of good taste. The image favoured for reproduction on wall art, cushions and phone cases? Audrey, armed with impenetrable shades, impossibly slim and effortlessly composed, but gazing longingly into the window of Tiffany's. Because after all, black's a great backdrop for glitter.