Barely had the Euro 2016 championships begun and the French city of Marseille saw England fans clashing with rival Russians and police. Inevitably it brings back memories of the notorious English hooliganism in the port during the France 1998 World Cup.
The coverage of the four days of violence, in which 35 people have been injured and 63 detained, has been slightly more nuanced than in the bad old days of the 1970-90s. It viewed the English fans as only one of the contributing factors to the violence – along with Russian hooligans, Marseille residents and poor policing.
All the same, the media's message has been clear – it's the return of the "English disease". Or as The Guardian put it, "Old enemy rears its ugly head as England fans clash with police". While UEFA has threatened to disqualify the two nations, there has since been trouble at the Germany/Ukraine tie in Lille, too.
Whose disease now?
The reason English hooliganism became known as a "disease" in the first place was because club fans travelled Europe and battled rivals from the likes of the Netherlands, Germany, Scandinavia and Poland, who responded by adopting a similar, aggressively masculine style. England fans are consequently still seen as the kings of this behaviour – the ones rivals have to measure themselves against. Never mind that broad measures have been undertaken to reduce hooliganism in Britain and few fans of English clubs are now guilty of it.
The status – outdated or not – of English hooliganism will have partly motivated the Russian fans. It was the Russians who stormed the English terraces during the two nations' 1-1 draw on June 11, in scenes reminiscent of the tactic of rival fans "taking ends" in England during the 1970s and 1980s. There are reports that the Russians appeared highly organised, with many wearing a kind of black uniform and wearing gum shields and martial arts gloves; and that some are planning to ambush English fans at their game against Wales in Lens on June 16.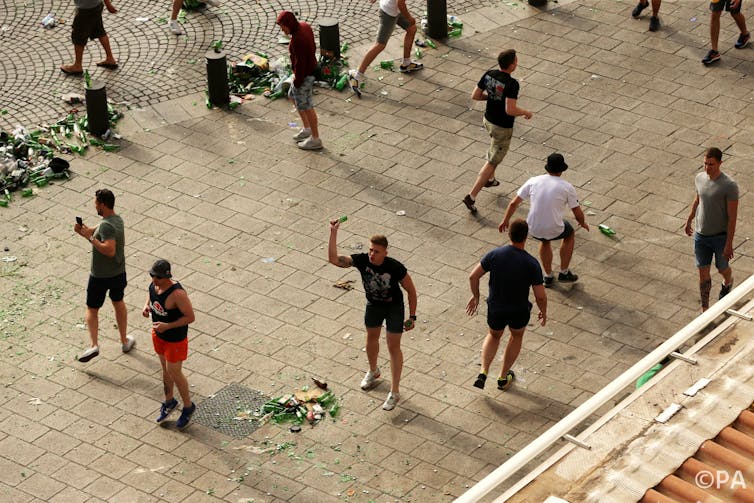 The memory of the 1998 violence in Marseille will have been another contributing factor, when the conflict was caused by England fans taunting members of the city's north African community. It won't have mattered that many of this year's English fans wouldn't have been there in 1998 – this time there are press reports of violent scenes after English fans were heard chanting "Isis where are you?"
I predict a riot
Then there is the police. I have personal experience of the Compagnies Républicaines de Sécurité (CRS), the French riot police, in Calais while working with refugees. They are prepared for a riot from the start of any confrontation. They wear riot clothing and are not afraid to use tear gas quickly to disperse crowds. Described sometimes as "forward panic", they are a classic example of one side feeling that violence is inevitable and pre-empting it by making the first strike. These kinds of quick pre-emptive measures do very little to defuse a situation.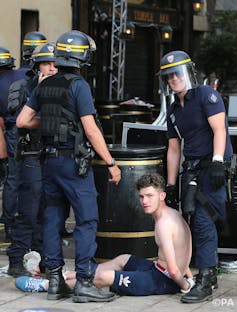 Tear gas heightens emotions and leads to more chaos. Innocent bystander fans are confused and disorientated. They end up looking to "hooligans" as their defenders, seeing themselves as being attacked rather than defended by the police. You end up with an "us against them" mentality that reinforces the collective identity of the group and makes violence more likely. As others have argued, the French riot police have not kept up with tactical developments across Europe.
International tournaments provide a space for groups of fans to perform nationalistic rituals in opposition to rivals, but for most it is just about singing and defining their space with country flags. Only a minority actually travel for violence, and it's fairly rare for hooliganism involving fans of national teams to be organised because they don't usually have the opportunity to meet regularly in advance.
This makes the role of the police crucial when it comes to handling fans at international tournaments. If they treat all fans as hooligans, they increase the chances of violence. This seems to be what has happened in Marseille. None of this is intended to excuse the behaviour of the English fans, but it does have to be put into context. It is all very well to talk about disqualifying teams, but the French authorities should critically examine their own behaviour as well.