Masterchef judges John Torode and Greg Wallace were no doubt shocked at the depth of feeling on display when their decision to eliminate a contestant because the skin on her chicken rendang was not crispy enough was greeted with howls of dismay from the people of two countries.
Malaysians and Indonesians have long been divided on the provenance of chicken rendang. But they were united in their disdain for the Masterchef judges' decision to kick out Malaysian contestant Zaleha Kadir Olpin for cooking the chicken, with soft skin, which was served as part of the iconic rice dish nasi lemak.
"I like the rendang flavour, there's a coconut sweetness, however, the chicken skin isn't crispy. It can't be eaten and all the sauce is on the skin, I can't eat," Wallace said at the time as Torode nodded his agreement.
Cue uproar: Twitter exploded with complaints from angry Malaysians and Indonesians who felt the two judges had displayed their profound ignorance about what both countries consider to be national dishes. The row even drew in the Malaysian prime minister, Najib Razak who tweeted: "Who eats 'crispy' chicken rendang?"
Matter of taste
So what's all the fuss about? What exactly are these two dishes and where do they come from?
Once a month, on my drive out to Semenyih, about 20 miles south of Kuala Lumpur, to teach at the University of Nottingham Malaysia, I would stop over in Kajang at a Malay restaurant for a nasi lemak breakfast. It was a guilty stop because the coconut-coated rice was not just creamy and fattening – indeed the Malay word lemak has connotations implying rich and creamy – but also because of the tempting buffet spread of condiments and dishes that accompanied the rice.
This spanned the usual crunchy anchovies and roasted peanuts, sliced cucumber, sweetish chilli sambal, fried egg, hard-boiled egg and numerous types of fried fish, cockles or cuttlefish sambal, beef rendang, deep-fried chicken, red chilli chicken (sambal masak merah), fried long beans, tempeh – the list goes on.
This lavish spread is a result of the rise of middle-class consumption beginning from the 1990s. Back in the 1970s, the nasi lemak was a poor man's full breakfast at an affordable 30 to 50 cents per packet. Within the folded banana leaf you would find coconut rice, a sliver of cucumber, a quarter of a hard-boiled egg, a teaspoon of chilli sambal and a tablespoon of peanuts and anchovies. An added luxury might be a piece of fried fish – the smallest kind there was in the market (too small to sell anyone, really) – or one or two small tamarind-marinated prawns. Fried chicken, beef rendang or its faster-cooking healthier alternative, chicken rendang, came much later.
So with its combination of carbohydrates, protein and minerals, the nasi lemak may be regarded as a well-balanced meal for the farmer and the fisherman. It is then commonly accepted and adopted to be the national dish by Malaysians of Chinese and Indian descent, as rice is still the common staple across cultures.
Regional specialities
Rendang has its own proud history as a dry spicy beef dish originally from Padang, West Sumatra in Indonesia that is cooked with chillies, galangal, ginger, garlic, shallots, lemongrass and coconut milk.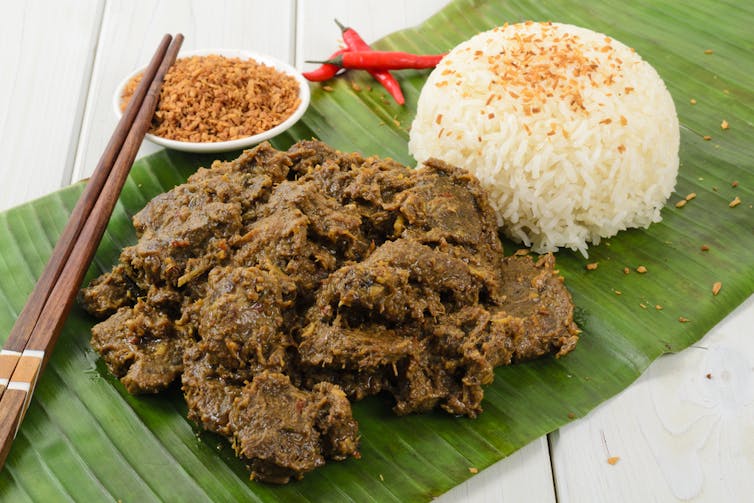 When Minang migrants from Indonesia came to settle in Malaya, they brought their recipe and over the decades, there has been enough innovation, adaptation and customisation, as well as variation, that each state in Malaysia is said to have its own rendang: Rendang Tok in Perak, Rendang Sri Nabon (Bugis-style) in Johor, and so on.
Including a thickener, kerisik, a sort of coconut paste loosely described as "coconut butter", is the Malaysian claim to innovation. The spice mixture in the rendang helps make the meat flavourful – and was used to preserve it during the pre-refrigeration era. The dish is stirred constantly and let to simmer until the meat softens and the coconut-textured gravy dries up into a dark red aromatic curry that coats tender meat. Suffice it to say if there is skin over the chicken it would most definitely not be crispy by this end stage.
Festive favourite
In the past rendang was cooked and served only during festivities as beef was considered a luxury. Today, rendang is on the daily menu. Chicken is the preferred choice of meat in rendang as it is cheaper and not taboo to Hindus and Kuan Yin (Chinese) devotees in Malaysia who cannot eat beef.
Rendang is also iconic for non-Malay Malaysians who associate it with the halcyon Open House invitations to Malay friends' houses as part of the end of Ramadan celebrations where such food becomes a symbol of eating together and a national glue for a multicultural society.
This explains why rendang-gate has Malaysians of all ethnicities up in arms defending their culture.
Outside of London, Malaysian cuisine is neither as popular nor as well known as Thai food – which is an irony considering that at least two Malaysian contestants have made it into the shortlist of UK Masterchef – and Catherine Chin Wang Ping Coombes even won in 2014 with none other than: the nasi lemak.