At the ongoing coronial inquest into the deaths arising from last year's Lindt café siege in Sydney, experts cannot agree whether Man Haron Monis was a radicalised terrorist or a mentally unstable lone wolf who used radical Islam as a "crutch".
Throughout the inquest, prosecutors, solicitors and detectives are being grilled about their conduct and decisions made in the lead up to the siege. But one sector that hasn't been subject to scrutiny is the media.
Is that a major omission? For 17 hours over December 15 and 16 last year, the siege played out live on the 24-hour news cycle. This coverage not only informed the public's view of the situation as it unfolded, but shaped ideas about why it was taking place.
The media played a major role in the siege – from attempts by Monis to secure media attention, issue demands and speak directly to people such as the prime minister or journalists, to tweets and texts from hostages about developments inside the cafe. But how to put the media on trial, and for what purpose?
This article examines the particular stresses placed on the media when reporting about terrorism. It also examines the risks associated with reporters using social media as a "source", and suggests that in an age of radicalisation, there needs to be a radical rethinking of which stories the media tells, and how.
The siege
The Sydney siege represents an unusual example of police and media organisations working together to produce coverage that didn't play into the hostage-taker's demands.
In fact the media's reporting was praised in the first official review of the siege, which was jointly conducted by the PM and cabinet and NSW Premier and Cabinet in January.
In a section titled Informing the public and engaging the media, the review stated:
Media reporting about the situation was measured and responsible …xamples include radio presenters pulling callers off air if they expressed racist or inflammatory anti-Islamic views. Spokespersons conveying public messages about Monis's actions during the siege were cautious in their choice of language.
But the report also cautioned that cooperation between the NSW Police Force and the media should not be "taken for granted". It also recommended government-led training exercises for journalists.
Similar precautions were recommended by the Australian Strategic Policy Institute (ASPI) in its report, released in June, Gen Y jihadists – Preventing radicalization in Australia.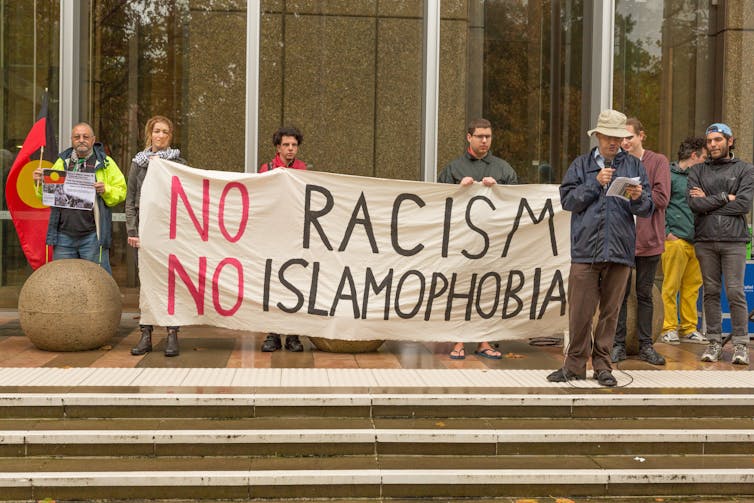 That report calls for greater cooperation between the media and counter-terrorism authorities. It also advocated for the establishment of media standards guidelines governing reporting about Muslim people in the context of terrorism.
The report warns:
there are many examples in which reporting has been less than helpful, either by broadcasting the latest ISIL video or by using headlines that generate community anger rather than inform people.
In an interview with The Conversation for this story, ASPI executive director Peter Jennings argued the media has become:
cavalier in allowing unnecessary links to be made and assumptions about Islamic communities and terrorism.

The shock jocks have not been helpful, the tabloids vary a bit, but (enthusiasm for) jarring headlines (in newspapers) doesn't help.
Jennings said reporting on social media activity presents a new challenge for media outlets. Terrorists understand it's an outlet they can use, he said, and as such the risks associated with publishing their communications are significant.
That's the basis of a lot of reporting we see in the News Limited press. They need to put a lot of thinking into how they use social media and tracking twitter feeds.
Risks, benefits and active roles
Last month, several news outlets reported the tweets of the 14-year-old daughter of the ISIL fighter Khaled Sharrouf.
Despite being attributed to "a Twitter account linked to Zaynab Sharrouf", there was no apparent verification that it was actually her and not the ISIL propaganda machine producing the tweets. Stories detailed she had no desire to return to Australia, contradicting claims by her inconsolable Australian grandmother Karen Nettleton that Sharrouf's family wanted to return home.
So what is the value of reporting those tweets? Contrast it with last month's New York Times story on the use of social media by ISIL to recruit young women. The story follows the path of three young English girls lured to Syria through propagandist images and texts on their mobile phones.
That article contextualises:
a world in which teenage rebellion is expressed through a radical religiosity that questions everything around them. In this world, the counterculture is conservative. Islam is punk rock. The headscarf is liberating. Beards are sexy.
This echoes ASPI's report in acknowledging that Gen Y jihadists share "a sense of injustice and humiliation, a need for identity and a need to belong".
Peter Jennings argued the media must assume a more active role in what he calls the "social work end of counter terrorism". He said the challenge is to normalise how we think about Muslim communities in Australia through drawing on success stories rather than inflammatory reports.
Telling their own stories
When Yasmin Lewis was growing up she thought her grandparents' names were Frank and Sue. The 23-year-old University of Western Sydney law student is descended from Turkish-Cypriot Muslims and Anglo-Irish Protestants.
Lewis eschews traditional media. She has a growing YouTube presence where she speaks to issues, and expresses herself with slam poetry:
If They Can Pronounce Shakespeare, above, is her ode to grandparents Fuat and Sakarya – and has become something of an anthem for the "other". In an interview for this article, Lewis said her generation is creating its own narrative because "you find a more culturally diverse Australia on YouTube".
The media to some extent is a reflection of the politician's views and the ones who are running the country. If you have Wi-Fi you can be your own producer.
In Lewis's view, mainstream Australia has always had a problem with "the other" from its first peoples to its migrants. But she sees that situation as having a peculiar dimension with Muslims and the way they're portrayed in mainstream media.
I hope that in future the marginalisation of Muslims will go the way it did for the others, the Italians and Greeks and other wogs. The raids in my local community were so personal and were an attack on the Muslim community, and that is different to the experiences of other groups in the past. It's going to be harder to change and normalise.
Charters and new voices
The charter obligations of both the ABC and SBS require them to contribute to a sense of national identity and reflect the multicultural nature of Australia, but Peter Jennings said he could think of only one station that is performing its duty in that regard.
National Indigenous Television's (NITV) role is important. It has made a major contribution and done a lot of good work on what is normalisation.
But good work is being done elsewhere too. One publication designed specifically to target youth in danger of being radicalised is The Point Magazine. Its first edition appeared online in July 2013, aimed at a readership of young, globally-aware and politically active Millennials from Australia's multicultural community.
Produced by the Multicultural NSW Social Media Unit and funded by the Federal Government, its editor is Iraqi-born Widyan Fares, a former SBS cadet journalist and presenter of SBS Radio's PopAraby program.
She and Nawal Ali, who heads Multicultural NSW's Somali podcast project, trawl through social media sites favoured by Gen Y to find what is trending and to identify misconceptions that are being circulated, some of them deliberately.
The magazine's aim is to present a counter-narrative to what is being reported elsewhere; the stories it has covered range from radicalisation and foreign fighters, to dual citizenship and the AFP raids on communities. More introspective stories examine, for example, pressures places on outspoken Muslim women by their communities.
Bringing multicultural press into the mainstream
The Australian Press Council announced last month that it is "encouraging publications from the thriving multicultural press to join".
For the first time since it was set up in 1976, the council is acknowledging the power of the ethnic press and its 300 newspapers, magazines and digital outlets and the need to control what they disseminate. How it will do this will be interesting, given a majority of these publications are in languages other than English.
[Pino Migliorino](http://www.ceh.org.au/dih/dih-about/organisers/pino_migliorino.html](http://www.ceh.org.au/dih/dih-about/organisers/pino_migliorino.html), a leading consultant to government and the private sector on multicultural issues, said having the ethnic press under the Press Council would be better, as in the past those outlets, where there was concern about reporting, would have had to resort to Racial Vilification laws.
Social work hasn't traditionally been the remit of the media, but in a time of radicalisation the way information is gathered, and from which sources, should perhaps be subjected to greater scrutiny. As for the best way to do this, the jury is still deliberating.