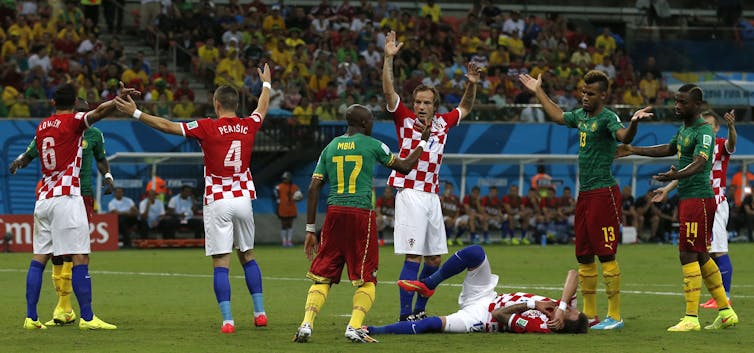 An interesting media flip-flop took place this week. Cameroon went from being forced to investigate match-fixing claims made in German news magazine Der Spiegel to FIFA saying there was no evidence of match-fixing at any World Cup 2014 match the following day.
But these were not the first reports of this World Cup – immediately before and during the tournament, several African teams have been caught up in claims which remind us about the dangers of media framing. This is a reference to how the mass media reports news stories based on predetermined stereotypes.
Recent media reports on match fixing have largely focused on African teams and they have their genesis from the Western mass media. They also fit research into the problematic way that the media frames certain stories, in this case stories of Africa, particularly Robert Emtman's influential work.
Africa has had its share of malfeasance going back to 1974 when then Zaire's Mafu Kibonge claimed that his country and Brazil had arranged for a 3-0 score in a World Cup game to meet mutual benefits. At the time, Brazil needed at least three goals to qualify from the group ahead of Scotland and Zaire needed to lose by no more than three goals to avoid punishment from Mobutu's government. But match-fixing has been a scourge to the game in all parts of the World including the most popular leagues in Europe.
African focus
Nigeria's international friendly against Scotland in May was widely covered in the global media as being monitored for match fixing. Then Ghana was cited as being involved in match fixing and finally Cameroon was accused of fixing their last group game.
Considering match-fixing has been a significant problem outside of Africa, it is interesting that there are few reports of investigations or monitoring in other countries. Perumal – who was at the centre of Der Spiegel's claims – was convicted for fixing games in many countries outside of African and there are many other examples of match fixing. A look at media framing gives us some insight into why Africa may be getting undue focus.
The Nigerian and Ghana case were particularly interesting since they involved Western media sting operations that raised several questions. First, why were African teams targeted for stings when the scourge was in fact a global concern? It raised questions similar to how Western media targeted African FIFA executives concerning bribery, surrounding the 2018 World Cup bid. While they did produce evidence of corruption involving FIFA executives, the current match-fixing stings have yet to produce any convincing evidence. However, the fact that these operations are strictly designed by Western media and have seemingly focused on African teams raises concern.
In the Nigerian case, an undercover reporter for The Sun in the UK was the centre of a media sting that caught a Nigerian football agent who claimed that he could arrange yellow cards and fix games at the World Cup. The player mentioned by the agent, Ogenyi Onazi, denies the allegation and, to date, there is not yet any public evidence strongly associating Nigerian football officials to the rogue agent.
In the Ghana case, again The Telegraph newspaper and Channel 4 in the UK carried out an undercover investigation of Ghana's FA. They reported that they had agreed for the national team to play in matches that other people were preparing to fix. Two men, set up by The Telegraph, were subsequently arrested for attempting to co-opt the Ghana FA in agreeing to fixable games.
Cameroon became the third African team mentioned in possible match fixing. After a flurry of accusations, Der Spiegel has now been asked by FIFA to prove its claims, as there is so far no evidence for them.
Dangers ahead
While it is commendable that the media is at the vanguard of fighting match fixing, it remains unexplained why the Western media focuses on African teams in the way that it does. Why are there no stories of stings targeting European teams when they have experienced a great deal of match fixing in the past?
The current trajectory of investigations has a worrying alignment with how the Western media frames Africa in general. Reporting on Africa often uses stereotypes that reinforce how it is not like "us", and a place where the worst is possible. Examples of Africa being portrayed in this light then become a goal or focus of reporting, even if history tells us otherwise (as with match fixing).
Thus, media framing is dangerous, not just for portraying countries or regions inaccurately. Cameroon for example is now investigating the match-fixing claims – and it is not inconceivable that they may be used to settle scores with those perceived as contributing to the team's poor display at the World Cup.
Furthermore, there is a danger of focusing on one continent through framing, as global monitoring of match fixing globally may suffer as a result. FIFA and betting regulators must be vigilant that these undercover activities do not turn away their attention from other regions. They owe the world a focus on stamping out corruption and match fixing wherever they may occur around the world.