Melbourne has long been regarded as a thriving live music city and right now, with Melbourne Music Week in full swing, live music culture is being celebrated. But there are signs of discordance that we shouldn't ignore.
Currently, hundreds of bands are playing gigs in venues across Melbourne until November 24. Music Week is an opportunity for the city to showcase not only its incredible local live scene and artists: it's also a good occasion to consider the state of live music in the city – and to ask where live music stands in terms of what is valued and supported in the cultural life of Australia.
Australians love live music
It is only recently that serious data has started to be collected on the live music sector in this country. In 2012 the first ever census of music venues in Melbourne showed it is one of the most vibrant music cities in the world, with more live venues per person than Paris, London or New York.
Overall, the study, conducted by Music Victoria, found twice as many people attend live music events in any given year as turn up to AFL, NFL, A-League, Spring Racing and Rugby events combined. Unsurprisingly, this also delivers massive economic benefits: the live music sector provides the equivalent of more than 116,000 full time jobs in Melbourne annually, and brings in A$1.4 billion in revenue (including ticket/door revenue and patron spending).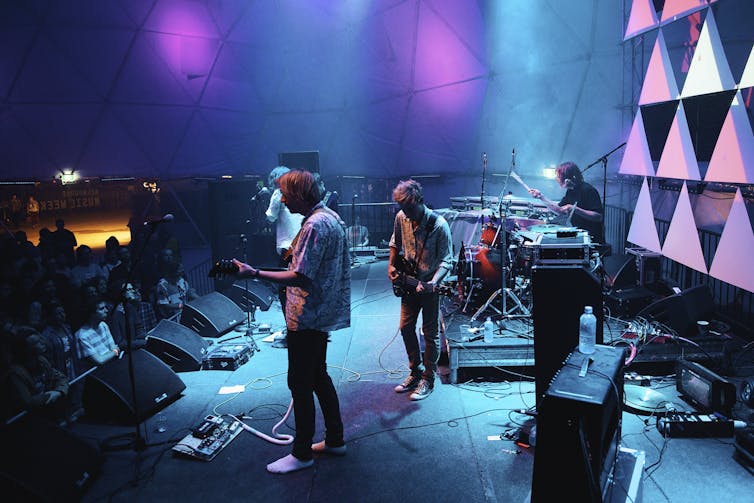 Plans are currently underway for this census to be rolled out across the nation – but if the Melbourne data is anything to go by, Australian live music is currently in very good health.
Keeping venues open
It's important to not take this for granted, given it was only three years ago that up to 20,000 people took to the streets to protest against the closure of live music venues in Melbourne, including the iconic Tote (which has since reopened).
Save Live Australian Music (SLAM) rallies have highlighted the way policy makers, law enforcement officials and the live music scene can be at odds with each other. Perceptions that music venues are associated with violence and anti-social behaviour can leave them an easy target, given politicians often have "being tough on crime" on their agenda – and it can be hard for disparate communities of musicians and music fans to have their voices heard by policy makers.
Living for the city
Another less obvious threat to the health of live music is the creeping gentrification of inner city suburbs. Creative activity is often centred on communities of like-minded people who support and inspire each other.
As the inner-city suburbs in Melbourne where these communities are often found become more desirable places to live – often exactly because of those artistic and creative scenes – increases in property prices can drive out these groups.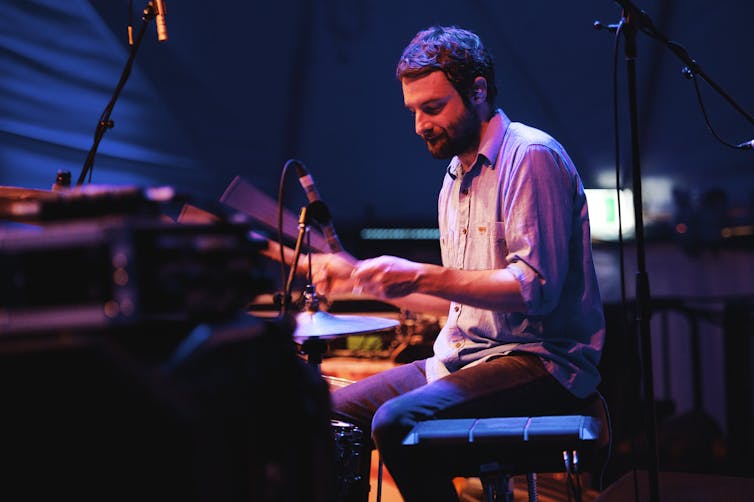 For all the benefits live music brings to a city such as Melbourne, very few of the musicians make a living from what they do. The average annual income a musician in Australia makes from their creative work is only A$7,000, and the proportion who can ever afford to be full-time musicians is very small. The rents that young, hip, professional couples can afford are not in reach of Australia's live performers.
In association with this, new residents can also bring with them noise complaints that force live music venues to curtail their trading hours, undergo expensive renovations to comply with noise codes, or even shut down all together.
While the City of Melbourne is moving to implement new policies in this area that would give pre-existing music venues protection against complaints from new residential buildings (similar to those used in Brisbane's Fortitude Valley), operators of venues such as the Cherry Bar in Melbourne's AC/DC Lane are still watching in concern as new high-rise apartment blocks are constructed nearby.
Keeping the scene live
Melbourne is, of course, not alone in confronting planning/ development/ regulatory threats to its vibrant live performance culture – but it has the advantage of a large venue base and vocal and committed practitioners and fans.
A number of local governments in the CBD and the inner-suburban music precincts are consulting with their music practitioners, venue patrons and residents to preserve amenities while protecting and nurturing cultural creation and practice.
Such efforts will complement those of advocacy bodies such as Music Victoria, The Push, Fair Go For Live Music, and Slam, all of whom are represented on the City of Melbourne's newly formed Music Advisory Committee, and the Victorian Premier's Popular Music Round Table.
The massive line-up at Melbourne Music Week shows that the local scene is thriving. There are challenges to maintaining it – but Melbourne stands well-placed to confront them and develop solutions.

Melbourne Music week runs until November 24. Find details here.