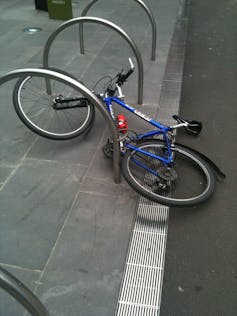 A magnitude 4.4 earthquake felt in Melbourne on Tuesday morning is the third largest in a series of 300 quakes that have been gently shaking regional Victoria since January 2009, a seismologist said.
The 4.4 quake, felt around 11.30am and followed by a 3.3 magnitude aftershock, was too small to cause any damage.
"It's not particularly unusual. There's an area south east of Melbourne that has had a lot of activity, about 300 little earthquakes, since January 2009," said Dr Gary Gibson, a seismologist from the University of Melbourne's School of Earth Sciences.
"The sequences started in January 2009 but in early March 2009, there was a 4.7 that was felt in Melbourne and later the same month there was another 4.7. Since then it's been coming and going with several of them over magnitude 3, and this latest one is the third largest."
The earthquakes have been traced to an area of fault lines four kilometres north east of Korumburra, in Gippsland, he said.
With active tectonic plates to the east in New Zealand and to the north in Indonesia, small earthquakes are surprisingly common in Australia.
"We have active boundaries and we are the fastest moving continent on Earth, moving north at over 70mm per year," said Dr Gibson.
"The two factors together means although the level of activity is very low, we are the most active of any the of the stable continental areas."
Dr Gibson said he was attending a conference of earthquake experts and geologists when the quake occurred.
"Just yesterday I was talking about this cluster and sure enough it happened the next day. I think they believe me now."