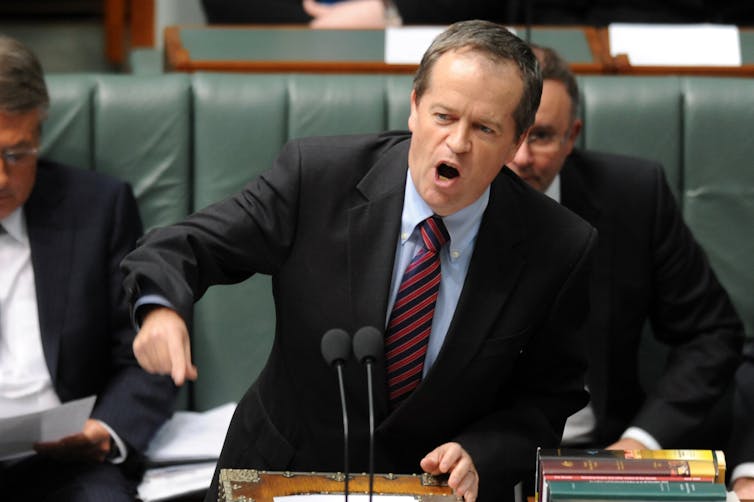 Julia Gillard's pitch last week to female voters has backfired dramatically, with Labor's primary vote in today's Nielsen poll falling 3 points to 29% while support among men has plunged 7 points.
With the leadership crisis consuming the party as MPs gather for the final parliamentary fortnight, the Coalition is now leading Labor 57% (up 3) to 43% (down 3) in two party terms.
The Nielsen poll, published in Fairfax papers, shows an 11 point rise in Labor's primary vote, to 40%, when people are asked how they would vote if Kevin Rudd was leader. If Rudd were leader the two party vote would be 50-50.
The poll adds to the enormous pressure on powerbroker Bill Shorten, a Gillard backer who was key in making her PM, and other senior figures in the party, as well as Gillard's union backers.
A shift by Shorten would tip the balance, but last night his spokeswoman reaffirmed he was still supporting Gillard.
The leadership crisis is at an impasse with Gillard refusing to countenance stepping down and Rudd refusing to challenge.
Shorten is being buffeted by conflicting considerations. As the one most likely to become leader in opposition, he would benefit by Rudd becoming leader now, and saving some of the "furniture". Those wanting him to act argue that it is his duty for the good of the party.
On the other hand, to be a main player in assassinating two Labor prime ministers in three years would give him an unenviable reputation for disloyalty. (Aaron Patrick's just published Downfall: How the Labor Party ripped itself apart, describes the decision by Shorten and other senior figures to remove a democratically elected PM in his first term of office as "one of the great political miscalculations of the modern era".)
Often overlooked, too, in the current situation is the role of Shorten's wife Chloe Bryce, daughter of Governor-General Quentin Bryce.
Chloe has recently become president of the board of the newly-formed Women for Gillard group, to whom Gillard gave her speech last week. Her high profile public support for the PM would increase the difficulties of Shorten defecting, if Gillard remains determined to fight for her position.
In the Nielsen poll, support among men fell a massive 10 points in two party terms, in the wake of the PM's address raising the abortion issue and talking about men in blue ties.
Nor did Gillard get a boost from women, with whom she polls better - her support among them rose only a point on the primary vote and two points on the two party preferred.
Not only did the speech fail but there was not sympathy to Gillard from the offensive menu affair or Perth shock jock Howard Sattler (subsequently sacked for his behaviour) asking about her partner Tim Mathieson's sexuality.
Her disapproval rose 5 points since last month. Her rating as preferred PM fell 5 points and Abbott's increased by 4 points - he leads as preferred PM 50-41%.
Schools minister Peter Garrett yesterday repeated that he would not serve under Rudd. Backbencher Laurie Ferguson, who recently called for Gillard to get on the front foot in defending the government's position on asylum seeker policy, said she should stay leader.
Ferguson said that if Rudd took over, five minutes later the opposition would be stressing the immigration changes – when the government softened the line on asylum seekers - that he had engineered.
The coming fortnight is entirely unpredictable. The scenarios range from neither Gillard nor Rudd altering their positions and the status quo remaining, to a Rudd takeover, with or without a ballot, after a collapse in Gillard's leadership brought on by the desertion of cabinet backers.
Gillard's critics have this week and next to destabilise her further, backed by more polling to come and probably more leaking of internal Labor research.
Meanwhile Gillard's desperate fight to try to salvage her Gonski school funding program is being sabotaged by the Rudd push. Only two states and the ACT have signed up so far. Support from Victoria is vital but the state government is claiming 250 schools will be worse off.
Paul Kelly reported in the Weekend Australian: "The Rudd camp believes the Gonski school agenda is a saga of policy mismanagement where funds are pledged without prospects of better results. Rudd is worried about the fiscal cost. He can expected to act decisively against the half completed Gonski agenda".
The "Rudd camp" is saying what Tony Abbott is saying. In these circumstances why would any more conservative states sign? Not even Rudd, PM would honour their deals, it seems. In this leadership battle to the death nothing is sacred.
By next week, when Parliament is ready to rise and the killing season for a weakened leader is at its height, the extent of Gillard's success or failure on Gonski will be clear (assuming she is still PM). By his signals, Rudd is maximising the chance she fails on this, her signature issue.