One of the most enduring promotional figures in Australia is the Surfers Paradise Meter Maid. The Meter Maid, born in the altruistic swirl of 1950s beauty pageants, performs her role in a gold lamé bikini. Once an "angel" that could save you from the irritation of a parking ticket, today she is a contested image in an urban space.
Over the past 50 years, the Meter Maid has evolved and become a symbol of the growing hypersexuality of our cities. Her presence has divided the local community as well as holiday makers. Some see her as an icon for the region. Others regard her as a prime example of the objectification of women.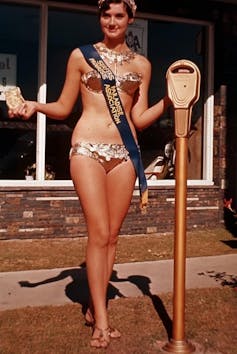 In the late 1980s, a photo of Prime Minister Bob Hawke stepping from a plane with a Maid on each side graced the cover of Penthouse magazine. In more recent years, defenders of the Maids have celebrated them with a retro-sexist rhetoric of nostalgia and "playfulness".
You'd think the replacement of the coin-operated parking meter in 2010 with a pay-and-display system might have seen an end to the Meter Maid's duties. Not so. She now sells sexualised merchandise (think pin-up style calendars and beer coolers shaped like female torsos with breasts) and takes a fee for photographs. More recently the Meter Maid has begun to deliver food to beach dwellers with a "mischievous and sexy twist".
The Meter Maid has contributed to the hypersexualised experience of Surfers Paradise and equally been shaped by changes to it. While the beachside town was transformed into a booming metropolis from the 1970s-90s, "Surfers" has since been challenged by social and urban decline. A cluster of strip clubs, nightclubs and bars – one of the highest concentrations in any Australian city – is the backdrop to the Meter Maid's glittering façade.
Increasingly, promotional models like the Meter Maid are an unavoidable part of city life. Employed to launch products, attend events and develop brand identity, bouncy and carefully curated young women entice consumers in shopping districts, transportation hubs and city centres.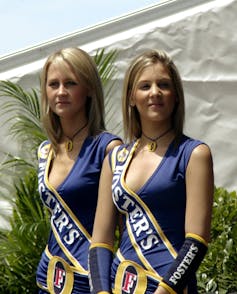 Companies who use promotional models may be attempting to brand anything from haute couture hand bags, to SUV's or cuppa-soup. The promotional model acts as a "teaser" to engage the public in "experiential marketing". But unlike billboards and digital screens, the real-life presence of promotional models on the urban strip (not just in a city's seedy quarters) creates an in-your-face, novel, and guerrilla form of advertising media.
It's no coincidence that most promotional models are women. A Google search of the term produces images of women dressed in any number of sexualised outfits: from bikinis to fetishised suits. These "uniforms" offer the titillation of a possible sexualised encounter.
While many jobs require that we put on our "happy face", this opportunistic one-on-one interaction requires a willingness for the promotional model to self-sexualise. Part of the criteria for being chosen for the job is to charm potential consumers.
Women's employment in these roles is conditional. As radical feminist Sheila Jeffreys has suggested, being receptive to and accepting sexual innuendo is part of these sexualised gigs. As such, women can expect to encounter unwanted sexual behaviour.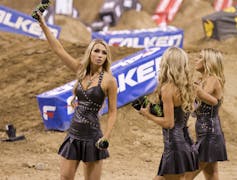 Given that promotional models operate in an urban landscape already loaded with sexualised scripts, their existence may appear just another form of advertising-hype. This position, however, prevents a nuanced critique of the ways that our hypersexual culture constructs femininity and masculinity.
In some Australian states promotional models who work in vulnerable circumstances may need only to be 15 years old. Given the current social crisis of sexual violence towards women and girls this is troubling. And it is paramount that we examine ways that social spaces contribute to gendered attitudes, encounters and behaviour in our broader discussions around sexual violence.
Indeed Meter Maids confront the ambiguity of hypersexual tension daily. Is the sexual attention from a man who follows them on a weekly basis, for instance, just that of a "harmless fan" or indeed a more troubling case of creepy stalker?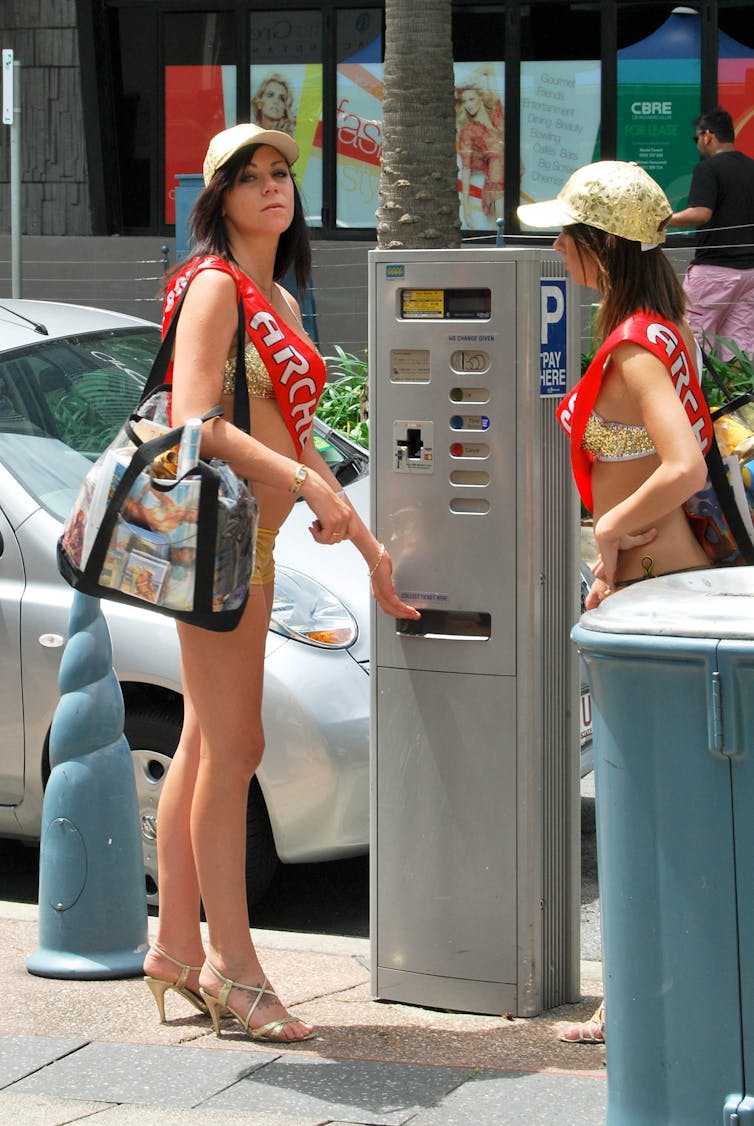 The difficulty in evaluating the benefits of and risks to promotional models is understandable in a media culture where self-sexualisation is presented as a way for women to take charge and make choices. Meter Maids may indeed feel "empowered" and benefit from the financial rewards and social status of performing their sexuality in urban space. But at what cost?
Planners, policy makers and citizens alike need to think more deeply about the consequences of our hypersexualised cities. What is the impact of all this sexualised imagery? And how does it shape social interactions and expectations?
If we continue to shrug off the sexualised representation of women and girls as "playful", and just a "bit of fun", we are left with urban spaces that make visible the inequity of women, entertain misogyny and resist sexual diversity.
This is certainly not the city that I want to live in.