But surely it would have been a pity / not to have seen the trees along this road, / really exaggerated in their beauty - Elizabeth Bishop, 'Questions of Travel'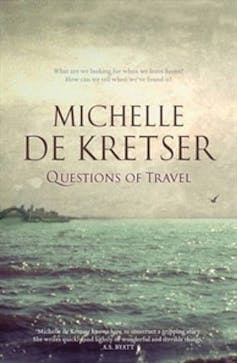 After a week of rampant sexism in the media, a good-news story about a woman comes as a welcome relief. At a ceremony at the National Library in Canberra on Wednesday, Simon Lewis announced that Michelle de Kretser has won this year's $60,000 Miles Franklin Literary Award for her novel, Questions of Travel.
Since the Miles Franklin Award began in 1957, a woman has won only 14 times. With de Kretser's win the count creeps up to 15. The awards were notable this year for being the first in the prize's 56-year history to have an all-female shortlist.
According to Neville, chair of the judging panel, the 2013 Miles Franklin was also one of the largest with 72 entries, and he described the judging process as "exhaustive". Of Questions of Travel, which takes its name from a poem by Elizabeth Bishop, Neville said:
Michelle de Kretser's wonderful novel centres on two characters, with two stories, each describing a different journey. The stories intertwine and pull against one another, and within this double narrative, de Kretser explores questions of home and away, travel and tourism, refugees and migrants, as well as "questions of travel" in the virtual world, charting the rapid changes in electronic communication that mark our lives today. She brings these large questions close-up and personal with her witty and poignant observations and her vivid language. Her novel is about keeping balance in a speeding, spinning world.
Michelle de Kretser was born in Sri Lanka and emigrated to Australia when she was 14. She was educated in Melbourne and Paris and has worked as an academic, an editor and a book reviewer. She has written three previous novels: The Rose Grower; The Hamilton Case; and The Lost Dog, which won Book of the Year at the New South Wales Premier's Literary Awards and was longlisted for the 2008 Orange Prize for Fiction and the 2008 Man Booker Prize.
Neville was joined on the judging panel by Murray Waldren, journalist at The Australian newspaper; Anna Low, a Sydney bookseller; Craig Munro, book historian and former editor at UQP; and Emeritus Professor Susan Sheridan.
The shortlisted titles