Against a backdrop of continuing ethnic violence, delegations from South Sudan's warring factions have arrived in Ethiopia to try to negotiate a settlement to the crisis that has riven Africa's newest nation since mid-December.
Representatives of former vice-president Riek Machar will meet with negotiators appointed by South Sudan's president, Salva Kiir, who this week declared a state of emergency in Unity and Jonglei, two states said to be controlled by the rebels.
Member states of the Intergovernmental Authority on Development (IGAD) are urging the two sides to bring an end to violence that has seen at least 1000 people killed and up to 200,000 displaced, and the US has urged its citizens to leave the country as it withdraws its embassy staff.
In a press conference on December 16, Kiir refered to a "coup attempt" and "criminal actions" by his former vice-president who was sacked in July. Machar, meanwhile, has referred to the "manufacturing of a coup plot to launch a crackdown against the opposition … the country is to be united and cannot tolerate one man's rule or it cannot tolerate dictatorship".
But instead of obsessing as to whether this has been a coup attempt, it is more fruitful to consider the apparent collapse in cohesion of the Sudan People's Liberation Army (SPLA) – its politics, and the tensions and drama surrounding it.
State of violence
South Sudanese politics is interwoven with low-intensity warfare, inter-ethnic violence and norms of authority grounded in violence. This violence is designed to generate loyalty, fear and legitimacy within a region or an ethnic group vis-à-vis those in power. The army in South Sudan has tremendous importance both as a space for politics and as a "welfare provider" within the nascent state. Furthermore, the make-up of the army reflects the divided politics of the country.
Internal factionalism and defections have marked the SPLA in recent years. Commanders, particularly those from other armed groups integrated into the SPLA (particularly from the South Sudan Defence Forces), have reacted to a perceived lack of integration and authority, power and military command. One notable case is that of Peter Gadet.
After the Comprehensive Peace Agreement (CPA) of 2005, Gadet obtained the opportunity to integrate into the SPLA with thousands of his soldiers and acquired a high-ranking post as a major general. But he defected after he was moved from one army position to another, and declared an armed revolt against the SPLA in 2011. A few months later he was offered an amnesty by Kiir. He re-joined the SPLA in August 2011. During the current events, he has once again defected and his troops are in control of Jonglei state.
What internal defections like these show is that the leaders of the SPLA and contending rebel militias alike are still deeply attached to ethnic and tribal identities, as well as patronage relations: anyone connected to top army officers through family, clan or ethnicity has ready access to influence and benefits. In other words, the SPLA is still in the process of transformation from a conglomerate of several armed groups loyal to specific commanders into a professional, non-partisan, national army.
The SPLA has never been able to move beyond existing tribal divisions and construct a national Southern Sudanese identity. The main reason for this is that political and military support has overwhelmingly been drawn from one particular ethnic group, the Dinka. Political and military domination by the Dinka has produced animosity among other ethnic groups.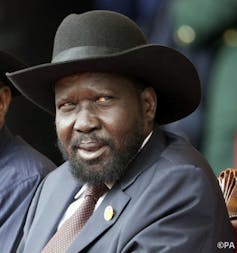 During the liberation war, this resentment was tactically manipulated by Khartoum and led to the emergence of various armed groups that fought against the SPLA. The competing interests of different ethnic groups "survived" the CPA interim period. Due to its predominantly Dinka composition, the SPLA's political and military pre-eminence has also created a degree of ethnic dominance.
It is not always easy to distinguish clearly between inter-communal conflict and ethnic struggles and insurgencies, especially when the conflicts involve members of the politically dominant Dinka group. Throughout 2011, ethnic violence persisted between Dinka and Nuer groups in the border area of Unity, Warrap, and Lakes States, resulting both in casualties and displacement. The worst of the violence in the first year of Southern independence, however, took place between Lou Nuer and Murle groups in Jonglei State in December 2011 and January 2012, affecting a total of 170,000 people in the state, killing hundreds and adding over 60,000 displaced persons to some 50,000 resulting from prior inter-communal conflict and insurgent violence.
Historically, oil and the public sector have dominated South Sudan's formal economy. Oil exports previously accounted for the majority of government revenues, financing 98% of the 2011/12 budget. A significant share of successive annual government budgets has been allocated to the security sector since the signing of the CPA. Security spending was at the top of the government priorities that aimed to "develop an efficient and effective armed force, to safeguard security and implement the CPA." In 2012, 41% of the government's expenditure was allocated to security, mainly as salaries to members of the SPLA.
Between 2005 and 2011 SPLA costs have actually increased by 33.6%. As a result, a new class division is emerging between people working for the security forces on the government's payroll and the rest of the population. And the gap between these groups is likely to increase in the coming years. External support for the security sector aims partly at reducing the size of the security forces and redirecting military expenditure to other sectors such as health and education. Some observers view this as emblematic of patronage to a bloated military at the expense of development priorities. Government officials I interviewed in 2012 argued, however, that maintaining the SPLA's morale and loyalty to the government is central to securing the state's short-term stability.
What next for South Sudan? The task ahead is to comprehend and eventually change the basic structures and mechanisms of armed mobilisation in the country. Another faultline is the absence of long-term plans that address all the domestic destabilising factors briefly described above, especially violence as a political tool of empowerment. Kiir and his sacked deputy Machar have played their cards on each other and, as a result, a latent danger of armed conflict impends in Africa's youngest nation.
This piece originally appeared on the African Arguments blog.