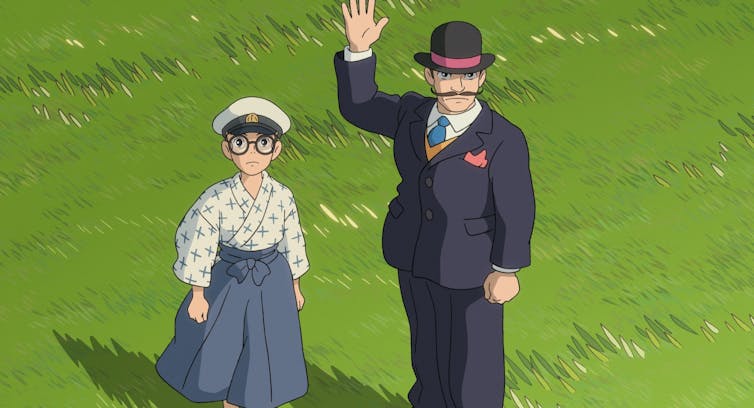 It is a strange and transitional time in the history of cinema. As the medium itself shifts irreversibly from celluloid to computation, the last generation of true film-makers is gradually, but inevitably, saying farewell.
The death of French film-maker Alain Resnais earlier this month, following Eric Rohmer's in 2010, is ominous. It would seem as if David Lynch has now not only left film behind (INLAND EMPIRE, his last feature, was all digital), but left the building completely. And now we learn that the legendary Hayao Miyazaki has tendered his final work, The Wind Rises.
It is indeed the end of an era, with only the indefatigable Jean-Luc Godard and Werner Herzog (of whom more below) raging, raging against the dying of the light, like battle-scarred titans of a lost world.
As valedictories go, Miyazaki's is decidedly peculiar, but satisfying on an emotional as well as an allegorical level.
Anyone touched by this gentle master's body of gracefully (mostly) hand-animated work – by Princess Mononoke (1997), My Neighbour Totoro (1988), or the truly sublime Spirited Away (2001), among many others at Studio Ghibli — will be familiar with his recurrent themes: nature's majesty, the strong spirit of girls, and the folkloric wisdom of Japanese peasant culture.
Gone from The Wind Rises is the usual borderland world of his imagination. Set concretely in a critical ten-year period of Japan's modern history (1930-1940), the film eschews river spirits, soot gremlins and fish-girls in favour of detailed technical drawings and rapturous apostrophes to flattened rivets.
Miyazaki's point is that modern magic is the preserve of visionary engineers. The great aeronautical designer, Jiro Horikoshi, architect of Mitsubishi's A6M Zero fighter, is the film's dedicatee and hagiographic subject; in him, Miyazaki asks us to see an image of himself and every serious artist in the modern world.
That world is driven principally by two overarching imperatives: military power, and capital. The artist-engineer, naïve dreamer of better lives and more perfect worlds, is trapped between this enduring rock-and-a-hard-place, pinioned by their desperate need for his visions.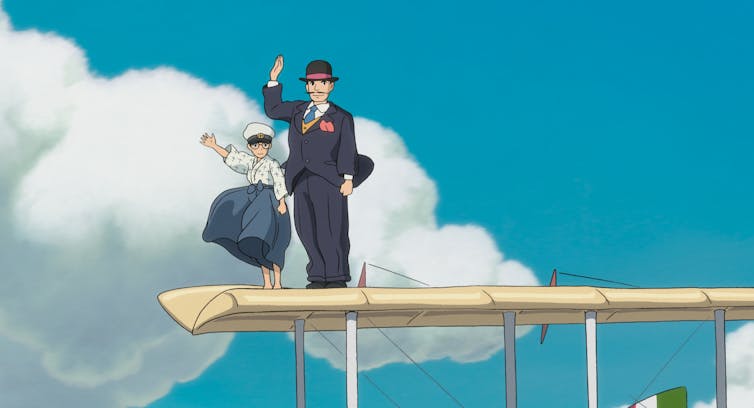 He must work in a state of near trance, deliberately blinkering himself to the mounting evidence of horror all around: to an economy of death, and a pitiless logic of expediency. If Jiro is to realise his vision of a super-lightweight cantilever monoplane, he has no option but to ignore the supreme evil of the likely ends of his work, as well as the more insidious evil of its financial means.
To offset the gloom, Miyazaki throws in a touching doomed romance with a tubercular beauty, the lovers brought together by the very wind that carries his vision into the flaming skies of the second world war.
Throughout, the director threads his work with seams of aesthetic grace. Paul Valéry's poem, Le cimetière marin (The Graveyard by the Sea), is a powerful leitmotif. A moody song from Schubert's Winterreise resounds from an open window during a visit to Germany. The executives at Mitsubishi listen to late Beethoven over a business lunch.
And in the most extended aesthetic riff, film-maker Werner Herzog appears as a watercress-munching German intellectual, in the sanatorium where Jiro reconnects with his beloved, muttering pacifist slogans, singing (atrociously!) a sprightly Teutonic air, and reminding Jiro how similar this part of the story is to Thomas Mann's novel The Magic Mountain.
My seven-year-old was understandably nonplussed.
But the film is a work of wonders. The early sequence during which the earthquake of 1923 flattens Tokyo and sets it afire is the most terrifying Miyazaki has ever mounted. The final vision of the aeronautic graveyard is appropriately devastating. The courtship by Jiro of Naoko is staged with utter simplicity and underwritten by the director's prodigious sense of natural magic.
It reminds us what cinema can do, and how keenly we need artists of the calibre of Miyazaki, who, like Jiro (for whom his own father had once worked), managed to find a way under the heel of capital and the imperatives of wholesale murder to conjure beauty out of thin air, out of the wind that rises in and around us.
We will miss him.

Further reading:
Miyazaki's legacy is sure to live on … whether or not he retires