This article is part of the Democracy Futures project, a joint global initiative between The Conversation and the Sydney Democracy Network. The project aims to stimulate fresh thinking about the many challenges facing democracies in the 21st century.
This piece is part of a series, After Populism, about the challenges populism poses for democracy. It comes from a talk at the "Populism: what's next for democracy?" symposium hosted by the Institute for Governance & Policy Analysis at the University of Canberra in collaboration with Sydney Democracy Network.
---
After Donald Trump was sworn in as US president, The Times of India published a piece titled "Why both Modi and Trump are textbook populists".
Citing Jan-Werner Müller's What is Populism?, the journalist, Amit Varma, was struck by "how closely our own prime minister, Narendra Modi, matched Müller's definition". After enumerating Müller's seven "characteristics" and the three "things" populists did when in power, Varma found these all applicable to India.
But can such schematic "characteristics" of populism describe the ghastly daytime murder of 15-year-old Hafiz Junaid on a moving, packed train? And what about the complicit silence maintained during and afterwards by populists, non-populists and anti-populists alike?
Located barely 20 kilometres from the scene of the crime, neither social-media-savvy Modi nor his ministers posted any tweets, let alone visited the victim's family.
It was the "crowd" that knifed Junaid. Two of his brothers were severely beaten and injured because they were Muslim. They wore beards and skullcaps for which they were humiliated.
They were called "Mulleys [Muslims]", "beefeaters", "terrorists", "traitors" and "Pakistanis". As Junaid's bloodied body lay in the lap of his brother, who begged for help, the crowd simply and silently watched on.
Junaid's murder was not the first since Modi came to power in 2014. Similar instances of brutality have occurred throughout India: from Jhajjar, Jharkhand and Dadri to Latehar, Una and Alwar.
And since the government backs the lynchings through silence and inaction, and since Hindutva has created a war-like mindset among many Hindus, they will likely continue.
"Populism", as Müller defines it, fails to articulate the experience and vocabulary of those at the receiving end of such persistent violence.
Religion and the real targets of populism
Preoccupied with the statements of populist leaders nearly the world over, Müller seldom draws on the views of those who are objectified and victimised by populism. His treatment of religion as constitutive of populism is thin at best.
Müller implies that populism is inimical to democracy. But if populists claim to represent "we the people" and therefore democracy, who do they view as their enemy? It can't just be "the elite" – populists too are elite. The real targets of populists, then, are those non-elites who supposedly threaten the culture of the "real" people.
And who threatens the "Judo-Christian culture", "homelands" or "ways of life" that populists uphold? In Western countries, the threat is attributed to Muslims, who are depicted as only religious – indeed the most religious of all peoples. Muslims alone are seen as a problem to "integration" and "cohesion", as if Buddhists, Confucians, Hindus and people of other faiths lived on a different planet.
Müller reads the populist demand for Barack Obama's birth certificate as a signification of the former US president's status as the "bicoastal elite and the African-American other". He leaves religion out of it. So why did one-third of Americans believe Obama was a Muslim well into his second term, after many proclamations of his own Christianity?
Anders Breivik, the terrorist who killed 77 people in Norway, also stands expelled from Müller's text. Breivik surely was opposed to elites; but elites themselves were not his target.
The real targets were Muslims whose culture, Breivik held, elites had spread by allowing immigration, which in turn threatened Christian Europe. The title of Breivik's manifesto is revealingly religious.
And while Müller wrote only one sentence on India in his book, Breivik promised military support "to the [Hindu] nationalists in the Indian civil war and in the deportation of all Muslims from India". He also viewed John Howard and Cardinal George Pell as heroes defending "Christian civilisation".
So what connects populists in the US, Australia, Europe, India and elsewhere? And what prompted the International Democratic Union in 2016 to grant membership "unanimously" to Modi's party, Bharatiya Janata Party (BJP), despite its reputation for ethnic and violent politics?
Populism and anti-pluralism in India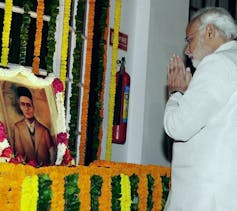 Accounts of populism like Varma's mechanically assume a "secular" conception of India separate from the religious one to which populism is assigned. This separation is central to the Indian liberal story parroted by Nobel laureate Amartya Sen and Ramchandra Guha.
Mukulika Banerjee traces neo-nationalism (which anthropologists use in association with populism) to religious nationalism in the early 20th century and V.D. Savarkar's Hindutva.
Hindutva defined Indianness exclusively in religious terms: an Indian is someone who considers India as their holy land. Because India was not sacred geography for Christians and Muslims, they were non/anti-Indian. Indeed they were non-people.
In contrast, Banerjee presents Mohandas Gandhi's and Jawaharlal Nehru's vision as secular and pluralist:
It was the great achievement of Gandhi and Nehru that it took four post-independence decades for such enmity [against Muslims] to flourish.
However, anthropologist N.K. Bose, who served as Gandhi's secretary, had this to say:
Gandhi tacitly formed an alliance with those who believed in a restoration of Hindu domination.
Gandhi's tactical commitment to non-violence is evidenced by statements in his speeches that authorise violence:
If later they [Muslims] betray you, you can shoot them. You may shoot one or two or a certain number… We must be brave and trust the Muslims. If later they violate the trust you can cut off their heads.
It follows that Savarkar's ethnic, anti-pluralist vision was not radically at odds with Gandhi's.
Moreover, as independent India's first prime minister, if secularism was the hallmark of Nehru's ideology, why didn't he write it into the Indian Constitution? Why was it inserted only in the mid-1970s? Nehru admitted that Hindus, including in his own party, were prejudiced and biased against Muslims. Bureaucracy was no different, he wrote:
Nearly all our District Officers and Hindus are … biased in a certain direction. It is unfortunate that so few Muslims are represented in our services now.
If the main political parties and the bureaucracy were prejudiced, where did Nehru's secularism, then, live? Not in Hyderabad, nor in Jammu, where, with the government playing an active role, 200,000 Muslims were massacred in 1947.
Creating inhumanity in the guise of humanity
Though anti-pluralism (which Müller sees as the core of populism) in India began much earlier than Trump and the Tea Party in America, populism has undeniably taken on a new flavour in contemporary times.
The September 11 attacks marked a new phase in the definition of "the people" around the axes of "terrorism" and "humanity". In a televised debate soon after 9/11, Modi hailed the Indian media for speaking "the truth" in using the phrase "Islamic terrorism".
Modi opined that terrorism was innate to Islam (and less emphatically also to Christianity), for it did not consider other religions to be true. In his view, the "whole world" had witnessed terrorism "for 1,400 years" (since Muhammad's time). Modi saw the post-9/11 era as a battle between "humanity" and "terrorism".
The "humanity" Modi spoke of did not exist as a prior idea. Instead, it was manufactured through the disingenuous discourse on terrorism that his party enacted on the international stage. In the same debate, Modi said:
Because of India's initiative in the UN meeting twice, we have made terrorism an issue. Due to this, we have succeeded in dividing the country into two camps: those who are against terrorism and those who are in support of terrorism.

I think that the recent incident in America [9/11] will intensify it [the division]. The world is about to be divided into two parts: those who are in favour of humanity and those who are against humanity.
While Müller does discuss polarisation as constitutive of populism, he fails to connect its articulations across countries as Modi did. Modi's polarisation was between humanity and its enemy, which is simultaneously anti-human, non-human, sub-human and less than human.
In the 2002 anti-Muslim pogrom, which Modi presided over as chief minister of Gujarat, over 3,000 Muslims were killed with state complicity. He maintained a long silence over the killings; when he eventually spoke, he compared the killings to running over puppies with a car. In doing so, he transferred Muslims from human to sub-human.
The act of transference partly explains why hundreds of people at the railway station did not even see Junaid's dead body. Surely populism itself is too wandering and too light a term to grasp the ferocity with which the crowd killed Junaid, and the subsequent weight of the public's apathy.
When Junaid's mother, Saira, was told of his murder after she had broken her Ramadan fast, she responded with words that did not include populism. Can democracy, then, understand the tears and moaning through which Saira spoke?
It's worth remembering that in addition to Modi's claim that he is chosen by God, his followers regard him as God. At Madison Square Garden in 2014, Modi described his electoral victory as divine. He pronounced: "janata jan janārdan", or "the will of the people prevails over the world", where the people themselves are God because janārdan denotes the Hindu god Lord Krishna.
Thus, unlike "secularism", which Modi denounces as "pseudo-secularism", the idea that there can likewise be "pseudo-democracy" remains unthinkable for Modi and his followers.
I tend to agree with Müller's observation that "one implication of the analysis presented in this book is that National Socialism and Italian Fascism need to be understood as populist movements…" The question, then, is: are populism and fascism substitutes?