We are now nearly two months away from the London Olympics opening, with the torch relay already underway. For Australian athletes the journey that began many years ago is nearing the end. Most of us will watch and wonder at the athletic achievements, then forget it all for another four years as the Olympic cycle rolls on to Rio 2016.
In Australia, one part of the Olympic ritual has already been played, the perennial claim by the Australian Olympic Committee (AOC) that without additional cash the nation will recede in the international performance stakes.
A few weeks ago AOC President John Coates declared publicly that the $30 million available to prepare athletes for London was "inadequate" and endangered Australia's ambition of a top five medal count result. Australia would be out-spent and out-performed by too many rivals, he said.
Coates' tails
When The Australian placed Coates at No. 7 on its top 50 most influential people in sport (behind Andrew Demetriou, three television executives, the Australian Rugby league Commission chair and Frank Lowy), most sports insiders chuckled in disbelief.
Coates has been involved with the Olympic movement since 1976, a member of the AOC since 1982, joined the IOC in 2001 and its executive in 2009. In addition, he now heads the International Court of Arbitration for Sport, drawing on his legal background.
He is a world figure, and hugely influential at home. Having built his sports administration platform in rowing, he became an early mover and shaker in the Australian Institute of Sport and the Australian Sports Commission.
From the beginning, John Coates was a leading lobbyist leveraging additional cash from governments on the back of no better an argument than, "it is a good look internationally for Australia to be successful at sport".
At no time then or since did any government on either side elucidate a more convincing policy – among other things it was considered a vote-winner.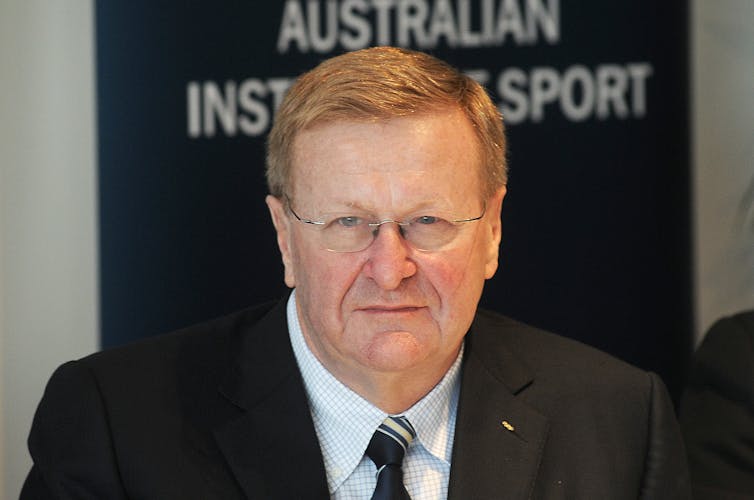 As governments came and went, John Coates remained the strongest advocate for increased funding for Olympic sport. So much so that even in the most constrained times, portfolios like health, defence and education might be cut but never sport – it was "too good a thing".
He has been challenged, however. In 2009, the Labor government commissioned businessman David Crawford to investigate the effectiveness of sports funding. When the results appeared, Coates lost his cool completely.
Crawford amassed considerable evidence to suggest that the funding was probably too elitist, and ineffective by public expenditure standards. Why were taxpayers funding obscure and minor sports?
He received considerable support but, understandably enough, sports leaders like Coates were apoplectic, especially when Crawford argued that a medal count was a poor way to measure success.
Lies, damned lies and gold medals
The medal count has been both blessing and bane: it is a great measure when things go well, but less so when results are down. Over the years that has led to a great sleight of hand – either counting only gold or counting all medals, depending on which is most advantageous. The sports equivalent of "lies, damned lies and statistics".
Our poor medal count in 1976 led to the initial public investment so, by definition, medal counts became the yardstick. As we see now with John Coates warning of a possible 2012 slide "outside the top five" – that arbitrary number is for some reason important.
Coates' power and influence was manifest in the way he "fixed" Crawford. Public sentiment favoured funding system reform. In response, Coates assembled a high-powered lobby group that included Craig McLatchey, former Secretary-General of the AOC who ran the Sydney Games, and who now runs IOC offshoot Events Knowledge Services that secured the Games for Rio.
The group went to work on the government, and won. The Crawford report basically "went away" and, indeed, the government produced some extra funding for the AOC. It was a lobbying triumph.
Budget priorities
Coates has frequently been controversial. There was much chatter recently when it emerged he is paid $480,000 to be President of the AOC at the very time he is crying foul over low funding for Olympic sports.
The central policy issue, of course, is just how do we measure the public good benefits of investing in sport at this level? Everyone supports the idea of athletes performing well, but where to draw the line in a federal budget clearly now under enormous pressure, and likely to be even more so as the iron ore and coal milch cow starts to dry? And does it matter if Australia falls outside the top five?
Before Beijing, the Olympic lobby argued hard that investing heavily there was good for Australian business. That was true in the direct sense of providing goods and services to Beijing. In the broader sense, however, it seemed a desperate attempt to demonstrate relevance, because it is highly doubtful that any more coal or iron ore was sold to China as a result of Australia being at the Games and performing well.
Of one thing we can sure: whatever the London athletic results, the follow up will either be that we succeeded because we invested, proving that we need to keep doing so. Or we failed because we did not get enough, proving we need more.
Once again, the government will face a difficult choice of either combating or acquiescing to the Olympic pressure, and that will be led by Jon Coates for some time to come.