The news that Coles may be seeking a banking licence would, if confirmed, put the supermarket group and its parent company Wesfarmers in direct competition with Australia's major banks. It would allow Coles to offer its 18 million customers, savings accounts and mortgages.
Coles is believed to already have an application with the Australian Prudential Regulation Authority for an Authorised Deposit-taking Institution (ADI) licence, which would allow it to take deposits under its own name.
The licence may be held by Wesfarmers, which already issues Coles insurance products and in September 2012, Coles trademarked the brand 'Coles Money' to facilitate a widening of its consumer proposition to include financial services.
The company's major Australian competitor is Woolworths, which also has a range of financial service products, such as insurance and credit cards, issued under the brand of Woolworth's Everyday Money.
The Australian supermarket groups are following a global trend of moving into the provision of services such as Telecoms and financial products, as well as retailing goods such as groceries.
Supermarket and banking trends
This trend is well advanced in the United Kingdom. Supermarkets such as Tesco and Sainsbury's have been playing in the financial services space for over 15 years. Their experience will act as a guide for Coles' prospects of success, as well as an indication of what threat the existing Australian players may face.
Tesco, in particular, has led the way in gaining a banking licence, and its financial services portfolio has grown from savings accounts, into credit cards and personal loans, then onto insurance products (car, home, pets, travel) and now into offering mortgages.
The supermarket's Tesco Personal Finance began in 1997 as a joint venture with the Royal Bank of Scotland (RBS). Tesco then acquired the RBS stake in 2008 and launched the re-branded Tesco Bank in 2009. By 2013, Tesco's customers held 6.5 million accounts and policies with Tesco Bank and the bank employed 3,000 staff.
In August 2012, Tesco added mortgages to its basket of financial services products and they encouraged their customers to take out a mortgage with them, by rewarding them with loyalty points as they repay their mortgages. This launch was described by Tesco as "a major milestone towards offering Tesco customers a full retail banking service".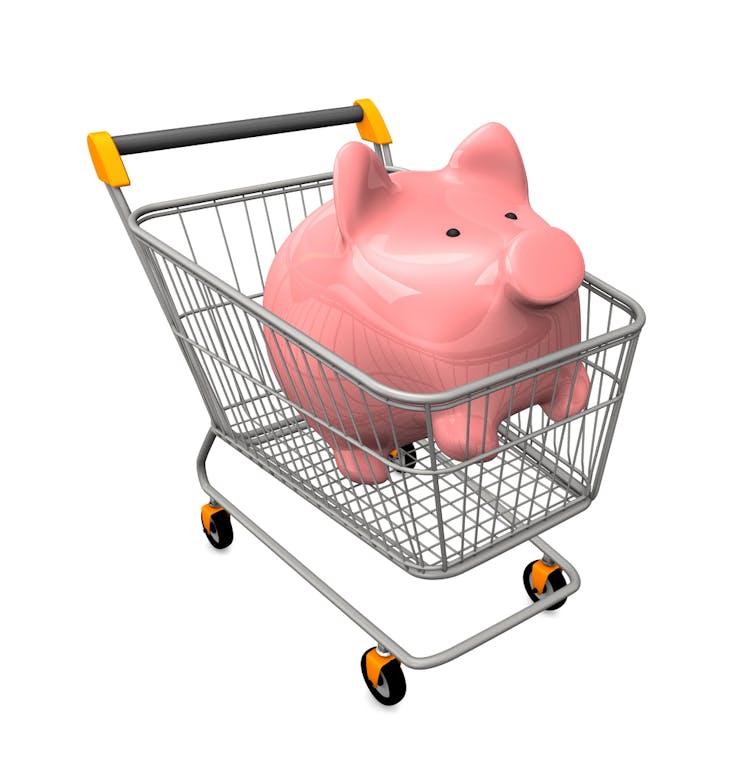 Tesco Bank has material market positions in two financial services products: credit cards (7% of the total market) and car insurance (5%). Less meaningful market positions are held in home insurance (2%) and savings accounts (1%).
Tesco customers who have savings accounts with the Bank can pay money into their account in any Tesco store in the United Kingdom, seven days a week. The savings can then be withdrawn via the 3,300-strong Tesco ATM network or at the checkout.
In the financial year 2012-13, Tesco Bank's total revenue was GBP 1.02 billion and the trading profit was GBP 191 million, a margin of 18.7%.
This is one of the attractions for retailers to enter the financial services market as the margins are considerably higher than those earned through the retailing of groceries.
Making the leap
Coles is believed to have sold over 200,000 insurance policies, but making the leap to selling mortgages and checking/savings accounts to customers is a big ask.
New entrants to the financial services market should be welcomed as they will offer attractive products and excellent customer service. However, getting customers to 'switch' from their current provider of checking accounts or mortgages will be a challenge.
The possible entry of Coles as an ADI into Australia's financial services arena will concern existing 'players'. However, it won't be causing them major anxiety because, as the Tesco Bank story reveals, the timeframe for breaking into this market is long-term.
Customers of supermarket groups are quite willing to change their providers for credit cards or their car or home insurance, but it is much more difficult to get them to 'switch' to a new mortgage or checking account provider.
It is these products that are at the heart of the relationship between a consumer and their 'main bank'.
Switching providers in these key relationship products continues to be fraught with suspicion by consumers, and new entrants into financials services will need both patience and luck if they are to survive and prosper.