Today marks a year since flooding devastated south-east Queensland. Research has shown that some of the worst effects of the floods were due to poor land-use planning.
Since the floods, residents of the Lockyer Valley, where flash flooding was worst, have been given the opportunity to relocate to higher ground outside of the flood zone. Australia has a rich history of relocating flood-prone towns, so indications are strong that this move could avert future tragedies.
The Queensland floods of 2011 were caused by one of the strongest La Niña events since records began (late 19th century) and a negative Indian Ocean dipole event (Coates et al, in review). During the widespread flooding there were two major events. On 10 January there was a flash flood in the city of Toowoomba and the Lockyer Valley. On 11 and 12 January the cities of Brisbane and Ipswich and surrounding areas were flooded by the Brisbane River.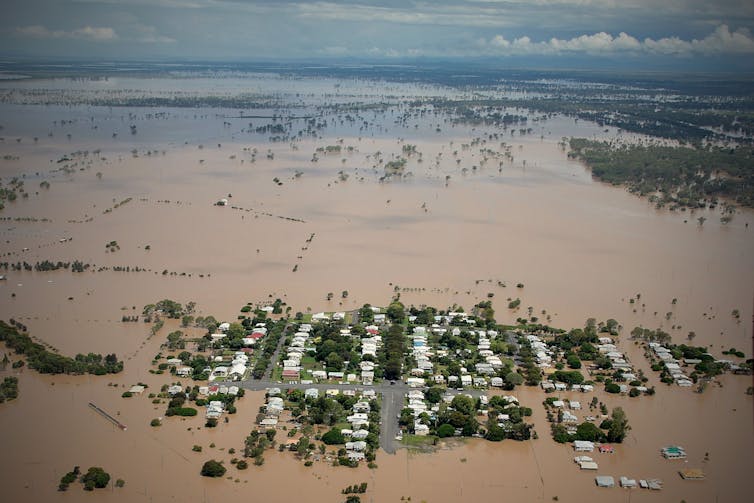 In the Lockyer Valley flash flood, an 8m-high wall of water hit the valley. The magnitude of this event was exacerbated by the way the series of storms, with falls of 40-50mm in 30 minutes, moved over the already saturated catchment.
The flash flood was described as an "inland tsunami". Twenty-one people died in the Lockyer Valley: fourteen in Grantham, two in Murphys Creek, two in Postmans Ridge, two in Spring Bluff and one in Helidon. Nearly every house in the floodplain area of Grantham sustained structural damage: 29 houses were completely destroyed and 130 severely damaged.
As part of a voluntary land-swap initiative, Lockyer Valley Regional Council is now giving flood-impacted residents the option to move to a new land parcel located adjacent to Grantham but outside the flood zone. At the time of writing the first residents are moving into their new homes and 70 to 80% of residents are expected to eventually relocate.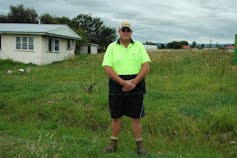 While this is the first time a local government authority has assisted a disaster-struck community this way, it's certainly not the first time an Australian town has been shifted to higher ground to avoid floods.
In 1810, Governor Macquarie proclaimed five new towns on high ground along the Hawkesbury and Nepean Rivers to give new settlers flood-free residences. However, Macquarie found the Hawkesbury settlers most reluctant to comply with his intentions, as he reported to Earl Bathurst on 4th April, 1817:
"… it is impossible not to feel extremely displeased and Indignant at their Infatuated Obstinacy in persisting to Continue to reside with their Families, Flocks, Herds, and Grain on those Spots Subject to the Floods, and from whence they have often had their prosperity swept away… and what makes their Obstinacy and Indolence in this respect still more Inexcusable is, that None of them would have to Carry their Crops above two Miles at the furthest, and in general not more than one Mile to their respective Places of Residence in the Townships… they are deaf to All my Remonstrances, and I fear they never will be prevailed on to remove from their favourite Spots and miserable Cottages on the Banks of these Rivers.
"As a last Effort, however, I Consider the recent awful Visitation of the Floods in February a fit Season for once more admonishing them, whilst Smarting under their late Losses and Calamities… but I shall at least have the Consolation to reflect that I have done My Utmost to save these deluded people from Ruin and Poverty."
Most phases of settlement and exploration in Australia were beset with flood problems. And there are several instances where townships have been relocated. Delving into Risk Frontiers' PerilAus Floods database provided several case studies.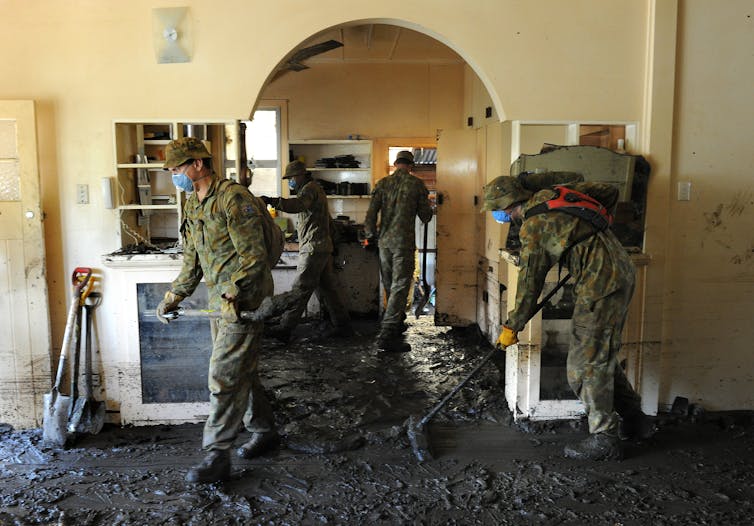 On around 14 May 1851, a severe flood at Warragabra stations (Twofold Bay) and Bega, NSW caused extensive damage to crops and property and killed 17 people. An estimated 6-9m of water covered the town site, with a maximum flood height of probably 9.7m on the Bega North Bye gauge. After this and minor floods the following year, Bega was moved to its present location, on higher ground.
The township of Gundagai, NSW, was relocated from between two rivers to higher ground after 89 of its population of 250 drowned in the floods of June 1852 when the Murrumbidgee river overflowed. This was the worst flood event in Australian history in terms of lives lost, and had an estimated recurrence interval of 1:100.
Torrential rain from a tropical cyclone led to Queensland's worst flood in terms of lives lost. Clermont was a 19th century gold mining town established between a lagoon and Sandy Creek in central Queensland. It was relocated after a disastrous flash flood on 28 December 1916 in which at least 64 people drowned and over 50 buildings and the railway line were swept away.
Floodwaters broke the banks of Wolfgang and Sandy creeks and "a wall of water ~4.5m high" came through the main street with no warning. Communications were disrupted and the rest of Australia did not know what had happened for some days. The lower part of town, on the land between the lagoon and Sandy Creek, was washed away and never rebuilt. Many of the surviving major buildings were put on log rollers and winched along by a steam tractor engine to a new higher site south of the lagoon, an exercise that took approximately three months.
Relocating a town is never an easy undertaking. As Governor Macquarie discovered, the threat of future floods may not be enough to convince people to leave behind a familiar way of life. But with the innovative assistance the Lockyer Valley Council is providing, a relocated Grantham may have a bright future.
References
Coates, L; Haynes, K; Gissing, A; Radford, D, (in review), The Australian experience and the Queensland floods of 2010–2011. In The Handbook of Drowning: Prevention, Rescue, Treatment, 2nd ed.; Bierens, JJLM, Ed.; Springer-Verlag, Berlin Heidelberg New York