In an effort to acknowledge historical injustices, Prime Minister Justin Trudeau is scheduled to apologize on Nov. 7 for Canada's 1939 decision to turn away refugees fleeing the Nazis. Many of the 907 passengers on board the MS St. Louis at the Halifax port were German Jews; 254 of them later died in the Holocaust but the majority survived the war.
In 2012, the U.S. State Department issued an apology on behalf of the officials who also refused to allow the MS St. Louis to dock. As part of the ceremony, survivors who eventually came to the U.S. shared their stories.
Such gestures are essential, but also require continued humility and reflection even by those nations which claim to be most welcoming. We must continue to learn from our mistakes without relegating them to the past.
As a professor of literature, I believe stories have the power to teach us about our past. In this case, an American novel about Canada may provide some of the education we need.
Howard Norman's 2011 book, What is Left the Daughter, offers a pointed and complex portrait of the antisemitism and xenophobia experienced by German Jews in pre- and post- Second World War Nova Scotia. Norman, the grandson of Polish Jews who journeyed to Halifax by sea to escape religious persecution before migrating to the U.S., provides a multidimensional exploration of the impact of antisemitism on German Jews in Nova Scotia.
The novel also draws provocative parallels with the inhumane deportation of the early francophone settlers of Nova Scotia, the Acadians, reminding readers of a much lengthier Canadian history of dispossession and exile motivated by race, ethnicity and language.
By presenting these stories through fiction, Norman asks readers to reflect on Canada's shortcomings while exploring the motivations and emotions of characters who must learn to live with their actions, then and now.
Cautionary tales of antisemitism
What is Left the Daughter offers a cautionary tale about asserting Canada's present moral authority without probing its past. The story opens with Wyatt Hillyer, a teen from Halifax who moves to rural Nova Scotia to live with his Aunt Constance and Uncle Donald after the suicide of his parents.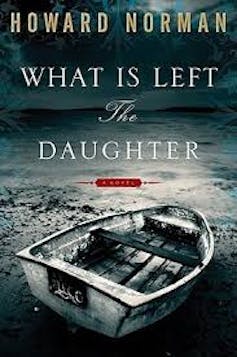 Wyatt falls in love with Tilda, his aunt and uncle's adopted daughter, but Tilda has other plans. She meets and marries Hans Mohring, a German Jew who had come to Dalhousie University in Halifax to continue his education, away from the threat of Nazis. Mohring's family was forced to flee to Denmark in 1935 to escape persecution.
In Norman's story, Canada cannot keep Hans Mohring or other German Jews safe. When Hans meets Tilda, his shirt is buttoned up to conceal the bruises from a recent beating in Halifax. Shortly after, in a tragic turn of events, Aunt Constance is killed by a German U-Boat while travelling on a ferry from Halifax to St. John's, an event that replicates the real-life downing of a civilian ferry, the Caribou, in 1942.
Angry about the death of his wife, Donald murders Hans, and with Wyatt's help, throws his body into the Bay of Fundy. After serving a prison term for aiding and abetting in the murder, Wyatt learns how Donald's antisemitism has been replicated on a larger scale in Halifax.
Canada's xenophobic history
Wyatt works as part of a harbour cleanup crew at the same site where the MS St. Louis was refused refuge. His co-worker, an amateur historian specializing in Canadian immigration, explains that while Canada may have participated in the Second World War, the Canadian government refused to admit Jewish displaced persons until several years after the end of the war and then only in small numbers compared to other Western nations.
His co-worker describes the historical existence of signage prohibiting Jews from access to sports clubs and public pools in Halifax even after WWII, traces of which remain faintly visible, despite efforts to erase them from view.
The conversation coincides with the arrival of a passenger ship of Hungarian refugees at Halifax Harbour, whom Wyatt watches walk down the gangway. Wyatt imagines the return of Tilda and their daughter Marlais, who went to live with Hans' parents in Denmark following Hans' murder.
Shortly after, Wyatt learns that Tilda has also died.
Francophones resist silencing for generations
Norman also links his novel to another dispossessed population, whose descendants continue to face explicit xenophobia and prejudice in the Atlantic region: the Acadians. The Acadians' desire to remain neutral in conflicts between Britain and France led to their brutal expulsion between 1755 and 1764 by a combination of British and American forces.
The recent rise of the right-leaning People's Alliance in the New Brunswick's election is evidence that this xenophobia has not dissipated. The People's Alliance party openly campaigned for the elimination of dual language government services in an officially bilingual province, targeting measures instituted to protect francophone speaking populations and the province's Acadian heritage.
The rural Nova Scotia town where the protagonist, Wyatt Hillyer, goes after losing his parents is situated directly across a narrow bay from Grand Pré, the Acadian community made famous in Longfellow's Evangeline as the location of the Great Deportation of 1755. At the end of Norman's novel, Wyatt suggests that he meet with Marlais, at a restaurant overlooking the Tidal Bore in Truro, a locale that looks toward the site of the Deportation.
What Is Left the Daughter was published in the same year that Jewish-American architect Daniel Libeskind unveiled his "Wheel of Conscience," a monument to the MS St. Louis, at Pier 21 in Halifax. The glass back of the memorial is engraved with the names of all of the ship's passengers.
In his 2003 CBC Massey Lecture, The Truth About Stories, Indigenous writer Thomas King cautions readers about overlooking or dismissing the power of stories to create empathy, take action and change behaviour: "Don't say in the years to come that you would have lived your life differently if only you had heard this story. You've heard it now."