On May 17, Deputy Attorney General Rod Rosenstein appointed a special counsel to investigate ties between Russia and Donald Trump's presidential campaign.
The man he chose was James Comey's predecessor as FBI director, Robert Mueller – a man who once said he hoped Comey would succeed him.
Mueller served longer as FBI director (2001-2013) than any other except J. Edgar Hoover (1924-1972). Since the appointment, Mueller has been described as tough, a former athlete and a decorated Marine officer from the Vietnam War. He's held positions as U.S. attorney, assistant attorney general for the Criminal Division and, of course, FBI director. Some commentators have said Mueller is Trump's worst nightmare come true.
From my perspective as an FBI historian, Mueller's character was revealed when he threatened to resign twice during his time as FBI director. Comparing his resignation threats with those of J. Edgar Hoover brings them into sharper focus.
The comparison suggests how Mueller will comport himself as a special counsel investigating the president of the United States.
Mueller's principles
In 2004, while Attorney General John Ashcroft was in the hospital, President George W. Bush authorized the warrantless interception of domestic communications over the objections of the Justice Department. Standing on principle, Mueller, along with Deputy Attorney General James Comey, threatened to resign if the program's legal issues were not addressed.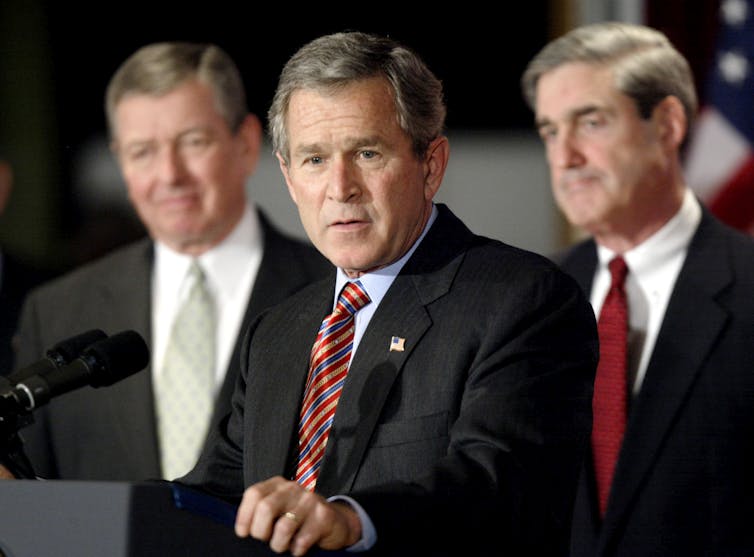 Bush altered the program and Mueller continued on as FBI director. Mueller reportedly said about it: "There are days that go by, but not many, that you're not balancing national security against civil liberties."
Mueller threatened to resign again in 2006 after the FBI seized the records of Congressman William Jefferson, who was involved in a corruption scandal. Under intense congressional pressure, President Bush ordered the FBI to return the papers. Mueller resisted with a threat of resignation, again on principle – the FBI had seized the records with a valid judge-issued warrant. Bush relented, and Mueller stayed on as FBI director.
Hoover's lip service
Compare these moves with Hoover's threats to resign as FBI director. In 1940, Hoover's FBI arrested members of a leftist group that had recruited volunteers to fight for the left-wing Spanish government in the Spanish Civil War (1936-1939). The arrests sparked outrage from the liberal press and liberal Republican Sen. George Norris, a longtime Hoover critic.
The liberal press suggested Hoover's FBI was akin to the Russian secret police or the Nazi Gestapo. Sen. Norris suggested Hoover was interested only in publicity and spying on Americans. Other critics in Congress even questioned Hoover's competence.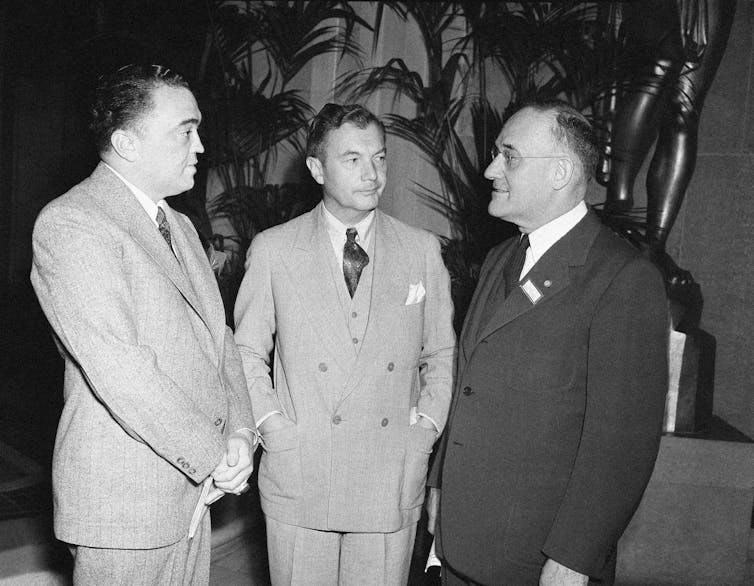 Hoover moved quickly. He sent a message to his boss, Attorney General Robert Jackson, saying he was willing to resign if Jackson was unhappy with his leadership, pressuring Jackson to back him.
Hoover well knew his resignation would never be accepted. He had already succeeded in generating a significant amount of good press and public support in his 1930s war on celebrated gangsters. Since Hoover had cultivated and maintained a solid based of support, Jackson had little recourse but to publicly support Hoover against the "smear campaign."
An astute if selfish bureaucrat, Hoover saved his job.
Hoover offered his resignation again in early 1971 after an embarrassing episode in which Hoover leaked information to Congress about an anti-Vietnam War group threatening to sabotage Washington, D.C. utilities. Hoover's claims went public and forced a rushed FBI arrest of the group's members. Hoover was then accused of prejudging the perpetrators before any arrests were made and rushing the arrests purely for publicity purposes.
In a storm of bad press, Hoover told President Richard Nixon's attorney general, Richard Kleindienst, he would resign if he was an embarrassment to the president. But at the time, Hoover was entrenched in his position and far too powerful ever to be removed by any means. Interestingly, the Nixon White House considered replacing Hoover but decided it was untenable. Kleindienst merely reiterated his support to Hoover.
Unlike Hoover, who used resignation threats to preserve his bureaucratic position and reputation, Mueller did it out of a sense of right and wrong. These comparisons tell us much about how Mueller might behave as special counsel. They also tell us Mueller will stick with principle over political pressure. He will likely resist any pressures the Trump administration might exert on him to undermine the investigation of Russian influence on the 2016 presidential election.