The murder of French student Sophie Collombet in Brisbane in late March has sparked a debate about the safety of travellers in Australia. A man has now been arrested and charged with Collombet's rape and murder, which comes not long after the murders of three other young overseas visitors, all in Brisbane.
After Collombet's murder, Queensland premier Campbell Newman said overseas visitors had nothing to fear:
I believe it is safe not only for international students, but for Brisbane students.
Yet there is no doubt perceptions are important. Some in the tourism industry were calling for high-level meetings to address crime concerns even before the recent murders. But are the perceptions of violence and danger a true reflection of the reality of being an international visitor in Australia?
Homicide of overseas visitors in Australia
All but one of the recent murders involving international visitors have been what can be termed "stranger" murders. There was no pre-existing relationship between the victim and the killer. The murders of Collombet, 23-year-old South Korean student Eunji Ban last November and another South Korean, 28-year-old Min Tae Kim in December, all involved interactions with strangers.
These murders have captured the public's imagination for a number of reasons, including the similar profile of the victims (all young international visitors) and the randomness and public nature of the murders.
In practical terms, killings like these are much more appealing to the media than a domestic homicide between two Australian residents, for instance. Some aspects of the murders lend themselves to sensationalism and broad public appeal and interest.
While the random nature of the attacks that killed Collombet and Ban might be of concern, the latest data on homicides in Australia (from July 2008 to June 2010) shows that only 13% are committed by strangers. You are much more likely to be killed by someone you know.
Also, only 25% of homicides in that period were committed on the street or open areas.
An examination of homicide data by the Australian Institute of Criminology showed that between 1994 and 2010, 76 international visitors were homicide victims in 58 separate incidents. These incidents include the international visitors killed by Port Arthur spree killer Martin Bryant.
The rate of homicide incidents involving overseas visitors from 1994–95 to 2009–10 has been decreasing year on year since 2007. In 2010, the rate was 0.46 per million international visitors.
However, homicide data from 2004-10 for overseas visitors does show some worrying trends. As far as location is concerned, international visitors are most likely to be killed in New South Wales or Victoria. Of the victims, 63% were of Asian origin; 23% were Caucasian. And 36% were killed by strangers, far higher than for Australian victims.
The economic impact
The financial impact of crimes against international visitors cannot be underestimated. Income generated by international visitors is estimated to be worth A$19 billion a year. Some 5.9 million international visitors came to Australia in 2013.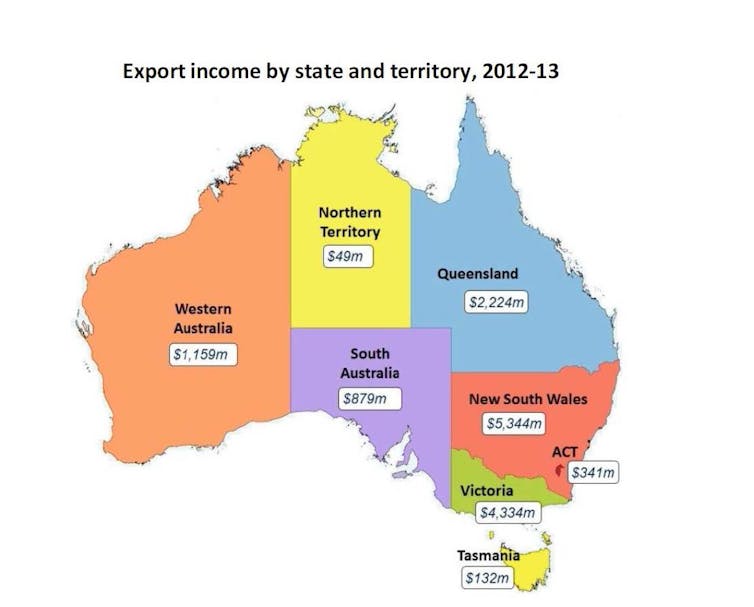 A subset of these visitors are foreign students who study at Australian universities. In 2012-13, international education activity arising from foreign students who came to Australia to live and study contributed A$14.461 billion to the economy. Queensland, New South Wales and Victoria were the main beneficiaries of this lucrative market.
A series of attacks on Indian students in 2009 and 2010 in Victoria helped contribute to a reduction of 66% in the number of Indian students travelling to Australia to study between 2010 and 2012.
Level of risk in Australia
Perceptions of safety in Australia compared to other potential destinations is a deciding factor in where people will travel or study. Despite crimes such as those mentioned above, Australia is still seen as a relatively safe country compared to other nations around the world. The Canadian Department of Foreign Affairs, for example, still rates Australia as requiring its lowest level of security precautions.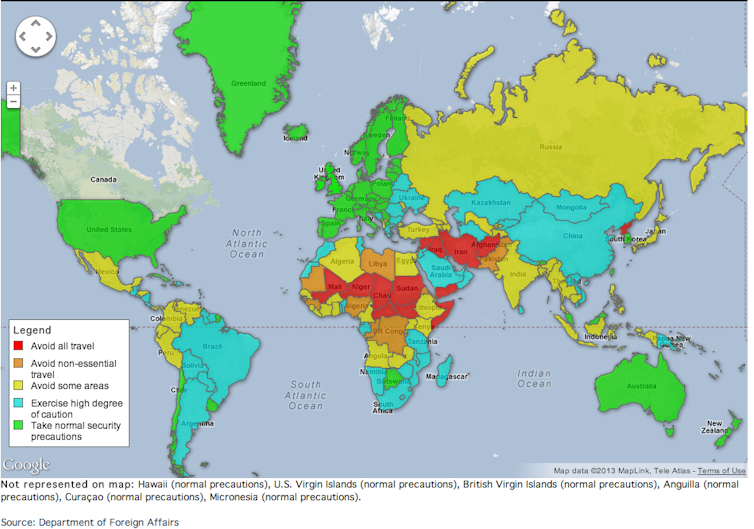 However, the Indian High Commissioner to Australia warned Indian students coming to Australia that:
…there were a number of incidents of assault as well as of robbery during 2009 and 2010, which affected not only Indian students but also members of the larger Indian community in Australia. There have been racist elements in some of these incidents.
On some occasions, overseas visitors are deliberately targeted. They are seen as soft targets and also can be targeted for racist reasons. This often occurs in relation to robbery or property-related offences, seen in the past in Melbourne and on the Gold Coast.
A NSW government study conducted in 1997 showed that the most common offences committed against international visitors were harassment and theft. Of the international visitors surveyed, 1% experienced harassment and 0.8% experienced some form of theft.
A far smaller number experienced violent crime, with 0.2% experiencing assaults and 0.2% subject to robbery.
While the actual numbers surveyed were small, it is one of the few studies to look at crime committed against international visitors.
Reality and prevention
What the above information tells us is that the threat to international visitors to Australia has not increased. It is statistically rare for an international visitor to become a murder victim.
However, it does highlight that Australia needs to improve its education of international visitors in relation to potential risks. In particular, students studying here need to be made aware of basic crime prevention and risk-reduction strategies in their daily activities. Doing so would at least provide a foundation for defeating a random offender seeking a vulnerable victim and opportunity to offend.
To actively engage on this issue would go some way to combating the negative perceptions that are inevitably created by events such as Sophie Collombet's murder.