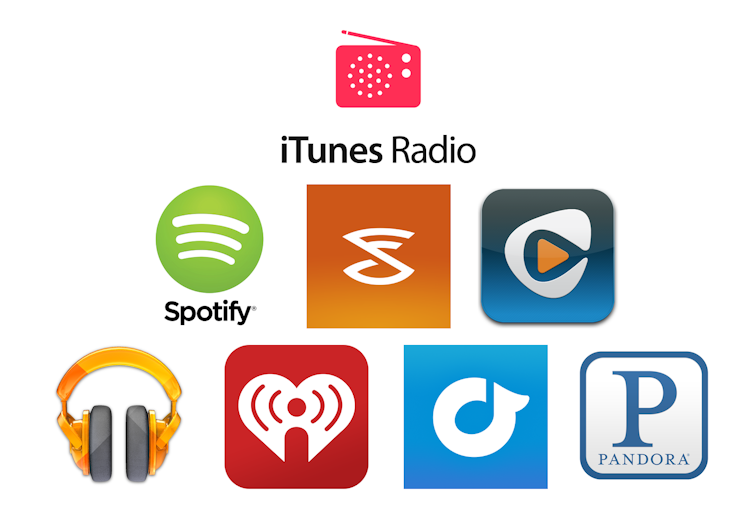 The release of ARIA's music wholesale music data confirmed the ongoing move from the physical to digital. Last year, digital sales finally topped physical sales of music in Australia and now represent 55% of the overall market. Of the digital sales, streaming revenues doubled and now represent 6% of overall music sales or 11% of digital.
The bad news however was that overall revenue was down nearly 12%. This was mainly driven by the decline in CD sales of over 25%. In shades of the newspaper industry, music sales are not making the transition to digital fast enough to compensate for the decline in physical music purchases.
The situation in Australia reflects that in the US which has also seen declines in both digital and physical music sales. Again, this has been partly attributed to the move to streaming, especially the free, ad supported versions that most music streaming services are providing. The US saw a 32% increase in music streaming in 2013.
The music industry was unusually upbeat about the figures pointing to the moves to diversify revenue through merchandise and touring whilst placing all of the fault of declining revenues at the door of music piracy.
The issue with the piracy argument is that it is getting harder to justify simply because anyone can listen to almost any track on demand through services like YouTube, Spotify and any number of other streaming services. If piracy was indeed ever an issue (and that is still not absolutely clear as this article argues), it will become less of one as more people come to rely on music-on-demand. The only requirement for physically having a copy of a song now is to play in offline mode. But the demand for offline music is itself declining. Sales of Apple's iPods declined a massive 50% last year as people switch to using their smartphones instead.
There may be another reason for the declining music sales which is simply that there hasn't been as music released that people want to buy. The music industry's sales are largely a long tail distribution with a very few albums making the majority of money. Adele's album 21 sold a million copies in 2011 and 2012, the first album to do that in over 10 years. In contrast, last year's chart topper "The Truth About Love" by Pink has sold only half that number.
Physical sales in particular are highly dependent on shifting large numbers of a very few albums. The logistics of physical sales prevents stocking a wide range of music and so high volume retailers go for the big bets.
The challenges that the music industry is facing is not so much to do with the change in format, that only served to unmask their ability to sell their product at a premium for years. Their dependence on the hit record doesn't work in a digital age where everyone can access any song instantly and produce and publish music independently. At the end of the day, this is another industry that will be able to continue to do what it does with far fewer people and ever-diminishing revenues.