The album is an artistic statement, a swag of songs greater than the sum of its parts. In this series, our authors nominate their favourites.
---
It was 1994, and the period known as the Golden Age of mainstream hip-hop (from the late '80s to early '90s) was coming to an end. Lawsuits had begun to cripple sampling culture. The seams of the rap industry were starting to stretch, as territorial feuds simmered between the East Coast's Notorious B.I.G and West Coast's Tupac. As the curtain closed on one of hip-hop's most storied eras, the Beastie Boys released their fourth studio album, Ill Communication.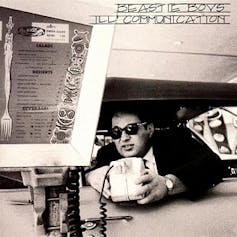 Previously ridiculed for their abrasive and monochromatic rhymes referencing partying, alcohol, girls and basketball, the Beastie Boys had a growing reputation by 1994. The release of Ill Communication challenged the band's most diehard of critics, presenting arguably one of the most mature and transformative albums of the decade.
The album itself is a kaleidoscope of jazz-infused break-beats (where Herbie Hancock meets the Chemical Brothers), smooth instrumentals, bratty punk interludes and gritty, guitar-driven monsters. These unwittingly expose the group's musical influences, and define its fundamental essence. This is the Beastie Boys in their natural state, where they have nothing left to prove and only critical appreciation to gain. Ill Communication differed from the band's usual anarchistic and boyish flavours by gliding into a realm with a deeper appreciation for sampling, musicianship, musical arrangement and storytelling.
With a jazz flute sample taken from Jeremy Steig's Howlin' for Judy, and a layered drum break taken from Run-DMC's Rock the House, the opening track of the album, Sure Shot, bounces into an energetic myriad of break beat drums and lyrically fragmented phrases referencing music and pop culture icons:
'Cause you can't, you won't and you don't stop

Mike D come and rock the sure shot

I've got the brand new doo-doo guaranteed like Yoo Hoo [a popular, chocolate-flavoured soft drink]

I'm on like Dr John, yeah, Mr Zu Zu [Zu Zu Man by New Orleans musician Dr. John]

I'm a newlywed, I'm not a divorcee

And everything I do is funky like Lee Dorsey [Everything I Do Is Gonh Be Funky by Allen Toussaint, recorded by Lee Dorsey]
Cultural obsessions are nothing new for the Beastie Boys, but the breadth of material and the diversity of lyrical citation found here far outstripped their previous work on Licensed to Ill (1986), Paul's Boutique (1989) and Check Your Head (1992).
The album features tracks such as Tough Guy, a short and sharp interlude reminiscent of their early punk roots referencing Bill Laimbeer (a tough NBA basketballer of the Detroit Pistons) and Root Down, a slippery deviation laced with a Jimmy Smith sample of the same title.
Before too long, the album peaks, reaching the infamous Sabotage. With bone-crunching guitars and fuzz bass, this lyrically and rhythmically heavy song takes aim at the media and paparazzi with the band expressing its disapproval of the constant barrage of propaganda being spread to discredit musicians and celebrities. Their tongue-in-cheek, '70s cop show, parody video clip, directed by Spike Jonze, received numerous MTV awards.
While Sabotage is now rightly famous, it's the collaboration between the Beastie Boys and A Tribe Called Quest's Q-Tip, Get It Together, that for me represents the pinnacle of this album. Teaming up with arguably one of the smoothest and most influential rappers of the era significantly enhances the album's aesthetic appeal and offers a point of differentiation amid so many nasally driven raps.
Get It Together samples Aquarius/Let The Sun Shine In by the Moog Machine, Headless Heroes by Eugene McDaniels, Escape-Ism by James Brown, Four Play by Fred Wesley and The Horny Horns and A One Two by Biz Markie to create a distinct, misty blend of soul-jazz and funk-infused hip-hop that can be now considered quintessentially Beastie Boys.
The instrumental component of this album is nothing short of exquisite. Songs such as Sabrosa, Futterman's Rule, Ricky's Theme and Shambala all contribute to its flow.
Where other hip-hop artists couldn't offer such diversity in live musicianship, the Beastie Boys led the way in adding this instrumental flare to their sound. They left their stamp as innovators, crossing the boundaries of multiple genres.
To conclude, I must draw attention to the album's final track Transitions. The secret is in the title. Could this be the finale that subtly outlines their sonic signature and confirms that behind all good music is thought, emotion and purpose?
Transitions closes out Ill Communication by providing a moment of instrumental solace with its alluring, harmonic charm, but more so, the absence of the Beastie Boys' trademark vocals deliberately draws attention to the quality of their musicianship. Ill Communication is undoubtedly a landmark recording for the Beastie Boys and one that defines the end of the Golden Age.
---
What's your favourite album? We'd like to hear from readers and will be publishing your best choices at the end of the week. Please email 100 words on your choice to James Whitmore at myfavouritealbum@theconversation.edu.au
Are you an academic who would like contribute to this series? Please contact James Whitmore or Suzy Freeman-Greene